Ya llega el Fondo para Pérdidas y Daños Climáticos
EL CAIRO – La Conferencia de las Naciones Unidas sobre el Cambio Climático (COP27) que se celebró el pasado noviembre en Sharm El-Sheikh (Egipto) concluyó con un hito histórico: se acordó en la postrimería del evento el establecimiento de un fondo para "pérdidas y daños" climáticos. La decisión de ofrecer ayuda financiera a los países vulnerables que sufren los peores efectos del calentamiento global fue un logro notable que ha resonado a lo largo y ancho del planeta. Sin embargo, a medida que pasamos de la fase de establecimiento del fondo a su implementación, siguen existiendo importantes interrogantes.
Ya que nos acercarnos a la mitad del camino entre la COP27 y la COP28 que se celebrará en Dubái, la comunidad internacional debe encarar estas interrogantes de gran importancia dentro del espíritu de multilateralismo constructivo que impulsó las actuaciones en Sharm El-Sheikh. Los gobiernos, los activistas y los ciudadanos afectados fueron capaces de ponerse de acuerdo sobre este punto clave de la justicia climática, y ahora debemos demostrar el mismo nivel de colaboración para lograr el éxito de dicho acuerdo.
En marzo pasado, la presidencia de la COP27 celebró la primera reunión del Comité de Transición en Luxor, Egipto con el propósito de comenzar a abordar la puesta en marcha del fondo. La composición del comité garantizó la presencia de una diversa gama de voces, y se debatieron asuntos complejos con un espíritu constructivo de cooperación.
La reunión de tres días de duración concluyó con la adopción de un plan de trabajo que contiene hitos sustanciales y de procedimiento para la presentación de recomendaciones accionables con gran antelación a la COP28. Además, el plan describe cómo el comité se centrará en todos los elementos de las recomendaciones dictadas en cada una de sus reuniones, trabajando de manera gradual con dirección al logro del consenso.
La Convención Marco de las Naciones Unidas sobre el Cambio Climático define las pérdidas y daños como los perjuicios causados por el cambio climático generado por el hombre. Las soluciones para posponer, minimizar o prevenir los perjuicios que sufren las comunidades vulnerables de todo el mundo también deben ser generadas por el hombre. Es nuestra responsabilidad colectiva implementar políticas eficaces para combatir el calentamiento global, así como para aliviar el sufrimiento y brindar apoyo financiero a las personas cuyas vidas se han visto trastornadas por el aumento de las temperaturas.
Las reuniones del Comité de Transición están diseñadas precisamente con este propósito: debatir sobre métodos y modalidades eficaces que conviertan el concepto del fondo para pérdidas y daños en una realidad tangible, al mismo tiempo que se identifiquen deficiencias en el actual sistema de financiamiento climático. Al presente, las solicitudes y demandas están siendo analizadas y consideradas antes de finalizar la creación de las mecánicas de acción, esto con el objetivo de garantizar una implementación adecuada.
Subscribe to PS Digital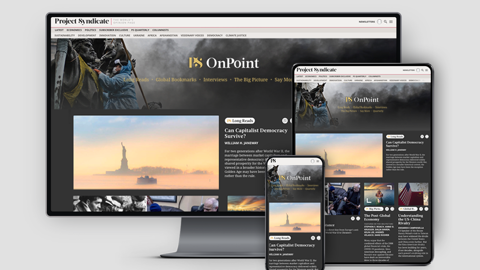 Subscribe to PS Digital
Access every new PS commentary, our entire On Point suite of subscriber-exclusive content – including Longer Reads, Insider Interviews, Big Picture/Big Question, and Say More – and the full PS archive.
Respaldado por un amplio abanico de partes interesadas tanto gubernamentales, como de la sociedad civil y del sector privado, el fondo está diseñado para tomar en cuenta los efectos a corto, mediano y largo plazo del cambio climático dentro de los países en desarrollo. Este fondo proporcionará recursos financieros y tecnológicos para responder frente a pérdidas y daños causados por acontecimientos tanto inminentes como de evolución lenta. Esto podría traducirse en sistemas de alerta temprana, reducción del riesgo de desastres o restauración de ecosistemas.
Como artífice del fondo, Egipto asume el compromiso de garantizar su eficacia, transparencia y accesibilidad. Creemos firmemente que todas las partes interesadas deben colaborar plenamente para cumplir los objetivos del fondo y lograr un cambio significativo en las comunidades más afectadas por el calentamiento global. La carga del cambio climático es desigual, y tenemos la oportunidad de crear un equilibrio mucho más justo y que mejore la estabilidad.
El Fondo para Pérdidas y Daños representa un gran paso adelante, pero no es suficiente. Debemos continuar trabajando incansablemente con el propósito de reducir las emisiones de gases de efecto invernadero, que son la causa fundamental del cambio climático. Esto se puede lograr acelerando la transición hacia la energía limpia, empoderando a las comunidades para que adapten sus medios de vida, y adoptando las recomendaciones científicas que se ajusten a los principios acordados internacionalmente.
Concurrentemente, la necesidad de crear un fondo para pérdidas y daños que funcione y que cumpla las promesas asumidas en la COP27 es apremiante. África oriental y el Sahel sufren actualmente graves sequías causadas por el cambio climático inducido por el hombre, cuyo resultado ha sido escasos niveles de lluvia, así como un aumento de la evapotranspiración en las plantas y el suelo. Aquejados por la inseguridad alimentaria, muchos habitantes de los países afectados se han convertido en desplazados internos o se han visto obligados a emigrar, lo que subraya los efectos perturbadores del calentamiento global y la capacidad cada vez más limitada tanto de la naturaleza como de la humanidad para adaptarse a dichos efectos.
El Fondo recién creado seguirá siendo una de las principales prioridades en los debates sobre el clima, y es de crucial importancia llegar a la COP28 contando con una estrategia clara para su eficaz implementación. Debemos emprender la tarea con un sentido unificado de propósito: sólo si trabajamos juntos y acertamos en los detalles podemos comenzar a hacer frente a las vastas desigualdades que nos presenta la crisis. Teniendo en mente la importancia de la tarea que tenemos entre manos, estoy seguro de que lograremos el éxito.
Traducción del inglés: Rocío L. Barrientos