Paliwo Przyszłości
BERLIN - Zielony wodór jest ostatnio w modzie. Podczas listopadowej Konferencji Narodów Zjednoczonych w Sprawie Zmian Klimatu (COP27) w Egipcie, kanclerz Niemiec Olaf Scholz ogłosił, że Niemcy zainwestują ponad 4 miliardy euro (4,3 miliarda dolarów) w rozwój rynku tego paliwa. W Stanach Zjednoczonych administracja prezydenta Joe Bidena uczyniła "czysty" wodór centralnym punktem swojej ustawy o redukcji inflacji, która zapewnia dotacje dla odnawialnych źródeł energii. Również Chiny tak bardzo zainwestowały w elektrolizę, że niektórzy obserwatorzy już obawiają się, że przejmą rynek w taki sam sposób, jak zrobiły to z panelami fotowoltaicznymi. Nawet korporacje takie jak australijski gigant górniczy Fortescue stawiają na to, że stanie się to wielomiliardową branżą.
Kiedy jakaś technologia jest tak bardzo reklamowana, wielu działaczy ekologicznych zaczyna się niepokoić. Czy "czysty wodór" jest jedynie sposobem na "wylansowanie" tak zwanego "niebieskiego" i "różowego" wodoru, wytwarzanego odpowiednio z gazu ziemnego i energii jądrowej? Czy jest to próba wyprodukowania magicznego techno-fixu, który usprawiedliwia absurdalne ekscesy, takie jak turystyka kosmiczna i loty hipersoniczne, podczas gdy światowa klasa średnia i wyższa powinny ograniczać swoje zużycie energii i zasobów? A może jest to kolejny etap wydobywania, zawłaszczania ziemi i wody należących do ludności o niskich dochodach pod pozorem walki ze zmianami klimatu?
Krótka odpowiedź na wszystkie te pytania brzmi: tak. Ale to nie jest ani nieuniknione, ani nie pokazuje to całej sytuacji. Sen o zielonym wodorze może przerodzić się w koszmar, jeśli nie uda nam się go zrealizować. Mimo to jest on niezbędnym elementem przejścia światowej gospodarki z niszczących klimat paliw kopalnych na zrównoważone modele oparte w 100% na energii odnawialnej. Być może trudno jest zaakceptować tę niejednoznaczność, ale wymaga tego pilna potrzeba zapobieżenia katastrofie klimatycznej.
Biorąc pod uwagę wiele potencjalnych zastosowań wodoru, niektórzy czołowi eksperci szacują, że do połowy stulecia może on zasilać 20-30% globalnego zużycia energii. Nie oznacza to jednak, że jest to najbardziej wydajny wybór. Na przykład akumulatory elektryczne wymagają znacznie mniej odnawialnych kilowatogodzin na każdy przejechany kilometr, aby zasilić samochody osobowe i ciężarowe, niż wodorowe ogniwa paliwowe lub paliwa elektryczne. Podobnie zastosowanie pomp ciepła jest bardziej wydajne niż konwersja kotłów gazowych na wodór. Organiczne alternatywy dla nawozów azotowych również powinny być brane pod uwagę w znacznie większym stopniu.
Istnieje jednak kilka krytycznych sektorów, w których istnieje niewiele ekonomicznie opłacalnych bezemisyjnych alternatyw dla zielonego wodoru i jego pochodnych, w tym żegluga dalekobieżna i lotnictwo, przemysł chemiczny i stalowy. Niezależnie od szumu informacyjnego, wiele branż będzie potrzebowało ogromnych ilości czystego wodoru, aby osiągnąć zerową emisję netto do 2050 roku. Aby zilustrować skalę wyzwania, założyciel Bloomberg New Energy Finance, Michael Liebreich, oszacował niedawno, że samo zastąpienie dzisiejszego "brudnego" wodoru - produkowanego z paliw kopalnych - wymagałoby 143% energii wiatrowej i słonecznej, jaką obecnie dysponuje świat.
Kilka krajów Globalnego Południa zostało obdarzonych potencjałem energii słonecznej i wiatrowe światowej klasyj, co umożliwia im produkcję ekologicznego wodoru po bardzo niskich kosztach. Niektóre z nich, jak Namibia, zbudowały swoją strategię rozwoju przemysłowego wokół tej przewagi konkurencyjnej. Ale jak międzynarodowy handel zielonym wodorem i jego pochodnymi może stać się drogą do dobrobytu? I jak kraje rozwijające się mogą uniknąć pułapki ekologicznego ekstraktywizmu i zapewnić uczciwość i zrównoważony charakter handlu?
Subscribe to PS Digital Now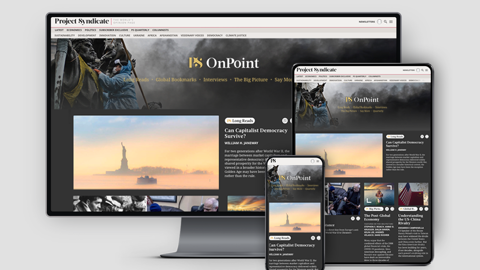 Subscribe to PS Digital Now
Access every new PS commentary, our entire On Point suite of subscriber-exclusive content – including Longer Reads, Insider Interviews, Big Picture/Big Question, and Say More – and the full PS archive.
Seria konsultacji i badań przeprowadzonych w Chile, Argentynie, Brazylii, Kolumbii, RPA, Maroku i Tunezji pozwoliła na dogłębne zbadanie tych kwestii. Nowy raport Fundacji Heinricha Bölla oraz Bread for the World syntetyzuje ich wyniki i podkreśla potrzebę nie szkodzenia. Aby sen o zielonym wodorze nie stał się koszmarem, musimy rozwijać ten sektor w oparciu o planowanie terytorialne, jasne standardy i politykę, a także przestrzegać prawa społeczności lokalnych do uprzedniej świadomej zgody. Aby spełnić obietnicę rozwoju po kopalni i wspierać zrównoważone gospodarki, rządy muszą opracować ambitne i realistyczne strategie przemysłowe. Strategie te muszą być osadzone w systemowym podejściu do zrównoważonego rozwoju i transformacji energetycznej. Ponadto musimy zastanowić się, w jaki sposób wodór jest wykorzystywany - nie tylko kto może za niego zapłacić.
Nic z tego nie stanie się samo. Osiągnięcie zrównoważonej przyszłości to wybór polityczny, który wymaga przywództwa oraz współpracy. Kilka krajów mogłoby pomóc w urzeczywistnieniu sprawiedliwego i zrównoważonego handlu zielonym wodorem. Na przykład Namibia, Chile, Kolumbia, oraz (pod rządami prezydenta Luiza Inácio Lula da Silvy) Brazylia, mają odpowiednie warunki polityczne, aby zrównoważyć produkcję zielonego wodoru z silnymi standardami środowiskowymi i społecznymi. Z czasem Argentyna i RPA mogą dołączyć do tej listy i stać się krajami produkującymi.
Jako przyszły główny importer i konsument ekologicznego wodoru, Niemcy będą musiały nawiązać partnerstwo z krajami produkującymi wodór, oparte na silnych standardach środowiskowych i społecznych. Biorąc pod uwagę progresywny rząd, można oczekiwać, że Niemcy będą współpracować ze swoimi długoterminowymi partnerami nie tylko jako dostawcy zasobów, ale jako współuczestnicy podróży w kierunku zrównoważonego, integracyjnego dobrobytu.
W tym celu Niemcy i inni importerzy energii muszą również wspierać kraje eksportujące w ich wysiłkach na rzecz lokalizacji tworzenia wartości. W ten sposób powstający międzynarodowy handel zielonym wodorem może stać się zwiastunem nowych, sprawiedliwych relacji handlowych między globalną Północą i Południem. Jest to przyszłość, o którą warto walczyć, a kluczem do niej jest energia odnawialna.
Z angielskiego przetłumaczyła Marz McNamer