Palivo budoucnosti
BERLÍN – Zelený vodík je dnes celosvětovým hitem. Během listopadové Konference Organizace spojených národů o změně klimatu (COP27) v Egyptě například německý kancléř Olaf Scholz oznámil, že jeho země bude do rozvoje trhu se zeleným vodíkem investovat více než 4 miliardy eur. Ve Spojených státech zase administrativa prezidenta Joea Bidena učinila z "čistého" vodíku těžiště svého zákona o snížení inflace, podle něhož budou poskytovány dotace obnovitelným zdrojům energie. Také Čína je natolik zainteresovaná do elektrolýzy, že se někteří pozorovatelé už dnes obávají, že tato země ovládne trh stejně, jako to dokázala v případě fotovoltaických panelů. A dokonce i korporace, jako je australský těžební gigant Fortescue, sázejí na to, že se v tomto sektoru jednou budou točit miliardy dolarů.
Když se kolem nějaké technologie dělá takový humbuk, mnozí ekologičtí aktivisté mívají sklon k nervozitě. Není "čistý vodík" pouze způsobem, jak nalakovat nazeleno takzvaný "modrý" a "růžový" vodík, které vznikají ze zemního plynu, respektive z jaderné energie? Není to jen pokus vytvořit kouzelný technologický všelék, který ospravedlní i tak absurdní excesy, jako jsou vesmírná turistika nebo nadzvukové lety v době, kdy mají střední a vyšší vrstvy po celém světě snižovat svou spotřebu energie a zdrojů? A není to nakonec jen další fáze extraktivismu, kdy se nízkopříjmovým populacím pod záminkou boje proti klimatickým změnám vyvlastňují půda a vodní zdroje?
Stručná odpověď na všechny tyto otázky zní "ano". Nic z toho však není nevyhnutelné a také to není celý příběh. Jistě, sen o zeleném vodíku by se mohl docela dobře změnit v noční můru, pokud ho neuchopíme správně. Přesto je to nepostradatelný stavební kámen v přechodu globální ekonomiky z fosilních paliv ničících klima v trvale udržitelný model založený na sto procentech obnovitelných energií. Přijmout tuto nejednoznačnost je možná obtížné, avšak palčivá potřeba vyhnout se klimatické katastrofě nic jiného nepřipouští.
Vzhledem k řadě možných potenciálních využití vodíku někteří čelní experti odhadují, že by tento prvek mohl do poloviny století zajišťovat 20-30% globální spotřeby energie. To z něj však ještě nečiní nejefektivnější volbu. Například elektrické baterie vyžadují u elektromobilů mnohem méně obnovitelných kilowatthodin na ujetý kilometr než vodíkové palivové články nebo e-paliva. Stejně tak je využívání tepelných čerpadel efektivnější než výměna plynových bojlerů za vodík. Rovněž organickým alternativám k dusíkatým hnojivům by se měla věnovat mnohem větší pozornost.
V několika klíčových sektorech však existuje jen málo ekonomicky životaschopných bezuhlíkových alternativ k zelenému vodíku a jeho derivátům – například v dálkové dopravě a letectví, chemickém průmyslu a výrobě oceli. Nehledě na současné pozdvižení bude řada průmyslových oborů jednoznačně potřebovat obrovské množství čistého vodíku, aby do roku 2050 dosáhla čistých nulových emisí. Chceme-li si udělat obrázek o rozsahu této výzvy, můžeme si připomenout, že podle odhadu zakladatele agentury Bloomberg New Energy Finance Michaela Liebreicha by si i pouhé nahrazení dnešního "špinavého" vodíku – vznikajícího z fosilních paliv – vyžádalo 143% veškeré větrné a sluneční energie, kterou má svět v současné době k dispozici.
Několika zemím globálního Jihu se dostalo daru v podobě prvotřídního slunečního a větrného potenciálu, takže mohou vyrábět zelený vodík při velmi nízkých nákladech. Některé státy, jako například Namibie, už na této konkurenční výhodě postavily celou strategii svého průmyslového rozvoje. Jak se však může mezinárodní obchod se zeleným vodíkem a jeho deriváty stát cestou k prosperitě? A jak se mohou rozvojové země vyhnout pasti zeleného extraktivismu a zajistit, aby byl obchod s vodíkem spravedlivý a trvale udržitelný?
Subscribe to PS Digital Now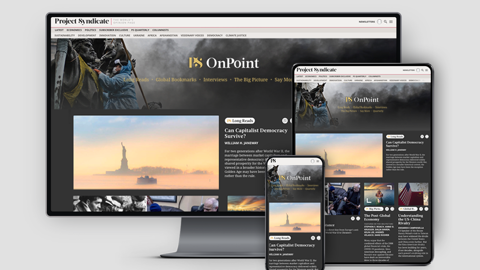 Subscribe to PS Digital Now
Access every new PS commentary, our entire On Point suite of subscriber-exclusive content – including Longer Reads, Insider Interviews, Big Picture/Big Question, and Say More – and the full PS archive.
Těmito otázkami se podrobně zabývala řada konzultací a výzkumů v Chile, Argentině, Brazílii, Kolumbii, Jihoafrické republice, Maroku a Tunisku. Nová zpráva Nadace Heinricha Bölla a dobročinné organizace Bread for the World syntetizuje jejich poznatky a zdůrazňuje nutnost nenapáchat žádné škody. Chceme-li zajistit, aby se ze snu o zeleném vodíku nestala noční můra, musíme tento sektor rozvíjet s uplatňováním územního plánování, jasných standardů a politik a také s respektováním práva místních komunit na předchozí informovaný souhlas. Pokud mají vlády dostát svým slibům o postfosilním rozvoji a podpořit trvale udržitelné ekonomiky, musí vymýšlet ambiciózní a realistické průmyslové strategie. Tyto strategie přitom musí mít oporu v systémovém přístupu k trvale udržitelnému rozvoji a přechodu na nové energie. Navíc se musíme zamyslet i nad otázkou, jak se bude vodík využívat – nejen nad tím, kdo ho dokáže zaplatit.
Nic z toho se nestane automaticky. Dosažení trvale udržitelné budoucnosti je politickou volbou, která vyžaduje vedení a spolupráci. Existuje hned několik zemí, které by mohly pomoci proměnit spravedlivý a trvale udržitelný obchod se zeleným vodíkem v realitu. Například Namibie, Chile, Kolumbie a dnes (pod vedením prezidenta Luize Inácia Luly da Silvy) také Brazílie mají správné politické podmínky pro to, aby produkci zeleného vodíku vyvážily silnými ekologickými a sociálními standardy. Postupem času by se k nim mohly připojit také Argentina a Jihoafrická republika a rovněž se zařadit mezi producentské země.
Německo coby potenciální významný dovozce a odběratel zeleného vodíku pak bude muset navázat s těmito státními producenty partnerství založená na silných ekologických a sociálních standardech. A vzhledem k jeho pokrokové vládě lze očekávat, že k těmto dlouhodobým partnerům bude přistupovat nejen jako k poskytovatelům zdrojů, ale i jako ke spolupasažérům na společné cestě k trvale udržitelné a inkluzivní prosperitě.
Za tímto účelem musí Německo a další dovozci energií zároveň podporovat exportní země v jejich úsilí o lokalizaci tvorby hodnot. Rozvíjející se mezinárodní obchod se zeleným vodíkem by se pak mohl stát předzvěstí nového a spravedlivého obchodního vztahu mezi globálním Jihem a globálním Severem. Za takovou budoucnost stojí za to bojovat a klíčem k ní jsou obnovitelné energie.
Z angličtiny přeložil Jiří Kobělka