Hacia un Nuevo Trato Verde global
GINEBRA – El "Nuevo Trato Verde" (NTV) propuesto por los progresistas en Estados Unidos no puede lograrse de manera aislada. Para hacer frente al cambio climático y a la desigualdad en su conjunto, todos los países tendrán que aceptar las nuevas reglas de cooperación internacional.  
El inicio de este replanteamiento comenzó hace diez años. En abril de 2009, el G-20 se reunió en Londres y prometió ofrecer una respuesta coordinada a la crisis financiera global, seguida de un futuro de crecimiento más robusto. Luego, en diciembre de ese año, los líderes mundiales reunidos en Copenhague bajo los auspicios de las Naciones Unidas prometieron grandes recortes de las emisiones de dióxido de carbono, para limitar el calentamiento global a 2°Celsius por sobre los niveles preindustriales.
La primera conferencia terminó con el anuncio del primer ministro británico Gordon Brown de un "nuevo orden mundial" basado en "una nueva era progresista de cooperación internacional"; la segunda terminó en caos. Sin embargo, mirando hacia atrás, el falso amanecer de esa "nueva era progresista" ha resultado ser el mayor obstáculo para un futuro seguro y estable.
Desde hace una década, la recuperación poscrisis ha oscilado entre rachas de crecimiento anémico y episodios recurrentes de inestabilidad financiera, debido en parte a la combinación discordante de políticas monetarias agresivamente laxas y austeridad fiscal persistente de las economías avanzadas. Y todo esto ha estado sustentado por una gigantesca acumulación de deuda, que ha aumentado en más de 70 billones de dólares a nivel mundial desde la crisis.
Sin embargo, la lentitud de la recuperación también le debe algo al entrelazado del poder corporativo y político bajo un capitalismo financiarizado. En tanto el poder económico se ha vuelto cada vez más concentrado, la desigualdad –tanto dentro como entre países- ha alcanzado picos grotescos. Ahora que la especulación financiera es algo habitual, también lo es el fraude y la inestabilidad. Mientras tanto, la inversión en bienes públicos –a nivel global y nacional- se ha estancado y el crecimiento ha pasado a depender de la extracción de recursos y del consumo de energía, que están avanzando a un ritmo tal como para amenazar a la propia civilización humana.
A pesar de todas las propuestas ambiciosas formuladas en Londres hace diez años, poco ha cambiado. Los debates sobre mejorar la gobernanza global todavía giran en torno de ideas como "responsabilidad social empresaria", "alianzas público-privadas" y "acuerdos de libre comercio", que no van a generar un orden económico más justo y más estable.
WINTER SALE: Save 25% on a new PS subscription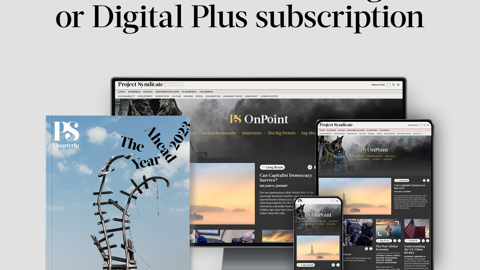 WINTER SALE: Save 25% on a new PS subscription
For a limited time, you can gain greater access to Project Syndicate – including every commentary and our entire On Point suite of subscriber-exclusive content – starting at less than $6 per month.
Para colmo de males, las condiciones ambientales globales se han vuelto cada vez más frágiles desde 2009. E inclusive antes de la decisión truculenta del presidente norteamericano, Donald Trump, de abandonar el acuerdo climático de París de 2015, no había ningún camino claro para mantener las temperaturas globales por debajo de un nivel que los científicos consideran seguro, mucho menos para impedir un colapso más catastrófico.
Frente a este panorama tan poco halagüeño, las propuestas audaces para un NTV han venido ganando tracción política, principalmente en Estados Unidos, donde la idea es transformar la economía a través de un maridaje armonioso de justicia económica, solidaridad social y rehabilitación ambiental. El NTV ya ha generado un debate rico sobre opciones políticas y ha dado lugar a una respuesta predecible de los intereses creados y sus respaldos políticos.
Pero la alianza que avizoran los partidarios de un Nuevo Trato Verde no puede ser para beneficio de un poder hegemónico global. El capital es móvil y el crecimiento con una fuerte huella de carbono ya no es el dominio de las economías avanzadas. Para que un NTV funcione, también tiene ser globalizado a través de la cooperación internacional.
El problema es que la potestad reglamentaria multilateral en las últimas décadas ha sido objeto de las mismas presiones políticas que el diseño de políticas domésticas. No es casual que el marco actual para gobernar la economía global beneficie principalmente a las entidades financieras y las grandes corporaciones multinacionales. El objetivo original del multilateralismo de posguerra era proteger a los débiles de los fuertes para que pudieran crecer. Sin embargo, su versión actual alienta a los países fuertes a imponer a los débiles su modelo de desarrollo preferido, promulgando así un mundo de resultados donde "el ganador se queda con casi todo".
En estas circunstancias, los acuerdos existentes de reajuste simplemente no van a funcionar. Para hacer que un NTV global funcione, muchos de los programas multilaterales que se han acumulado a lo largo de las décadas tendrán que ser eliminados, y será necesario crear una nueva generación de instituciones más inteligentes. Aun así, el propio panorama multilateral seguiría pareciéndose a lo que imaginaba el presidente norteamericano Franklin D. Roosevelt cuando exigía un entendimiento mutuo que "garantizara a cada país una vida saludable en tiempos de paz para sus habitantes –en todas partes del mundo". 
Lo que necesitamos, entonces, es un nuevo conjunto de principios que sustituyan los que han apuntalado la potestad reglamentaria en la era de la híper-globalización. De cara al futuro, las reglas globales deben recalibrarse hacia los objetivos generales de estabilidad social y económica, prosperidad compartida y sustentabilidad ambiental, y debe protegerse a los organismos de potestad reglamentaria para que no resulten capturados por los más poderosos.
Es más, la comunidad internacional debe decidir respecto de las responsabilidades comunes pero diferenciadas para una acción colectiva, a fin de garantizar una oferta adecuada de bienes públicos globales y proteger los bienes comunes en los diferentes dominios. Al mismo tiempo, cada país todavía debería contar con el espacio para implementar estrategias de desarrollo nacionales dentro del marco de reglas y normas comunes. Dentro de ese marco debería haber regulaciones para fortalecer la división internacional del trabajo e impedir que los países busquen acciones unilaterales destructivas que impidan a los demás concretar objetivos comunes.
Finalmente, las instituciones púbicas globales tendrán que ser más responsables ante su membrecía plena y, para lograr ese objetivo, deberían mantener sistemas de resolución de conflictos equilibrados. También deben estar abiertas a una mayor diversidad de puntos de vista, y por lo menos ser conscientes de las nuevas voces que surgen en los debates globales.
Durante una década, la comunidad internacional no ha sabido escuchar el consejo de Winston Churchill de "nunca dejes que se desperdicie una buena crisis". A menos que eso cambie en la próxima década, los que en 2029 observen el período actual, no tendrán otra oportunidad.