Rumo a um Novo Acordo Ecológico global
GENEBRA – o "Novo Acordo Ecológico" (NAE) proposto por progressistas nos Estados Unidos não pode ser realizado isoladamente. Para combater as alterações climáticas e a desigualdade em conjunto, todos os países terão de concordar com novas regras para a cooperação internacional.
O início de tal reformulação começou há uma década. Em Abril de 2009, o G20 reuniu-se em Londres e prometeu entregar uma resposta coordenada à crise financeira global, seguida por um futuro de crescimento mais robusto. Posteriormente, em Dezembro do mesmo ano, os líderes mundiais reunidos em Copenhaga sob os auspícios das Nações Unidas, prometeram grandes cortes nas emissões de dióxido de carbono para limitar o aquecimento global até 2° Celsiusacima dos níveis pré-industriais.
A primeira conferência terminou com o Primeiro-Ministro britânico, Gordon Browna anunciar uma "nova ordem mundial" fundada numa "nova era progressista de cooperação internacional"; a segunda, terminou em desordem. No entanto, olhando para trás, o falso alvorecer daquela "nova era progressista" provou ser o maior obstáculo a um futuro seguro e estável.
Há uma década, a recuperação pós-crise oscilou entre impulsos de crescimento anémico e períodos recorrentes de instabilidade financeira, devido em parte à mistura discordante de políticas monetárias intensamente frouxas e austeridade fiscal obstinada das economias avançadas. Além disso, tudo isto foi apoiado por uma enorme acumulação de dívida, que aumentou mais de 70 biliões de dólares americanos em todo o mundo desde a crise.
Contudo, a morosidade da recuperação também se deve ao entrecruzamento do poder corporativo e político no âmbito do capitalismo financiado. Ao mesmo tempo que o poder económico se tem tornado cada vez mais concentrado, a desigualdade - tanto dentro como entre países - atingiu patamares grotescos. Com a especulação financeira a ser, actualmente, um lugar comum, também o são as fraudes e a instabilidade. Entretanto, o investimento em bens públicos - a nível mundial e nacional - estagnou e o crescimento tornou-se dependente da extracção de recursos e do consumo de energia, ambos os quais a decorrer a um ritmo tal que põem em risco a própria civilização humana.
Tendo em conta a conversa ambiciosa em Londres há uma década, pouco mudou. Os debates sobre a melhoria da governança global ainda giram em torno de ideias como a "responsabilidade social corporativa", as "parcerias público-privadas" e o "livre-comércio", sendo que nenhum dos quais trará uma ordem económica mais justa e mais estável.
Secure your copy of PS Quarterly: The Year Ahead 2023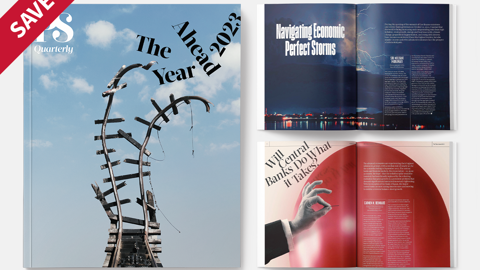 Secure your copy of PS Quarterly: The Year Ahead 2023
Our annual fourth-quarter magazine is here, and available only to Digital Plus and Premium subscribers. Subscribe to Digital Plus today, and save $15.

Para complicar ainda mais, as condições ambientais globais tornaram-se progressivamente mais frágeis desde 2009. Além disso, mesmo antes da decisão truculenta do Presidente dos EUA, Donald Trump, de abandonar o acordo climático de Paris de 2015, não havia nenhum caminho claro para manter a temperatura global abaixo de um nível que os cientistas consideram seguro, muito menos para evitar um colapso mais catastrófico.
Contra este panorama sombrio, propostas ousadas de um NAE foram ganhando tracção política, nomeadamente nos EUA, onde a ideia é transformar a economia através de um casamento harmonioso de justiça económica, solidariedade social e reabilitação ambiental. O NAE já desencadeou um debate intenso sobre as opções políticas e provocou uma resposta previsível dos interesses constituídos e dos seus retentores.
Porém, o casamento que o Novo Acordo Ecológico prevê não pode ser servir para benefício de uma hegemonia global. O capital é volúvel e o crescimento do carbono pesado já não é a salvaguarda das economias avançadas. Para que o NAE funcione, é também necessário que seja globalizado através da cooperação internacional.
O problema é que a regulamentação multilateral nas últimas décadas tem sido sujeita às mesmas pressões políticas da elaboração de políticas. Não é uma coincidência que o actual quadro que rege a economia global proporcione benefícios principalmente a entidades financeiras e a grandes empresas multinacionais. O objectivo original do multilateralismo pós-guerra era proteger os fracos dos fortes para que aqueles pudessem crescer. No entanto, a sua versão actual encoraja os países fortes a impor o seu modelo de desenvolvimento preferencial sobre os fracos, promulgando, assim, um mundo de resultados do modelo "o vencedor fica com a maior parte".
Sob estas condições, os acordos de ajustamento existentes simplesmente não servem. Para fazer um trabalho global de NAE, muitos dos programas multilaterais que se acumularam ao longo de décadas terão de ser eliminados e uma nova geração de instituições mais inteligente terá de ser estabelecida. Ainda assim, a própria paisagem multilateral continuaria a parecer-se com o que o Presidente dos EUA, Franklin D. Roosevelt imaginou quando apelou a um entendimento mútuo que "assegurasse a cada nação uma vida saudável em tempo de paz para os seus habitantes - em todo o mundo."
O que precisamos, então, é de um novo conjunto de princípios para substituir aqueles que têm sustentado a regulamentação na era da hiper-globalização. Olhando para o futuro, as regras globais devem ser recalibradas para os objectivos primordiais de estabilidade social e económica, prosperidade partilhada e sustentabilidade ambiental e os órgãos de regulamentação devem ser protegidos da captação pelos mais poderosos.
Além disso, a comunidade internacional deve decidir sobre as responsabilidades comuns mas diferenciadas de acção colectiva, de modo a assegurar uma oferta adequada de bens públicos globais e a proteger os bens comuns em diferentes domínios. Ao mesmo tempo, a cada país deve ainda ser concedido o espaço para prosseguir as estratégias nacionais de desenvolvimento dentro do quadro global de regras e normas. Devem estar incorporadas nesse quadro as regulamentações para reforçar a divisão internacional do trabalho e para impedir os países de prosseguir com acções unilaterais destrutivas que impeçam os outros de realizar os objectivos comuns.
Por último, as instituições públicas globais terão de ser mais responsáveis pela sua plena adesão e, para alcançar esse fim, devem manter o equilíbrio dos sistemas de resolução de litígios. Devem, também, estar abertas a uma maior diversidade de pontos de vista e, pelo menos, cientes das novas vozes quando estas emergem no debate global.
Durante uma década, a comunidade internacional não conseguiu acatar o conselho de Winston Churchill de "nunca deixar uma boa crise ir para o lixo". A menos que haja mudanças na próxima década, aqueles que olharem para o período actual em 2029 não vão ter outra oportunidade.