Vers un New Deal vert mondial
GENÈVE – Le « New Deal vert » proposé par les progressistes aux États-Unis ne peut pas être réalisé dans l'isolement. Pour lutter ensemble contre le changement climatique et les inégalités, tous les pays vont devoir accepter de nouvelles règles de coopération internationale.
Le début d'une réflexion de ce genre a commencé il y a dix ans. En avril 2009, le G-20 s'est réuni à Londres et a promis de fournir une réponse coordonnée à la crise financière mondiale, suivie d'un avenir de croissance plus robuste. Puis en décembre de la même année, les dirigeants du monde, réunis à Copenhague sous les auspices de l'Organisation des Nations unies, ont promis d'importantes réductions des émissions de dioxyde de carbone, afin de limiter le réchauffement de la planète à 2° Celsius au-dessus des niveaux préindustriels.
La première conférence s'est terminée par l'annonce du Premier ministre britannique Gordon Brown d'un « nouvel ordre mondial » fondé sur « une nouvelle ère progressiste de coopération internationale » ; la seconde s'est conclue dans le désarroi. Pourtant, avec le recul, la lueur d'espoir trompeuse de cette « nouvelle ère progressiste » s'est révélée être le plus grand obstacle à un avenir sûr et stable.
Depuis une dizaine d'années maintenant, la relance post-crise a oscillé entre poussées de croissance anémique et périodes d'instabilité financière, en partie en raison d'un mélange discordant de politiques monétaires excessivement souples et d'austérité budgétaire opiniâtre de la part des économies avancées. Tout cela a été encouragé par une accumulation massive de la dette, qui a augmenté de plus de 70 000 milliards de dollars dans le monde depuis la crise.
Mais la lenteur de la reprise joue également un rôle dans l'imbrication du pouvoir politique et des entreprises sous un capitalisme financiarisé. Alors que la puissance économique est de plus en plus concentrée, les inégalités - dans les pays comme entre les pays - a atteint des sommets ubuesques. Avec une spéculation financière considérée actuellement comme étant une pratique courante, la fraude et l'instabilité font également partie de l'ordre des choses. Pendant ce temps, les investissements dans les biens publics - au niveau mondial et national - stagnent et la croissance est devenue dépendante de l'extraction des ressources et de la consommation d'énergie, qui avancent à un rythme tel qu'elles menacent la civilisation humaine elle-même.
Malgré tous les objectifs ambitieux évoqués à Londres il y a dix ans, peu de choses ont changé. Les débats sur l'amélioration de la gouvernance mondiale tournent encore autour d'idées comme la « responsabilité sociale des entreprises », les « partenariats public-privé » et le « libre-échange ». Mais aucune d'entre elles ne va conduire à un ordre économique plus juste ni plus stable.
Secure your copy of PS Quarterly: The Year Ahead 2023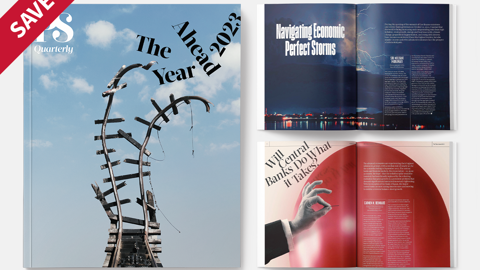 Secure your copy of PS Quarterly: The Year Ahead 2023
Our annual fourth-quarter magazine is here, and available only to Digital Plus and Premium subscribers. Subscribe to Digital Plus today, and save $15.

Pour compliquer un peu plus la situation, l'environnement mondial est devenu de plus en plus fragile depuis 2009. Et avant même la décision agressive du Président américain Donald Trump d'abandonner l'Accord de Paris sur le climat de 2015, il n'y avait pas d'orientation claire pour maintenir des températures mondiales en-deçà d'un niveau jugé sûr par les scientifiques, encore moins pour empêcher une dégradation plus catastrophique.
Dans ce contexte sombre, des propositions audacieuses pour un New Deal vert ont trouvé un écho politique, notamment aux États-Unis, où l'idée consiste à transformer l'économie par le biais d'un mariage harmonieux entre justice économique, solidarité sociale et remise en état de l'environnement. Le New Deal vert suscite déjà un riche débat sur les options politiques et a provoqué une réponse prévisible des intérêts en cause et de leur représentants politiques.
Mais le mariage conçu par les leaders du New Deal vert ne peut être abandonné à la seule bienfaisance d'un hégémon mondial. Le capital est mobile et la croissance gourmande en carbone n'est plus l'apanage des économies avancées. Pour que le New Deal vert fonctionne, il doit à son tour être mondialisé par la coopération internationale.
Le problème vient de ce que la réglementation multilatérale au cours des dernières décennies a été soumise aux mêmes pressions politiques que les prises de décisions politiques. Ce n'est pas une coïncidence si le cadre actuel qui régit l'économie mondiale profite surtout aux entités financières et aux grandes sociétés multinationales. L'objectif initial du multilatéralisme d'après-guerre était de protéger les faibles contre les forts afin qu'ils puissent se développer. Pourtant, sa version actuelle encourage les pays forts à imposer leur modèle de développement privilégié aux faibles, en établissant par ce moyen un monde où « le gagnant rafle toute la mise ».
Dans ces conditions, la mise au point des arrangements existants ne suffira pas. Pour qu'un New Deal vert fonctionne à l'échelle mondiale, un grand nombre des programmes multilatéraux qui se sont accumulés au fil des décennies devront être interrompus et une nouvelle génération d'institutions plus intelligentes devra être mises en place. Pourtant le paysage multilatéral lui-même doit continuer à ressembler à ce que le Président américain Franklin D. Roosevelt a imaginé quand il a appelé à une compréhension mutuelle capable « d'assurer à chaque nation une vie saine en temps de paix pour ses habitants - partout dans le monde. »
Nous avons donc besoin d'une nouvelle série de principes pour remplacer ceux qui ont été à la base de notre processus de réglementation, à l'ère de l'hyper-mondialisation. À l'avenir, les règles mondiales doivent être recalibrées vers les objectifs primordiaux de stabilité sociale et économique, de prospérité partagée et de durabilité environnementale et les organismes de réglementation doivent être protégés de leur capture par les plus puissants.
En outre, la communauté internationale doit décider des responsabilités communes et différenciées pour l'action collective, afin de garantir une offre suffisante de biens publics mondiaux et de protéger le bien commun dans les différents domaines. En même temps, il faudra continuer d'accorder à chaque pays la place nécessaire pour poursuivre des stratégies nationales de développement dans le respect des règles et des normes mondiales. Dans ce cadre, il faudra renforcer la règlementation sur la division internationale du travail et empêcher les pays de poursuivre des actions unilatérales destructrices qui empêchent les autres d'atteindre des objectifs communs.
Enfin, les institutions publiques devront être plus responsables devant leurs membres à part entière, et, pour parvenir à cette fin, devront maintenir des systèmes équilibrés de résolution des litiges. Ils devront également être ouverts à une plus grande diversité de points de vue, en étant au moins au courant des nouvelles opinions dans les débats mondiaux.
Depuis une décennie, la communauté internationale n'a pas tenu compte du conseil de Winston Churchill « de ne jamais gaspiller une bonne crise. » À moins que cela ne change au cours de la prochaine décennie, ceux qui considèreront la période actuelle en 2029 n'auront pas de seconde chance.