Ein neuer globaler Green New Deal
GENF – Der "Green New Deal" (GND), den die progressiven Kräfte in den USA vorschlagen, kann nicht in Isolation gelingen. Um Klimawandel und Ungleichheit gleichermaßen anzupacken, müssen sich alle Länder gemeinsam auf neue Regeln für die internationale Kooperation einigen.
Dieses Umdenkens nahm seinen Anfang vor einem Jahrzehnt. Im April 2009 trafen sich die G20 in London und versprachen, eine koordinierte Antwort auf die globale Finanzkrise zu finden, für eine Zukunft mit robusterem Wachstum. Im Dezember dieses Jahres versprachen die Staats- und Regierungschefs, die unter der Schirmherrschaft der Vereinten Nationen in Kopenhagen zusammentrafen, eine starke Senkung der Kohlendioxidemissionen, um die globale Erwärmung auf 2° Celsius über dem vorindustriellen Niveau zu begrenzen.
Die erste Konferenz endete mit der Ankündigung einer "neuen Weltordnung" durch den britischen Premierminister Gordon Brown, die auf "einer neuen fortschrittlichen Ära der internationalen Zusammenarbeit" basieren sollte; die zweite endete in Unordnung. Doch im Rückblick erweist sich der falsche Beginn dieser "neuen fortschrittlichen Ära" als das größere Hindernis für eine sichere und stabile Zukunft.
Seit nunmehr einem Jahrzehnt steht die Erholung nach der Krise unter dem Zeichen sich abwechselnder anämischer Wachstumsschübe und wiederkehrender Schübe finanzieller Instabilität, was zum Teil auf die uneinheitliche Mischung aus aggressiv lockerer Geldpolitik und verbissener fiskalischer Sparsamkeit in den Industrieländern zurückzuführen ist. Und all dies wurde durch den massiven Aufbau von Schulden unterstützt, die seit der Krise weltweit um mehr als 70 Billionen Dollar gestiegen sind.
Die Trägheit der Erholung ist aber auch auf die Verflechtung von unternehmerischer und politischer Macht im finanzialisierten Kapitalismus zurückzuführen. Mit zunehmender Konzentration der Wirtschaftskraft hat die Ungleichheit - sowohl innerhalb der Länder als auch zwischen den Ländern - groteske Ausmaße angenommen. Da Finanzspekulationen heute alltäglich sind, sind auch Betrug und Instabilität alltäglich. Unterdessen stagnieren die Investitionen in öffentliche Güter - global und national -, und das Wachstum ist abhängig von Rohstoffgewinnung und Energieverbrauch, die beide so schnell voranschreiten, dass die menschliche Zivilisation selbst bedroht ist.
Trotz all der ambitionierten Ankündigungen in London vor einem Jahrzehnt hat sich wenig geändert. Die Debatten über die Verbesserung der Global Governance drehen sich immer noch um Ideen wie "Corporate Social Responsibility", "Public Private Partnerships" und "Freihandelsabkommen", Nichts davon wird jedoch zu einer gerechteren und stabileren Wirtschaftsordnung führen.
Secure your copy of PS Quarterly: The Year Ahead 2023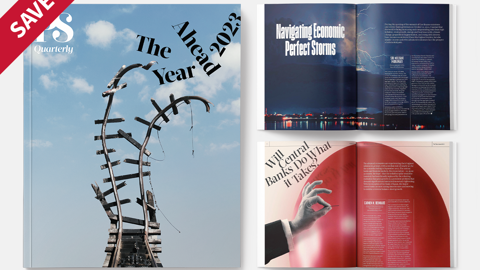 Secure your copy of PS Quarterly: The Year Ahead 2023
Our annual fourth-quarter magazine is here, and available only to Digital Plus and Premium subscribers. Subscribe to Digital Plus today, and save $15.

Die globalen Klimabedingungen sind seit 2009 immer unberechenbarer geworden. Und schon vor der umstrittenen Entscheidung von US-Präsident Donald Trump, das Pariser Klimaabkommen 2015 zu verlassen, gab es keinen klaren Weg, die globalen Temperaturen unter einem Niveau zu halten, das die Wissenschaftler für sicher halten, geschweige denn, das einen katastrophaleren Zusammenbruch verhindern könnte.
Angesichts dieser traurigen Aussichten scheinen klare Vorschläge für ein GND plötzlich politisch durchsetzbar, insbesondere in den USA, wo man die Wirtschaft durch eine Harmonsisierung von wirtschaftlicher Gerechtigkeit, sozialer Solidarität und Umweltsanierung verändern will. Der GND hat bereits eine lebhafte Debatte über politische Optionen ausgelöst. Die entsprechende Reaktion der Lobbyisten und ihrer politischen Handlanger war ebenfalls vorhersehbar.
Aber die Vision der Befürworter eines Green New Deal kann nicht von dem Wohlwollen einer globalen Supermacht abhängig gemacht werden. Kapital ist mobil, und das von Kohlenstoff abhängige Wachstum ist nicht länger allein den entwickelten Volkswirtschaften vorbehalten. Damit der GND funktionieren kann, muss er auch durch internationale Zusammenarbeit globalisiert werden.
Das Problem ist, dass die multilaterale Entscheidungsfindung in den letzten Jahrzehnten dem gleichen politischen Druck ausgesetzt war wie die Festlegung innenpolitischer Maßnahmen in den einzelnen Ländern. Es ist kein Zufall, dass der derzeitige Rahmen für die Steuerung der Weltwirtschaft in erster Linie Finanzinstituten und großen multinationalen Unternehmen zugutekommt. Das ursprüngliche Ziel des Multilateralismus der Nachkriegszeit war es, die Schwachen vor den Starken zu schützen, damit sie wachsen konnten. Dennoch ermutigt die aktuelle Version starke Länder, den Schwachen ihr bevorzugtes Entwicklungsmodell aufzuzwingen. Damit entsteht eine Welt, in der die Gewinner sich das meiste nehmen.
Unter diesen Bedingungen reicht eine Feinabstimmung der bestehenden Regelungen einfach nicht aus. Damit ein globales GND funktioniert, müssen viele der über Jahrzehnte angesammelten multilateralen Programme annulliert werden, und es muss eine neue Generation von intelligenteren Institutionen aufgebaut werden. Dennoch würde die multilaterale Landschaft selbst weiterhin dem ähneln, was US-Präsident Franklin D. Roosevelt sich vorstellte, als er zu einem gegenseitigen Verständnis aufrief, das "jeder Nation ein gesundes Friedensleben für ihre Bewohner sichert - überall auf der Welt".
Was wir also brauchen, sind neue Prinzipien, die diejenigen ersetzen, die die Regulierungsarbeit im Zeitalter der Hyperglobalisierung unterstützt haben. In Zukunft müssen die globalen Regeln auf die übergeordneten Ziele soziale und wirtschaftliche Stabilität, gemeinsamer Wohlstand und ökologische Nachhaltigkeit ausgerichtet werden, und die regelsetzenden Gremien müssen vor der Übernahme durch die Mächtigsten geschützt werden.
Darüber hinaus muss die internationale Gemeinschaft über gemeinsame, aber differenzierte Verantwortlichkeiten für kollektive Maßnahmen entscheiden, um eine angemessene Versorgung mit globalen öffentlichen Gütern zu gewährleisten und das Gemeinwesen in verschiedenen Bereichen zu schützen. Gleichzeitig sollte den einzelnen Ländern weiterhin der Raum gegeben werden, nationale Entwicklungsstrategien im Rahmen globaler Regeln und Normen zu verfolgen. In diesem Rahmen sollten Regelungen eingebettet sein, um die internationale Arbeitsteilung zu stärken und zu verhindern, dass Länder destruktive einseitige Aktionen durchführen, die andere daran hindern, gemeinsame Ziele zu erreichen.
Schließlich müssen die globalen öffentlichen Institutionen all ihren Mitgliedern gegenüber stärker rechenschaftspflichtig sein und zu diesem Zweck ausgewogene Streitbeilegungssysteme einsetzen. Sie müssen auch offen für eine größere Vielfalt von Standpunkten sein und neue Stimmen zumindest kennen, wenn diese in globalen Debatten auftauchen.
Seit einem Jahrzehnt ignoriert die internationale Gemeinschaft Winston Churchills Ratschlag, niemals eine gute Krise zu verschwenden. Wenn sich das nicht im kommenden Jahrzehnt ändert, werden diejenigen, die 2029 auf heute zurückblicken, keine zweite Chance bekommen.
Aus dem Englischen von Eva Göllner.