De gevaren van geplande uitstervingen
HONOLULU – Er is een cynische beweging in gang gezet om een nieuwe, krachtige en verontrustende technologie, bekend onder de naam 'gene drives', te bevorderen voor gebruik in het natuurbehoud. We hebben het hier niet over alledaagse genetische modificatie, bekend als 'GMO', maar over een radicale nieuwe technologie die 'mutagene kettingreacties' veroorzaaktdie ecosystemen op onvoorstelbare manieren kunnen transformeren.
Gene drives zijn de volgende stap in de genetische modificatie, synthetische biologie, en 'gene editing'. Deze technologie zet de standaardregels voor genetische erfelijkheid opzij, door te verzekeren dat een bepaalde eigenschap, die door de mens in het DNA van een organisme wordt ingebracht met gebruik van geavanceerde gene editing-technologie, zich verspreidt naar alle volgende generaties, en daarmee de toekomst van de hele soort verandert.
Het is een biologisch gereedschap met ongekende kracht. Toch promoten velen, in plaats van de tijd te nemen om de relevante ethische, ecologische, en sociale kwesties ten volle in overweging te nemen, gene drive-technologie agressief voor gebruik in natuurbehoud.
Een voorstel heeft als doel de inheemse vogels op Kauai-eiland in Hawaii te beschermen door gene drives te gebruiken om de populatie van een muggensoort te reduceren die vogelmalaria overbrengt. Een ander plan, dat is bekokstoofd door een consortium voor natuurbehoud waar overheidsorganisaties uit de VS en Australië deel van uit maken, zou invasieve muizen die vogels schaden uitroeien door gemodificeerde muizen te introduceren die geen vrouwelijke nakomelingen krijgen. Het creëren van de 'dochterloze muis' zou de eerste stap zijn richting zogeheten Genetische Biocontrole van Invasieve Knaagdieren (GBIRd), ontworpen om expres het uitsterven van 'plaagdieren' zoals ratten te veroorzaken om 'favoriete' soorten, zoals bedreigde vogels, te behouden.
De aanname die aan deze voorstellen ten grondslag lijkt te liggen is dat mensen over de kennis, capaciteiten, en prudentie beschikken om de natuur te controleren. Het idee dat we door mensen gestuurde uitsterving kunnen - en moeten - gebruiken om voor door mensen veroorzaakte uitsterving te compenseren is walgelijk.
Ik sta in mijn bezorgdheid niet alleen. Bij het Internationaal Union for the Conservation of Nature (IUCN) World Conservation Congress in Hawaii, dat nu bezig is, heeft een groep vooraanstaande natuurbeschermers een open brief geschreven met de titel 'Oproep tot gewetensvol natuurbehoud,' die een stop eist in het gebruik van gene drives voor natuurbehoud. Ik ben een van de ondertekenaars, samen met ecologisch icoon David Suzuki, de natuurkundige Fritjof Capra, Tom Goldtooth van het Indigenous Environmental Network, en biologisch pionier Nell Newman.
Subscribe to PS Digital Now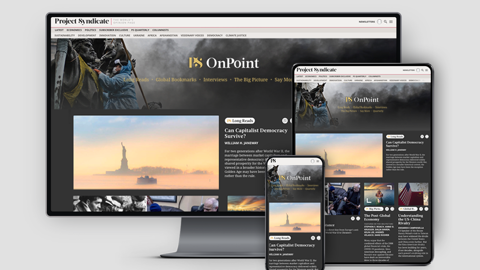 Subscribe to PS Digital Now
Access every new PS commentary, our entire On Point suite of subscriber-exclusive content – including Longer Reads, Insider Interviews, Big Picture/Big Question, and Say More – and the full PS archive.
De debatten die zijn losgebarsten op het IUCN-congres zullen een vervolg krijgen bij de Verenigde Naties Conventie voor Biologische Diversiteit in Mexico in december, wanneer wereldleiders een voorgesteld wereldwijd moratorium op gene drives in overweging moeten nemen. Deze debatten weerspiegelen de eisen van leiders uit het maatschappelijk middenveld voor een grondiger overweging van de wetenschappelijke, morele, en wettelijke kwesties die met het gebruik van gene drives meekomen.
Zoals ik het zie stellen we onszelf simpelweg niet de juiste vragen. Onze technologische kracht wordt grotendeels bekeken door het oog van de techniek, en technici neigen zich maar op één vraag te richten: 'werkt het?' Maar zoals Angelika Hilbeck, president van het Europese Netwerk van Wetenschappers voor Sociale en Milieu Verantwoordelijkheid (ENSSER) betoogt, zou een betere vraag zijn; 'wat doet het nog meer?'
Over het GBIRd-project zou je je bijvoorbeeld kunnen afvragen of de 'dochterloze muis' uit het specifieke ecosysteem waarin deze is geïntroduceerd zou kunnen ontsnappen, net zoals GMO-gewassen en gekweekte zalm doen, en wat de gevolgen zijn als dit zou gebeuren. Wat de muskieten in Hawaii betreft kan je je afvragen hoe het verkleinen van hun aantallen de bedreigde grijze vleermuis zou beïnvloeden.
Te verzekeren dat dit soort vragen serieus zullen worden genomen zal niet makkelijk worden. Als jurist met ervaring met Amerikaanse overheidsregulering kan ik met zekerheid zeggen dat het bestaande regelgevende raamwerk totaal niet in staat is om gene drive-technologie in te schatten en erop toe te zien.
Wat de zaken nog verergert is dat de media consistent gefaald hebben het publiek over de risico's van genetische technologieën in te lichten. Maar weinig mensen begrijpen dat, zoals wetenschapshistoricus Lily Kay van het MIT uitlegt, genetische modificatie expres is ontwikkeld en bevorderd als middel voor biologische en sociale controle. Zij die dit proces stuurden hadden tot doel een zichzelf toebedacht mandaat voor 'op wetenschap gebaseerde sociale interventie' in te vullen.
Krachtige gereedschappen zoals genetische modificatie en in het bijzonder gene drive-technologie spreken tot de verbeelding van iedereen met een agenda; van het leger (dat ze zou kunnen gebruiken om bio-wapens te maken die de verhoudingen totaal veranderen) tot goedbedoelende voorvechters van de gezondheid (die ze zouden kunnen gebruiken om bepaalde dodelijke ziekten uit te roeien). Ze appelleren in ieder geval in grote mate aan het narratief van de heldenrol, dat favoriet is onder zoveel van mijn mede-natuurbeschermers.
Maar de waarheid is dat we de intellectuele infrastructuur nog niet hebben gecreëerd om de fundamentele veranderingen die gene drives – om andere krachtige technologieën nog maar buiten beschouwing te laten – met zich meebrengen tegemoet te treden. En nu wordt van ons verwacht dat we onze kritische gaven opzij zetten en de beloften van de techno-elites vertrouwen dat ze gene drives verantwoordelijk en in dienst van schijnbaar positieve milieudoelen zullen gebruiken? Een openbaar debat is blijkbaar niet nodig. Maar waarom zouden we blindelings geloven dat alles onder controle is?
Naar mijn mening is de focus op het gebruik van gene drive-technologie voor natuurbescherming een list om publieke acceptatie te bewerkstelligen, zowel als dekking door regelgeving. Waarom iets blootstellen aan publieke kritiek en mogelijke beperkingen wanneer je het door de achterdeur naar binnen kan smokkelen door te doen alsof het goed zal doen? Voor voorvechters van gene drives zijn de risico's ervan zo voor de hand liggend dat ze de kans niet wagen erover te praten.
In mijn meer dan twintig jaar van onderzoek en publiceren over transgene technologieën dacht ik dat ik het ergste van de valse beloften en hype die ze vergezellen wel gezien had. Maar zoiets als gene drives heb ik nog nooit meegemaakt, en ze dragen bij aan de ultieme test van onze zelfcontrole. Kunnen we de wetenschap er echt mee vertrouwen ons de weg te leiden, of stellen we ons lot roekeloos in handen van technologische 'wondermiddelen' als weg naar de toekomst?
Gelukkig hebben we nog steeds een keuze. Het feit dat gene drives de basisrelatie tussen de mensheid en de natuur kunnen veranderen is zowel een uitdaging als een kans. We kunnen nu doen wat we lang geleden al hadden moeten doen, met betrekking tot zowel nucleaire als transgene technologieën: we moeten meer aandacht gaan besteden aan de gevaren van de menselijke vindingrijkheid - en meer respect aan het genie van de natuur.
Vertaling Melle Trap