Klimaatleiderschap betekent een afscheid van fossiele brandstoffen
VANCOUVER/BERLIJN – Het einde van het tijdperk van fossiele brandstoffen is nabij. Hernieuwbare energiebronnen zoals zonne- en windenergie die constant boven verwachting presteren, het gebruik van elektrische voertuigen dat de voorspellingen ver overtreft, en regeringen wereldwijd die de urgentie van het tegengaan van klimaatverandering erkennen zijn hiervan een teken aan de wand.
En toch wordt de vraag die hier centraal staat op één of andere manier niet serieus tegemoet getreden: wat is ons plan om van olie, gas, en kolen te ontwennen?
Deze vraag wordt steeds urgenter omdat regeringen over de hele wereld, van Argentinië tot India tot Noorwegen, plannen steunen om fossiele brandstoffen te blijven produceren en op zoek te gaan naar meer. Deze regeringen beweren dat nieuwe projecten voor fossiele brandstoffen in overeenstemming zijn met hun engagementen onder het klimaatakkoord van Parijs, ondanks het feit dat alleen al het verbranden van alle fossiele brandstoffen in bestaande reserves de mondiale temperaturen boven de 2 graden boven pre-industriële niveaus zal doen stijgen – en daarmee ver boven de grens vastgelegd in het akkoord. Dit is een ongelooflijk vertoon van cognitieve dissonantie.
De realiteit is dat het hier en nu beperken van de productie van fossiele brandstoffen essentieel is om een voortdurende verkokering van energie-infrastructuur en politieke dynamiek te voorkomen die het afscheid van fossiele brandstoffen later nog moeilijker en duurder zal maken. Er zullen belangrijke vragen over wat billijk is gesteld moeten worden: Wie gaat het laatste vat olie verkopen? Wie betaalt er voor de transitie naar hernieuwbare energie? En wie compenseert getroffen gemeenschappen en werknemers? Maar uiteindelijk zullen deze vragen toch, binnen een bredere context van klimaatgerechtigheid, beantwoord moeten worden.
Klimaatverandering is al eens de grote morele uitdaging van ons tijdperk genoemd. Alleen dit jaar al heeft de wereld te maken gehad met ongekende overstromingen, orkanen, bosbranden, en droogten, op vrijwel elk continent. Toch moet de echte storm nog komen. Als we de meest verwoestende impact hiervan willen voorkomen zal het uitfaseren van kolen – klimaatmoordenaar nummer één – niet genoeg zijn. Een veilig klimaat vergt een einde aan het tijdperk van Big Oil.
Het goede nieuws is dat sociale verandering geen gradueel lineair proces is. In plaats daarvan gebeurt dit vaak in golven gekarakteriseerd door 'omslag' momenten veroorzaakt door het samenkomen van technologische vooruitgang, financiële stimuli, politiek leiderschap, beleidsverandering, en, als belangrijkste, sociale mobilisatie. We lijken momenteel steeds dichter bij exact zo een moment te komen.
Subscribe to PS Digital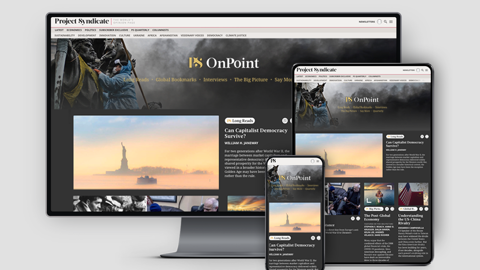 Subscribe to PS Digital
Access every new PS commentary, our entire On Point suite of subscriber-exclusive content – including Longer Reads, Insider Interviews, Big Picture/Big Question, and Say More – and the full PS archive.
Om te beginnen gaat de technologie sneller vooruit dan wie ook gedacht had. Twintig jaar geleden toen we aan klimaatkwesties begonnen te werken stuurden we faxen, belden we met vaste lijnen, en ontwikkelden we foto's op 35mm in donkere kamers. Nog eens twintig jaar van nu zullen we leven in een wereld die wordt aangedreven door zon, golven, en wind.
Bovendien groeit de publieke oppositie tegen ontwikkeling van fossiele brandstoffen, wat politieke druk en financiële en wettelijke risico's tot gevolg heeft. Gewone mensen overal ter wereld doen er alles aan om projecten tegen te houden die niet in lijn liggen met een klimaatveilige toekomst; ofwel door het protesteren tegen de Dakota Access Pipeline in de Verenigde Staten of het Kinder Morgan Trans Mountain Pipeline System in Canada, of door mee te doen aan de blokkade door 'kayactivisten' van boorplatformen in het Noordpoolgebied, ofwel door lokale referenda te gebruiken om olie- en mijnbouwprojecten te stoppen in Colombia.
Onlangs hebben meer dan 450 organisaties uit meer dan 70 landen de Lofoten Declaration ondertekend, die expliciet roept om een beheerste afbouw van de fossiele brandstoffen sector. De verklaring vraagt leiderschap van degenen die het zich kunnen veroorloven, een eerlijke transitie voor de getroffenen, en steun voor landen die met de grootste uitdagingen te maken krijgen.
Rijke landen zouden hierin het voortouw moeten nemen. Noorwegen bijvoorbeeld is niet alleen één van de rijkste landen ter wereld, het is ook de op zes na grootste exporteur van CO₂-uitstoot, en blijft ontginning en ontwikkeling van nieuwe olie- en gasvelden toestaan. Al voorgestelde en verkennende nieuwe projecten zouden de Noorse uitstoot met 150% kunnen doen stijgen.
Als Noorwegen zijn beweerde rol als leider in internationale klimaatdiscussies wil vervullen moet zijn regering er actief aan werken om de productie terug te brengen, en tegelijkertijd getroffen werknemers en gemeenschappen tijdens deze transitie ondersteunen. Canada, nog zo een rijk land dat zich als klimaatleider ziet maar toch nieuwe olie- en gasprojecten blijft najagen, zou hetzelfde moeten doen.
Sommige landen bewegen al in de juiste richting. De Franse president Emmanuel Macron heeft een wetsvoorstel gedaan om in 2040 alle ontginning en productie van olie en gas in Frankrijk en zijn overzeese gebiedsdelen te hebben uitgefaseerd. De Schotse regering heeft fracking geheel verboden, en Costa Rica produceert het overgrote merendeel van zijn elektriciteit nu zonder gebruik van olie. Maar het echte werk moet nog beginnen, waarbij landen niet alleen plannen voor nieuwe infrastructuur voor fossiele brandstoffen afblazen, maar ook bestaande systemen afwikkelen.
We kunnen een fossielvrije economie zelf vormgeven of laten gebeuren. Als we deze doelmatig opbouwen kunnen we kwesties qua gelijkheid en mensenrechten tegemoet treden, en garanderen dat de transitie eerlijk en glad verloopt, de nieuwe energie-infrastructuur ecologisch deugt, en dit democratisch wordt gecontroleerd. Als we deze simpelweg vanzelf laten ontstaan zullen veel jurisdicties blijven zitten met pijpleidingen naar nergens, half afgebouwde megamijnen, en gestrande activa die de economie verzwakken en bijdragen aan politieke polarisatie en sociale onrust. Er is hier maar één zinnige keuze.
Burgers over de hele wereld vechten voor hun visie van een betere toekomst – een toekomst waarin gemeenschappen en niet bedrijven hun natuurlijke hulpbronnen en ecosystemen beheren als publiek bezit, en mensen minder consumeren, minder giftig plastic afval creëren, en een over het algeheel gezondere omgeving genieten. Het is aan onze politieke leiders om die visie waar te maken. Ze zouden actief samen moeten werken om een rechtvaardige en slimme overgang naar een toekomst vrij van fossiele brandstoffen te bewerkstelligen, in plaats van deze toekomst moeilijker en duurder bereikbaar te maken.
(De auteurs danken Hannah McKinnon van Oil Change International voor haar hulp bij dit commentaar.)
Vertaling Melle Trap