Nexus Zadłużenia i Klimatu
NOWY JORK/LONDYN/GENEWA - Listopad był pracowitym miesiącem w polityce dotyczącej zmian klimatu. Podczas gdy decydenci próbowali osiągnąć postęp na Konferencji Narodów Zjednoczonych w sprawie Zmian Klimatu (COP27) w Sharm El-Sheikh w Egipcie, światowi przywódcy zebrali się na Bali w Indonezji na szczycie G20. Chociaż żadne z tych spotkań nie skupiło się na zbiegu kryzysów środowiskowych i zadłużenia - które obecnie dotykają większość krajów globalnego Południa - oba osiągnęły pewien postęp w kierunku zapewnienia krajom rozwijającym się wsparcia finansowego, którego potrzebują, aby przetrwać obecny kryzys.
Na Bali przywódcy największych gospodarek świata w większości powtórzyli swoje wcześniejsze stanowiska w sprawie kryzysu zadłużenia, wprowadzając jedynie niewielkie korekty. Jednak podczas COP27 mniejsze kraje były w stanie wyrazić swoje opinie i podkreślić potrzebę międzynarodowych działań w zakresie redukcji zadłużenia. Premier Barbadosu Mia Mottley błagała społeczność międzynarodową o pomoc dla krajów narażonych na skutki zmian klimatu. Jej "Agenda Bridgetown" proponuje trzyetapowy plan rozwiązania kryzysu w krajach rozwijających się, obejmujący awaryjne zastrzyki płynności przez Międzynarodowy Fundusz Walutowy, zwiększenie pożyczek przez wielostronne banki rozwoju oraz nowe mechanizmy finansowania.
Mottley nie była osamotniona w przedstawianiu argumentów na rzecz rozwiązania problemu rosnącego niedoboru płynności. Prezydent Kolumbii Gustavo Petro zaproponował, aby MFW zainicjował program zamiany długu na inwestycje, który mógłby pomóc w przyspieszeniu projektów adaptacji i łagodzenia skutków zmian klimatu w krajach rozwijających się. Egipt - przy wsparciu Komisji Gospodarczej ONZ ds. Afryki - zainicjował koalicję na rzecz zrównoważonego zadłużenia. A grupy społeczeństwa obywatelskiego zrzeszone w ruchu Debt for Climate wezwały do anulowania długów najbiedniejszych krajów świata. Ale ostatecznie największym przełomem COP27 była decyzja o utworzeniu funduszu strat i szkód, który ma pomóc krajom rozwijającym się w łagodzeniu najgorszych skutków zmian klimatu.
Ale jak to się stało, że dług stał się najbardziej dyskutowanym problemem na konferencji poświęconej walce ze zmianami klimatu? Inwazja Rosji na Ukrainę zakłóciła funkcjonowanie rynków energii i żywności, napędzając gwałtowny wzrost cen na całym świecie. Podczas gdy kraje rozwinięte zmagają się ze skutkami wysokiej inflacji, kraje rozwijające się i importujące energię ucierpiały najbardziej. Ich rezerwy walutowe zostały gwałtownie uszczuplone, co doprowadziło finanse publiczne - i tak już nadszarpnięte ponad dwuletnim kryzysem COVID-19 - do granic możliwości. Rosnące koszty energii sprawiły, że racjonowanie energii elektrycznej i przerwy w dostawie prądu stały się coraz częstsze, pogarszając trudną sytuację gospodarczą krajów o niższych dochodach.
Agresywne podwyżki stóp procentowych przez amerykańską Rezerwę Federalną jeszcze bardziej pogłębiły problemy tych krajów, wzmacniając dolara i zmuszając inne wiodące banki centralne do pójścia w ich ślady. Dla zmagających się z problemami krajów rozwijających się zarządzanie skutkami katastrof ekologicznych związanych z klimatem - takich jak powodzie, susze i silne burze - nigdy nie było tak trudne, a znaczna część postępu gospodarczego i społecznego z ostatnich kilku dekad ulega odwróceniu.
Nie z własnej winy kraje o niższych dochodach stoją na krawędzi gospodarczej przepaści. Według MFW, ponad jedna czwarta gospodarek wschodzących nie wywiązuje się ze swoich zobowiązań lub notuje obligacje na niekorzystnym poziomie. Wśród krajów o niskim dochodzie ponad 60% ma problemy z zadłużeniem lub jest nim poważnie zagrożonymi. Brak inwestycji ze strony rządów w działania związane z dostosowaniem do zmian klimatu i odpornością również pogorszył ryzyko związane z długiem państwowym i podniósł koszt kapitału, tworząc błędne koło, które jeszcze bardziej osłabi finanse publiczne i stabilność zadłużenia.
Subscribe to PS Digital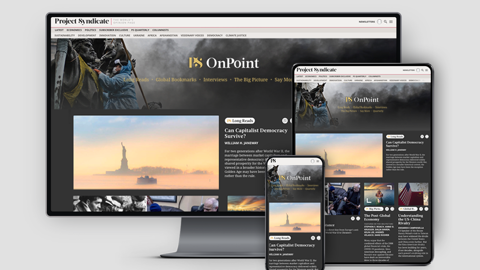 Subscribe to PS Digital
Access every new PS commentary, our entire On Point suite of subscriber-exclusive content – including Longer Reads, Insider Interviews, Big Picture/Big Question, and Say More – and the full PS archive.
Wspólne ramy traktowania zadłużenia opracowane przez grupę G-20, których celem jest umorzenie zadłużenia krajów borykających się z problemami, nie przyniosły skutecznych i terminowych działań. Ponadto nie obejmuje on krajów o średnim dochodzie i brakuje w nim mechanizmu zapewniającego zaangażowanie prywatnych wierzycieli. Spośród trzech krajów, które złożyły wniosek o oddłużenie - Czadu, Etiopii i Zambii - tylko Czad osiągnął porozumienie ze swoimi wierzycielami, i to po wyczerpujących dwuletnich negocjacjach i bez otrzymania jakiegokolwiek umorzenia. Doświadczenia tych trzech krajów prawdopodobnie zniechęcą inne zagrożone kraje do ubiegania się o restrukturyzację długu.
Duża część debaty na temat zmian klimatycznych i zadłużenia skupia się na konwersji długu na klimat (znanej również jako dług za naturę), która umożliwia krajom umorzenie części długu w zamian za finansowanie krajowych projektów klimatycznych. Chociaż takie ustalenia stanowią pożądane źródło finansowania krytycznych działań w zakresie ochrony przyrody, ich wysokie koszty transakcyjne i ograniczona wielkość sprawiają, że nie nadają się one do rozwiązywania kryzysu zadłużenia na skalę systemową.
Wprowadzenie zagrożonych krajów na ścieżkę odporności na zmianę klimatu i ekologicznego rozwoju przyniosłoby korzyści zarówno dłużnikom, jak i wierzycielom. Dlatego społeczność międzynarodowa - a w szczególności kraje G20 - muszą uzgodnić kompleksową inicjatywę na rzecz umarzania długów, która umożliwiłaby krajom znajdującym się w trudnej sytuacji finansowanie projektów ekologicznych w zamian za częściowe umorzenie długów.
Skoro Indie formalnie objęły prezydencję G-20, powinny dokonać niezależnego przeglądu programu zadłużenia G-20 i przedstawić zalecenia dotyczące reformy. Kraje wysoko zadłużone, które zazwyczaj nie mają głosu na szczytach G20, również muszą być częścią tego procesu. Pod koniec 2021 r. grupa V20, która reprezentuje ministrów finansów z 58 narażonych na skutki zmian klimatu krajów o łącznej populacji 1,5 mld ludzi, zaproponowała program restrukturyzacji zadłużenia, który zawiera praktyczne rozwiązania w zakresie finansowania projektów niskoemisyjnych. Najbogatsze kraje świata powinny poważnie rozważyć jego poparcie.
Inną przekonującą propozycją, popartą przez prezydenta Francji Emmanuela Macrona podczas COP27, jest zwołanie panelu ekspertów wysokiego szczebla w celu zastanowienia się, jak zapewnić długoterminową zdolność obsługi zadłużenia i umożliwić krajom dłużnikom mobilizację inwestycji.
Społeczność międzynarodowa musi uniknąć powtórzenia błędów z poprzednich kryzysów zadłużeniowych. Zbyt późne działania doprowadziłyby do kaskadowych kryzysów w dziesiątkach krajów rozwijających się, zagrażając stabilności społecznej i politycznej, a także wypierając międzynarodową agendę klimatyczną. Aby zapewnić sprawiedliwą, odporną na zmiany klimatu przyszłość, musimy najpierw zapobiec nadchodzącej katastrofie zadłużenia.
Shamshad Akhtar - były podsekretarz generalny ONZ-tu; Anzetse Were, starszy ekonomista w Financial Sector Deepening Kenya; Kevin P. Gallagher - dyrektor Global Development Policy Center na Uniwersytecie Bostońskim; oraz Jörg Haas - szef polityki międzynarodowej w Fundacji Heinricha Bölla - również przyczynili się do powstania tego komentarza.
Autorzy są współprzewodniczącymi projektu Debt Relief for a Green and Inclusive Recovery.
Z angielskiego przetłumaczyła Marz McNamer