Spojitost mezi dluhy a klimatem
NEW YORK/LONDÝN/ŽENEVA – Listopad byl pro politikaření v otázce klimatických změn rušný měsíc. Zatímco se politici snažili dosáhnout pokroku na Konferenci Organizace spojených národů o změně klimatu (COP27) v egyptském Šarm aš-Šajchu, světoví lídři se sešli na indonéském Bali na summitu skupiny G20. A přestože se ani jedno setkání přímo nezaměřovalo na souběh environmentálních a dluhových krizí, jenž v současné době drtí velkou část globálního Jihu, obě dosáhla určitého pokroku směrem k poskytnutí takové finanční podpory rozvojovým zemím, jakou tyto země potřebují, aby současnou bouři přestály.
Na Bali lídři největších světových ekonomik většinou jen opakovali své předchozí postoje k dluhové krizi, pouze s drobnými úpravami. Na konferenci COP27 se však menším zemím podařilo pozvednout hlas a zdůraznit potřebu mezinárodní akce v oblasti odpuštění dluhů. Například premiérka Barbadosu Mia Mottleyová naléhavě vyzvala mezinárodní společenství, aby pomohlo klimaticky zranitelným zemím. Její "bridgetownská agenda" navrhuje tříbodový plán řešení krize v rozvojovém světě, a to včetně krizových injekcí likvidity ze strany Mezinárodního měnového fondu, rozšířených půjček od multilaterálních rozvojových bank a nových mechanismů financování.
Mottleyová nebyla sama, kdo argumentoval za vyřešení prohlubujícího se zadrhnutí likvidity. Například kolumbijský prezident Gustavo Petro navrhl, aby MMF inicioval swapový program dluhy za investice, který by mohl přispět k urychlení projektů adaptace na klimatické změny a jejich zmírňování v rozvojových zemích. Egypt zase s podporou Ekonomické komise OSN pro Afriku zahájil činnost koalice za trvale udržitelný dluh. A skupiny občanské společnosti přidružené k hnutí Dluh za klima vyzvaly ke zrušení dluhů nejchudších zemí světa. V konečném důsledku však bylo největším průlomem na COP27 rozhodnutí vytvořit fond ztrát a škod, který si klade za cíl pomáhat rozvojovým zemím se zmírňováním nejhorších následků klimatických změn.
Jak se však stalo, že se dluh stal nejdiskutovanějším problémem na konferenci věnované boji proti klimatickým změnám? Ruská invaze na Ukrajinu narušila trhy s energií a potravinami a rozdmýchala prudké zvýšení cen po celém světě. Zatímco však rozvinuté země bojují s dopady vysoké inflace, rozvojové země dovážející energii byly zasaženy nejtvrději. Jejich devizové rezervy se rychle vyčerpávají, což natolik napíná veřejné finance – už tak oslabené dva a půl roku trvající pandemií covid-19 –, že hrozí jejich zhroucení. Vzhledem ke stoupajícím nákladům na energii začala být stále běžnější také elektřina na příděl a její výpadky, což dále zhoršuje nelehkou ekonomickou situaci v zemích s nižšími příjmy.
Problémy těchto zemí navíc zhoršuje skutečnost, že agresivní zvyšování úrokových sazeb americkým Federálním rezervním systémem posílilo dolar a přinutilo další čelní centrální banky, aby tyto kroky následovaly. Pro těžce zkoušené rozvojové země nebylo řízení dopadů klimaticky podmíněných ekologických katastrof, jako jsou záplavy, sucha a silné bouře, nikdy obtížnější než dnes, přičemž velká část hospodářského a společenského pokroku dosaženého v uplynulých desetiletích nabírá opačný směr.
Země s nižšími příjmy tak bez vlastního přičinění balancují na okraji ekonomické propasti. Podle MMF více než čtvrtina rozvíjejících se ekonomik buď není schopna splácet závazky nebo se jejich dluhopisy obchodují v rizikovém pásmu. Pokud jde o nízkopříjmové země, více než 60% z nich vykazuje vysoké riziko dluhové zátěže nebo se k němu blíží. Neschopnost vlád investovat do adaptace na klimatické změny a odolnosti vůči nim zároveň zhoršila suverénní rizika a vyšroubovala kapitálové náklady, čímž vznikl začarovaný kruh, který dále ochromí veřejné finance a dluhovou udržitelnost.
Subscribe to PS Digital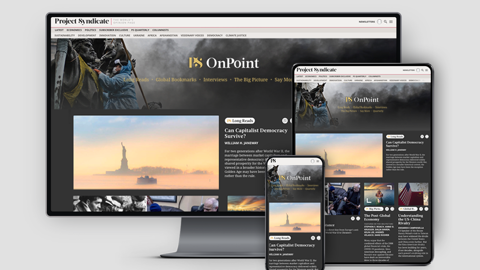 Subscribe to PS Digital
Access every new PS commentary, our entire On Point suite of subscriber-exclusive content – including Longer Reads, Insider Interviews, Big Picture/Big Question, and Say More – and the full PS archive.
Takzvaný Společný rámec G20 pro řešení dluhů, který si klade za cíl poskytnout dluhovou úlevu těžce zkoušeným zemím, se nepřetavil v efektivní a včasné kroky. Navíc vylučuje středněpříjmové země a postrádá mechanismus, jak zapojit soukromé věřitele. Ze tří států, které o řešení dluhů požádaly – Čad, Etiopie a Zambie –, dosáhl pouze Čad dohody se svými věřiteli, a i to jen po vyčerpávajícím dvouletém jednání a bez dosažení jakéhokoliv odpisu. Zkušenost těchto tří zemí pravděpodobně odradí ostatní problémové státy od snah o restrukturalizaci dluhu.
Velká část debaty o klimatických změnách a dluhu se zaměřuje na swapy "dluh za klima" (nebo též "dluh za přírodu"), které umožňují státům umazat část jejich dluhu výměnou za financování domácích klimatických projektů. Taková aranžmá sice představují vítaný zdroj financování pro klíčová úsilí v oblasti ochrany přírody, avšak vzhledem k vysokým transakčním nákladům a omezenému objemu nejsou vhodná pro řešení dluhové krize systémových proporcí.
Pokud by se podařilo dostat zranitelné země na cestu klimatické odolnosti a zeleného rozvoje, prospělo by to dlužníkům i věřitelům. Proto se mezinárodní společenství, a zejména státy skupiny G20, musí dohodnout na rozsáhlé iniciativě za dluhovou úlevu, která problémovým zemím umožní financovat zelené projekty výměnou za částečné odpuštění dluhů.
Indie, která formálně převzala předsednictví G20, by měla vypracovat nezávislé hodnocení dluhové agendy G20 a dát doporučení k reformě. Součástí procesu musí být i vysoce zadlužené země, jimž na summitech G20 obvykle nebývá dopřáno sluchu. Skupina V20, která sdružuje ministry financí z 58 klimaticky ohrožených zemí s celkovým počtem 1,5 miliardy obyvatel, navrhla na konci roku 2021 plán restrukturalizace dluhu, jenž obsahuje praktická řešení pro financování nízkouhlíkových projektů. Nejbohatší státy světa by měly vážně uvažovat o jeho podpoře.
Dalším přesvědčivým návrhem, který na COP27 podpořil i francouzský prezident Emmanuel Macron, je svolat vysoký expertní panel, který bude řešit otázku, jak zajistit dlouhodobější dluhovou udržitelnost a umožnit zadluženým zemím mobilizovat investice.
Mezinárodní společenství se musí vyhnout opakování chyb z předchozích dluhových krizí. Když začne dělat příliš málo a příliš pozdě, výsledkem bude řetězec krizí v desítkách rozvojových zemí, jenž ohrozí sociální a politickou stabilitu a ještě více vykolejí mezinárodní klimatickou agendu. Chceme-li si zajistit spravedlivou a klimaticky odolnou budoucnost, musíme nejprve odvrátit rýsující se dluhovou katastrofu.
Z angličtiny přeložil Jiří Kobělka
Na tomto komentáři se podíleli také Šamšad Achtarová, bývalá zástupkyně generálního tajemníka Organizace spojených národů, Anzetse Wereová, hlavní ekonomka organizace Financial Sector Deepening Kenya, Kevin P. Gallagher, ředitel Centra globální rozvojové politiky na Bostonské univerzitě, a Jörg Haas, ředitel pro mezinárodní politiku v Nadaci Heinricha Bölla.
Autoři jsou spolupředsedy projektu Debt Relief for a Green and Inclusive Recovery Project.