We moeten kiezen voor een snelle energietransitie
LONDEN – De mondiale transitie van koolstof-intensieve fossiele brandstoffen naar schonere, betrouwbaarder duurzame brandstoffen als wind- en zonne-energie is al flink op steek. Maar de grote vraag – voor de jaren twintig van deze eeuw en daarna – is hoe snel deze transitie zich zal voltrekken. Een langzame transitie zou betekenen dat de zwaargewichten in de energiesector blijven floreren, en dat we vrijwel zeker de doelstellingen van de emissie-reductie niet zullen halen die zijn vastgelegd in het klimaatakkoord van Parijs uit 2015. Maar als de transitie snel haar beslag krijgt, zullen de gevestigde partijen in uiteenlopende mate te maken krijgen met ontwrichting – de prijs voor het binnen het zicht houden van de doelstellingen van Parijs. Zoals de zaken er nu voor staan, zijn beide scenario's mogelijk; ze vertegenwoordigen twee routes waar we uit kunnen kiezen.
In een nieuw rapport voor de Global Future Council on Energy van het World Economic Forum identificeren wij en onze collega-auteurs vier cruciale domeinen die zullen bepalen welke route we zullen nemen. The Speed of the Energy Transition (De Snelheid van de Energietransitie) biedt overtuigend bewijsmateriaal dat de transitie snel zal plaatsvinden, en dat alle stakeholders in het mondiale energiesysteem – dat wil zeggen: iedereen – zich erop moet gaan voorbereiden.
Eén terrein waarop de geleidelijke en de snelle scenario's uiteenlopen is dat van de adoptie van duurzame energie. Wanneer zullen duurzame energiebronnen de traditionele gaan vervangen? Voor de markten zal het cruciale moment zijn aangebroken als duurzame energiebronnen alle groei van het energieaanbod voor hun rekening zullen nemen, evenals alle groei van het elektriciteitsaanbod. Dat zal zeer waarschijnlijk begin jaren twintig gebeuren, lang voordat fossiele brandstoffen hun dominante aandeel in het totale energieaanbod zullen verliezen. Naarmate duurzame energiebronnen de toonaangevende groei-industrieën worden binnen de energiesector, zullen de financiële markten daar steeds meer hun kapitaalallocatie op baseren.
Een tweede domein betreft de innovatie op het gebied van de energietechnologie, en de vraag of de groei in nieuwe applicaties lineair zal zijn (het geleidelijke scenario) of exponentieel (het snelle scenario). Wind- en zonne-energie zijn al goedkoper dan fossiele brandstoffen als het gaat om het opwekken van energie, en elektrische auto's kunnen qua prijs al bijna de concurrentie aan met auto's met verbrandingsmotoren. Het bewijsmateriaal duidt erop dat de barrières voor de groei van de markt voor elektrische auto's in de afzienbare toekomst geslecht kunnen worden. Bovendien komen er nieuwe innovatiegolven aan, in de vorm van ontluikende maar nu al levensvatbare technologieën, zoals groene waterstofenergie. De prijzen voor duurzame energiebronnen zullen waarschijnlijk tot ver onder die voor gevestigde energiebronnen dalen – en dat ook nog eens snel –, wat zal leiden tot een exponentiële groei op het terrein van de groene energie.
Een derde domein dat van belang is, is dat van het overheidsbeleid. Zal dat aan de behoedzame kant blijven, of zal het dynamischer en ambitieuzer worden, als nieuwe technologieën kansen scheppen om het ontwerp en het functioneren van markten te verbeteren? Omdat traagheid een machtige factor is, is het bestaand beleid qua bereik beperkt gebleken. Maar de geschiedenis leert ons dat er "tipping points" zijn: zodra zich echte veranderingen voordoen, hebben die de neiging zich snel over de hele linie te verbreiden – zoals in het geval van wetten die het roken binnenshuis verbieden.
Gezien het feit dat nieuwe technologieën al betere oplossingen bieden voor de energiebehoeften van consumenten zullen beleidsmakers onvermijdelijk moeten reageren op de eisen van hun kiezers. Zodra genoeg politici beseffen dat de energietransitie niet duur is en feitelijk de concurrentie zal stimuleren (waardoor de prijzen omlaag zullen gaan), zullen zij de regels voor de energiemarkten updaten om ruimte te maken voor de veranderingen die al gaande zijn.
Subscribe now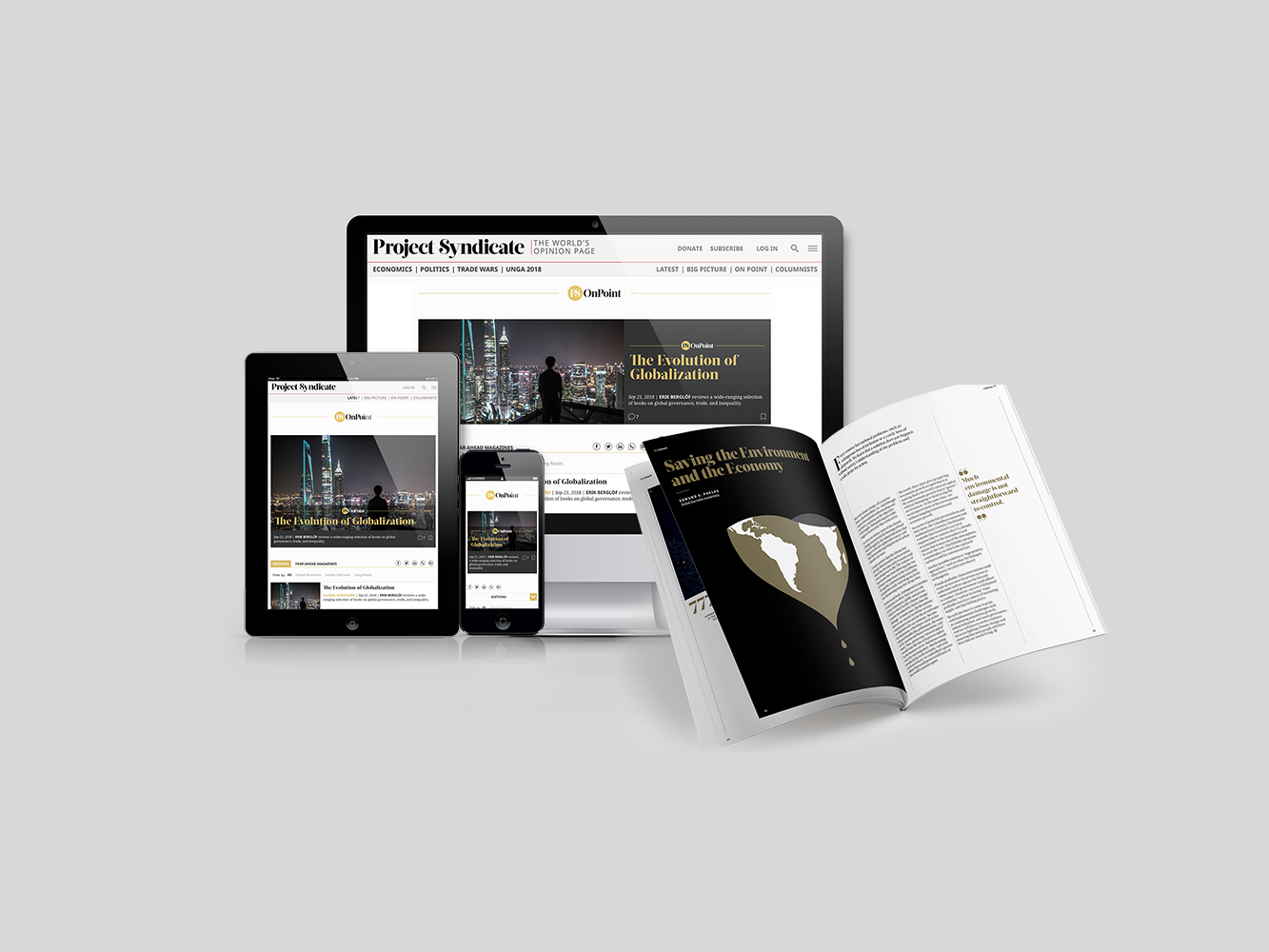 Subscribe now
Subscribe today and get unlimited access to OnPoint, the Big Picture, the PS archive of more than 14,000 commentaries, and our annual magazine, for less than $2 a week.
Het laatste sleuteldomein is dat van de opkomende markten, die ofwel het fossiele brandstofpad van de ontwikkelde landen kunnen volgen, ofwel in één keer naar nieuwere energietechnologieën kunnen springen. Landen als China en India zullen ongetwijfeld nog veel meer energie moeten opwekken voor hun burgers, en er zijn wereldwijd bijna één miljard mensen die nog steeds geen toegang tot elektriciteit hebben. Maar dit betekent niet dat ontwikkelingslanden moeten kiezen voor fossiele brandstoffen met hoge emissies. Net zoals mobiele telefonie de vastelijn-telefonie in een groot deel van de ontwikkelingslanden irrelevant heeft gemaakt, kunnen steeds beter betaalbare duurzame energiebronnen de voor de hand liggende eerste keus worden als het om het opwekken van energie gaat.
Vanuit ons gezichtspunt bezien duidt het bewijsmateriaal duidelijk op een snelle energietransitie in de komende jaren. Het gevaar is dat de belangrijkste stakeholders – of dat nu beleidsmakers of beleggers zijn – zich zullen vergissen in de route die we zullen kiezen en slechte besluiten zullen nemen. In dat geval zullen we allemaal de kosten moeten dragen van niet langer renderende bezittingen met een hoge koolstofintensiteit en van slechte investeringen in verouderde technologieën. Erger nog: we zullen een vroege kans hebben gemist op het bereiken van duurzaamheid en het minimaliseren van het risico van catastrofale klimaatverandering.
Iedereen – van innovatieve technologie-startups tot gevestigde partijen op energiegebied en beleidsmakers van de overheid – heeft een rol te spelen bij het bepalen van de route die we kiezen. Als stakeholders het snelle tempo van de mondiale energietransitie die al onderweg is onderkennen en de veranderingen omarmen, kunnen we nog steeds de doelstellingen van het klimaatakkoord van Parijs halen en een planeet bewerkstelligen waar iedereen het goed kan hebben.
Vertaling: Menno Grootveld
, ,