Lokale Lösungen für ein globales Problem
MONTREAL – Am 8. Juni treffen sich die Staats- und Regierungschefs der größten Industrieländer zum jährlichen G7-Gipfel, um über die dringendsten Herausforderungen der Welt zu diskutieren. Die meisten Tagesordnungspunkte - vom Klimawandel bis zur Ungleichheit - sind von besonderer Bedeutung für die Menschen in städtischen Gebieten, die 54% der Weltbevölkerung ausmachen. Dennoch werden die Kommunalverwaltungen bei den G7-Treffen nicht offiziell vertreten sein. Das ist ein Fehler,, wenn die größten Probleme der Welt gelöst werden sollen, müssen die Städte Teil des Gesprächs werden.
Historisch gesehen haben Städte in der globalen Debatte eine marginale Rolle gespielt. In den Vereinigten Staaten zum Beispiel waren die frühen Städte korrupt und zersplittert; die lokale Politik war chaotisch genug. Aber die heutigen urbanen Zentren sind wirtschaftlich stärker und politisch mutiger. Die Entschlossenheit der Städte des 21. Jahrhunderts, in ihrem eigenen Interesse zu handeln, wurde Ende 2017 deutlich, als sich mehr als 50 US-Bürgermeister dazu bekannten, die Verpflichtungen des Pariser Klimaabkommens von 2015 zu erfüllen - und damit den Rückzug von Präsident Donald Trump direkt in Frage stellten.
Diese Woche werden Staats- und Regierungschefs aus Montreal und 10.000 anderen Städten der Welt eine ähnliche Botschaft an die G7 übermitteln. Sie werden eine Erklärung vorlegen, die die vielfältigsten kommunalen Ansichten zu den Schlüsselthemen des Gipfels enthält, und die nationalen Regierungen auffordern, enger mit ihren lokalen Partnern zusammenzuarbeiten. Diese Forderungen und die Art und Weise, wie sie gestellt werden, werden eine Premiere für ein G7-Treffen sein. Das Ziel ist es, dies zur Norm zu machen.
Doch auch ohne einen Sitz am Tisch arbeiten viele der Megacitys der Welt - angetrieben von starkem Humankapital, wettbewerbsfähigen Märkten und einer großen Anziehungskraft - bereits daran, eine fortschrittlichere, umfassendere und nachhaltigere Zukunft aufzubauen. Von Buenos Aires bis Tokio machen die Stadtverantwortlichen ihre Anliegen weltweit bekannt - oft unabhängig von der nationalen Agenda.
Auch kleine und mittlere Städte schärfen ihr internationales Profil. Durch Investitionen in "intelligente" und "belastbare" Stadtplanung stärken Regierungen von Bordeaux in Frankreich bis Curitiba in Brasilien ihre Markenidentität und locken Talente, Investitionen und Unternehmen aus aller Welt an.
Die amerikanisch-kanadische Schriftstellerin und Stadtaktivistin Jane Jacobs bemerkte, dass Städte die wahren Motoren des nationalen Wohlstands seien. Städte fördern Wachstum durch Innovation, Handel und Austausch. Und die städtischen Dienstleistungen sind für die Bürger oft sichtbarer als die staatliche Hilfe; denken Sie zum Beispiel daran, wer bei einem Verkehrsunfall oder einer Naturkatastrophe reagiert.
Subscribe to PS Digital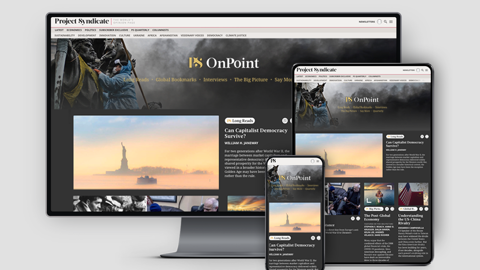 Subscribe to PS Digital
Access every new PS commentary, our entire On Point suite of subscriber-exclusive content – including Longer Reads, Insider Interviews, Big Picture/Big Question, and Say More – and the full PS archive.
Sicherlich stehen die Städte heute vor vielen Herausforderungen. Da die städtischen Gebiete gewachsen sind, waren die Verantwortlichen gezwungen, ihre Planungen zu ändern. Angesichts knapper werdender Budgets bewegen sich die Stadtverwaltungen weg von übermäßig bürokratischen Systemen hin zu solchen, die ein höheres Maß an Unternehmertum fördern. Aber, wie der Bürgermeister von Chicago, Rahm Emanuel, im vergangenen Monat feststellte: dies war für viele Städte positiv und ermöglichte es ihnen, Testgelände für die Zukunft von Mobilität, Arbeit, Wohnen, Energie, Bildung und Gesundheit zu werden.
"In zwanzig Jahren", sagte Emanuel zu seinen Mitbürgermeistern in New York City, werden wir "einen Wendepunkt sehen, an dem der Nationalstaat im Niedergang begriffen ist und der Stadtstaat à la Singapur die kulturelle und wirtschaftliche Aktivität vorantreibt".
Natürlich haben nicht alle Städte die gleichen Ressourcen, den gleichen Einfluss oder die gleichen Bedürfnisse wie Chicago oder Singapur. Aber jedes Stadtoberhaupt kann heutzutage die Wichtigkeit erkennen, an der Front des Wandels zu stehen. Inspiriert von dieser Solidarität und verbunden durch internationale Netzwerke wie Metropolis, C40 Cities und 100 Resilient Cities, schmieden Kommunalpolitiker überall Partnerschaften, um gemeinsame städtische Agenden zu schaffen.
An fast jeder Ecke, bei fast allen wichtigen Themen, können die nationalen Regierungen keine Lösungen anbieten, während die Stadtverantwortlichen weiterhin das Vertrauen der Öffentlichkeit wecken. Laut einer Umfrage des Centre for Political Research at Sciences Po im Jahr 2017 glauben 64% der französischen Erwachsenen, dass ihr lokaler Bürgermeister härter arbeitet als die Exekutive, um alltägliche Probleme zu lösen. Zweifellos fühlen sich viele andere Stadtbewohner genauso.
Dies ist ein günstiger Zeitpunkt für Stadtoberhäüpter, um zu globalen Akteuren zu werden. Wenn Treffen wie der G7-Gipfel einberufen werden, um die schwierigsten Herausforderungen der Welt zu diskutieren, sollten die Menschen anwesend sein, die diesen Herausforderungen am nächsten stehen und wahrscheinlich die wertvollsten Erkenntnisse darüber haben, wie sie zu bewältigen sind.
Aus dem Englischen von Eva Göllner.