Soluciones locales para problemas globales
MONTREAL – El día 8 de junio, los líderes de las más grandes economías avanzadas se reunirán en la Cumbre anual del G7 para analizar los desafíos más apremiantes que enfrenta el mundo. La mayoría de los puntos en el orden del día – desde el cambio climático hasta la desigualdad – resuenan con especial intensidad entre las personas que viven en áreas urbanas, quienes representan el 54% de la población mundial. Y, aun así, los gobiernos municipales no estarán representados oficialmente durante las reuniones del G7. Este es un error; ya que, si el objetivo es resolver los problemas más grandes del mundo, las ciudades deben involucrarse en las discusiones al respecto.
Históricamente, las ciudades han desempeñado un papel marginal en los debates globales. En Estados Unidos, por ejemplo, las primeras ciudades estuvieron plagadas de corrupción y faccionalismo; la política local era bastante desordenada. Sin embargo, los centros urbanos de hoy son financieramente más fuertes y políticamente más audaces. La determinación de las ciudades del siglo XXI de actuar en su propio beneficio se hizo evidente a fines del año 2017, cuando más de 50 alcaldes prometieron cumplir los compromisos del acuerdo climático de París 2015 – desafiando directamente la retirada de dicho acuerdo del presidente Donald Trump.
Esta semana, los líderes desde la ciudad de Montreal y desde otras 10.000 ciudades de todo el mundo enviarán un mensaje similar al G7. Presentarán  una declaración que incluye una colección diversa de puntos de vista municipales sobre los temas clavede la Cumbre, e instarán a los gobiernos nacionales a colaborar más estrechamente con sus contrapartes locales. Estas demandas, y la manera en la que se están planteando, serán las primeras que se lleven a cabo en una reunión del G7. El objetivo es hacer que esto se convierta en la norma.
Aun así, incluso sin ocupar una silla en la mesa de discusiones, muchas de las megaciudades del mundo – impulsadas por un sólido capital humano, mercados competitivos y un gran atractivo – ya están trabajando en pos de construir un futuro más progresivo, inclusivo y sostenible. Desde Buenos Aires hasta Tokio, los líderes de las ciudades están dando a conocer sus preocupaciones a nivel mundial – a menudo independientemente de las agendas nacionales.
Las ciudades pequeñas y medianas también están elevando sus perfiles internacionales. A través de su inversión en una planificación urbana "smart" y "con capacidad de resiliencia", los gobiernos de Burdeos en Francia y Curitiba en Brasil están fortaleciendo sus identidades de marca y atrayendo talentos, inversiones y negocios provenientes de todo el mundo.
La autora y activista urbana estadounidense-canadiense Jane Jacobs realizó su famosa observación sobre que las ciudades son los verdaderos motores de la prosperidad nacional. Las ciudades impulsan el crecimiento a través de la innovación, el comercio y el intercambio. Y, los servicios de la ciudad a menudo son más visibles frente a los ojos de los ciudadanos en comparación a la ayuda federal; considere, por ejemplo, quién responde durante un accidente de tráfico o un desastre natural.
Subscribe to PS Digital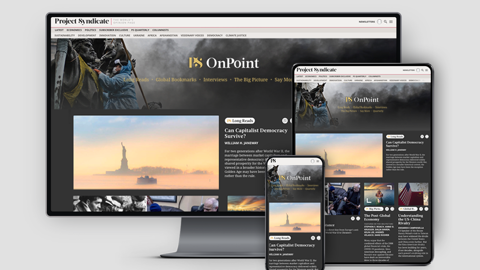 Subscribe to PS Digital
Access every new PS commentary, our entire On Point suite of subscriber-exclusive content – including Longer Reads, Insider Interviews, Big Picture/Big Question, and Say More – and the full PS archive.
Sin lugar a dudas, las ciudades de hoy enfrentan muchos desafíos. A medida que las áreas urbanas crecían, los líderes se vieron obligados a cambiar su plan. En medio de presupuestos más ajustados, los gobiernos de las ciudades se están alejando de los sistemas excesivamente burocráticos, para desplazarse hacia aquellos sistemas que fomentan mayores niveles de iniciativa empresarial. Pero, tal como el alcalde de Chicago Rahm Emanuel señaló el mes pasado, esto ha sido positivo para muchas ciudades, permitiéndoles convertirse en terrenos de prueba para el futuro de la capacidad de traslado de los habitantes, el empleo, la vivienda, la energía, la educación y la salud.
 "En veinte años a partir de ahora", dijo Emanuel a sus colegas alcaldes en la ciudad de Nueva York, veremos "un punto de inflexión en el que el Estado-nación esté en declive, y la ciudad-Estado al estilo de Singapur sea la que impulse la actividad cultural y económica".
Por supuesto, no todas las ciudades tienen los mismos recursos, influencia o necesidades que Chicago o Singapur. Pero, hoy en día un líder de cualquier ciudad puede apreciar la importancia de estar en la primera línea del cambio. Inspirados por esta solidaridad y conectados a través de redes internacionales como Metropolis, C40 Cities, y 100 Resilient Cities, los líderes municipales en todas partes están forjando alianzas para crear agendas urbanas unidas.
En casi todos los frentes, en casi todos los asuntos importantes, los gobiernos nacionales están fracasando en cuanto a ofrecer soluciones, mientras que los líderes de las ciudades continúan despertando la confianza del público. Según una encuesta del año 2017 realizada por el Centro para la Investigación Política de Sciences Po, el 64% de los adultos franceses cree que su alcalde local está trabajando más arduamente para resolver los problemas cotidianos que el poder ejecutivo. Sin duda, muchos otros habitantes de las urbes sienten lo mismo.
Este es un momento oportuno para que los líderes de las ciudades se conviertan en actores globales. Cuando se convocan reuniones como la Cumbre del G7 con el propósito de analizar los desafíos más difíciles que enfrenta el mundo, las personas más cercanas a dichos desafíos, quienes probablemente son las que tienen los conocimientos más valiosos sobre cómo superarlos, deben estar en la sala de reuniones.
Traducción del inglés: Rocío L. Barrientos.