Karcinogenní svět
PITTSBURGH – Prezident Richard M. Nixon zahájil roku 1971 "válku" proti rakovině. Téměř čtyři desítky let nato se však tato bitva stále zaměřuje na vysoce ziskové snahy vyvinout léky a postupy umožňující léčbu nemoci a přitom prakticky ignoruje environmentální faktory, které ji způsobují.
Pravda, počet úmrtí na rakovinu klesl, hlavně díky dlouho odkládanému – a stále chabě podporovanému – úsilí potlačit kouření. Přispěly rovněž úspěchy v diagnostice a léčbě rakoviny prsu, tlustého střeva a děložního čípku.
Černoši a další menšiny ve Spojených státech – a jinde ve světě – však z těchto úspěchů netěží rovným dílem a zdá se, že tuto nesrovnalost vysvětlují environmentální faktory. Tak například ač je tmavé pleti jeden z osmi Američanů, každý třetí je zaměstnán v oblasti zajišťování hygieny nebo v jiných dělnických profesích. Navíc mají oproti bělochům poloviční hladinu vitaminu D, který působí protirakovinně, a mnohem častěji žijí ve znečištěných prostředích.
Případů rakoviny, které se neváží ke kouření ani ke stárnutí, skutečně přibývá. Rakovina je hlavní příčinou úmrtí u lidí ve středním věku i u dětí (hned po úrazech) a my neumíme vysvětlit, proč je u většiny typů rakoviny úmrtnost u černochů vyšší než u bělochů.
Co ale dokážeme říct, je, že nepřítelem není samotná nemoc. Měli bychom si vzít na mušku spíš známé environmentální karcinogeny – nejen tabák, ale také radiaci, sluneční svit, benzen, rozpouštědla a některé léky a hormony. Soudobé rakovinotvorné činitele jako naftové zplodiny, pesticidy a další škodliviny se systematicky nezkoumají. Když už se vůbec berou v úvahu, považují se za nevyhnutelnou daň pokroku.
Většinu případů rakoviny však nezpůsobí vrozené dispozice, ale vyvinou se v důsledku poškození genů během našeho života. Přestože jednovaječná dvojčata mají při narození nesmírně podobné geny, nevznikají u nich tytéž případy rakoviny. Ve věku 50 let se jejich chromozomální pruhy vzájemně naprosto liší.
Subscribe to PS Digital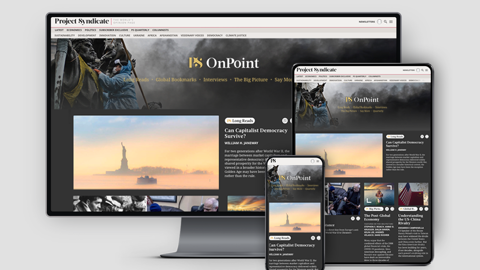 Subscribe to PS Digital
Access every new PS commentary, our entire On Point suite of subscriber-exclusive content – including Longer Reads, Insider Interviews, Big Picture/Big Question, and Say More – and the full PS archive.
Americká Centra pro kontrolu nemocí a prevenci potvrzují, že krev dětí dnes obsahuje desítky chemikálií, které před dvěma desítkami let neexistovaly, včetně mnoha sloučenin, které poškozují geny a o nichž se ví, že způsobují rakovinu a řadu dalších onemocnění. Muži a ženy v rodičovském věku si v současnosti nesou v těle tolik hormonálně rušivých sloučenin, že může dojít k poškození jejich plodnosti.
U žen vystavených zvýšeným hladinám pesticidu DDT před dosažením věku čtrnácti let je pětkrát vyšší pravděpodobnost vzniku rakoviny prsu ve středním věku. Mohly by se takové sloučeniny podílet na nevysvětleném a sílícím výskytu rakoviny u dětí, testikulární rakoviny a lymfomu jiného než Hodgkinova typu v průmyslovém světě? Měli bychom čekat, než se odpověď objeví?
Přestože jsme dnes fenomenálně úspěšní v úsilí nenechat děti na rakovinu zemřít, tento úspěch vychází z faustovské dohody. U jedné ze tří žen léčených ozářením hrudi s cílem zastavit Hodgkinovu chorobu se do 32 let věku vyvine rakovina prsu. Samozřejmě že mnohé případy rakoviny by vůbec nemusely vzniknout, kdyby tito pacienti nebyli vystaveni dalším rakovinotvorným látkám v životním prostředí. Naše závislost na mnoha moderních vymoženostech z nás dělá subjekt rozsáhlých neřízených experimentů, k nimž se od nikoho z nás nežádá souhlas.
Neprokázaná například zůstává dlouhodobá bezpečnost mobilních telefonů. Studie široce publikované na počátku 90. let, které jejich bezpečnost vychvalovaly, vylučovaly z výzkumu ty, kdo telefon používali pracovně. Nedávné práce z Francie a Švédska dokládají, že u těch, kdo mobilní telefon používají deset a více let, je riziko vzniku rakoviny mozku dvojnásobné. Znepokojující je také skutečnost, že maximální povolené mikrovlnné záření u mobilních telefonů ve Švýcarsku a v Číně je 500krát nižší než v USA.
Způsob nahlížení je způsob nenahlížení, praví čínské přísloví.
Omezený charakter důkazů u některých environmentálních rizik vzniku rakoviny bychom si neměli plést s důkazem, že k žádné újmě nedochází: jde o náročný výzkum a v USA jej dnes vláda a soukromý sektor financují jen z malé části. Nejasnosti ohledně environmentálních rizik vzniku rakoviny navíc pramení též z mnohaletých, pečlivě rozvíjených a dobře finančně zajištěných dezinformačních kampaní inspirovaných intrikami tabákového průmyslu.
Nemůžeme si dovolit ignorovat známky významu životního prostředí pro naše zdraví. Abychom se s metlou rakoviny vypořádali, musíme úsilí věnované diagnostice a léčbě rakoviny doplnit novými způsoby ochrany lidí před samotným vznikem onemocnění.