L'Amazonie sous la menace du nouveau gouvernement brésilien
SAO PAULO – Le mois dernier, très divisés entre eux, les Brésiliens ont élu un nouveau président. Confronté à un choix entre Fernando Haddad, le candidat du Parti des travailleurs, de gauche, et Jair Bolsonaro, un candidat d'extrême-droite, ils ont choisi ce dernier. C'est une situation lourde de conséquences, entre autres pour l'environnement.
Disposant du soutien sans réserve des 5% des Brésiliens les plus riches et des grands propriétaires terriens, il a obtenu un fort soutien populaire en jouant sur les préjugés et les peurs de la population. Lors de sa campagne il a pris pour cible les groupes les plus vulnérables et s'est engagé à réduire, voire à supprimer la protection dont bénéficient les minorités, les femmes et les pauvres. Parallèlement, il veut faciliter l'accès aux armes à feu avec en disant qu'autoriser les citoyens à détenir une arme contribuera à lutter contre la criminalité.
En ce qui concerne l'environnement, son programme tient en un seul mot : exploitation. Il veut réduire ou abolir les lois de protection de l'environnement en Amazonie, la plus grande forêt tropicale humide de la planète. Il veut également diminuer considérablement la protection des terres indigènes appartenant aux descendants des premiers habitants de cette région. De même, il assouplira la législation qui restreint l'utilisation des pesticides et la construction d'infrastructures.
"Là où il y a de la terre indigène," a-t-il déclaré, "il y a de la richesse dans le sous-sol". Cette idée en tête, il a affirmé qu'aucune nouvelle réserve indigène ne sera délimitée et que celles qui existent seront ouvertes à l'exploitation minière.
Son programme va accélérer de manière spectaculaire la dégradation de l'environnement. Selon une ONG brésilienne, Imazon, la déforestation a touché une surface de 44 km² en septembre cette année - soit une hausse de 84% par rapport à septembre 2017. Entre ces deux dates, la déforestation a touché une surface totale de 4859 km², un record depuis juillet 2008. L'Institut national de recherche spatial du Brésil, l'INPE, signale une hausse de la déforestation annuelle de l'ordre de 50% en septembre.
Beaucoup de ceux qui se livrent à la coupe du bois en Amazonie le font en toute illégalité et risquent de ce fait des amendes ou des sanctions. L'idée que le nouveau gouvernement n'appliquera pas la loi les pousse probablement déjà à intensifier leur activité. Une fois la législation sur la déforestation affaiblie ou abolie, on peut s'attendre à ce qu'elle redouble d'intensité. L'encouragement de l'activité minière en Amazonie par le gouvernement (entre autre pour l'or) aggravera encore la situation.
Subscribe to PS Digital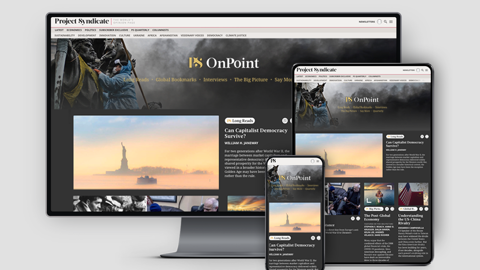 Subscribe to PS Digital
Access every new PS commentary, our entire On Point suite of subscriber-exclusive content – including Longer Reads, Insider Interviews, Big Picture/Big Question, and Say More – and the full PS archive.
Il n'y a guère de raison de croire que Bolsonaro ne pourra pas appliquer son programme destructeur de l'environnement, d'autant que les élus d'extrême-droite alliés aux puissants lobbies des affaires dominent au sein du nouveau Congrès brésilien.
Pour faciliter encore davantage la destruction de l'environnement, Bolsonaro s'était engagé à fusionner le ministère de l'environnement et celui de l'agriculture, mais il a fait machine arrière sur cette question. Il est maintenant à la recherche d'un ministre de l'environnement allié aux ruralistas, les grands propriétaires terriens, et il a nommé un ministre de l'agriculture qui veut supprimer les restrictions qui s'appliquent aux produits chimiques dangereux dans son secteur.
Durant la campagne il avait également promis que le Brésil se retirerait de l'Accord de Paris de 2015 sur le climat. Il a aussi fait machine arrière sur cette question, mais il vient de nommer à la tête du ministère des Affaires étrangères un diplomate hostile à la science, qui nie le réchauffement climatique. Dans ce contexte, la candidature du Brésil pour être l'hôte de la Conférence de l'ONU sur le changement climatique (COP25) qui aura lieu l'année prochaine pourrait susciter des réticences.
Au-delà de la vulnérabilité croissante des ressources naturelles du Brésil face leur exploitation commerciale, du fait les réductions budgétaires auxquelles ont peut s'attendre en ce qui concerne l'environnement, il sera plus difficile au Brésil de faire face à des catastrophes naturelles comme les feux de forêt. Le pays a déjà connu une augmentation de ces feux et des incendies en raison de l'expansion de l'agriculture, d'un contrôle de plus en plus laxiste et du démantèlement des brigades de pompiers. Le programme de Bolsonaro ne fera qu'exacerber ce problème.
Il aggravera la situation dans d'autres domaines. Les inégalités vont augmenter. Le gouvernement facilitant la mainmise des grandes entreprises sur les forêts humides, les citoyens ordinaires, notamment les petits propriétaires paysans et les habitants des bidonvilles urbains, vont souffrir.
Or l'importance de l'écosystème du Brésil s'étend bien au-delà de ses frontières, car il comporte la plus grande forêt tropicale qui existe et l'on y observe la plus grande biodiversité sur Terre. L'Amazonie recèle un plus grand nombre d'espèces de plantes et d'animaux que tout autre écosystème terrestre. Ses forêts humides et ses rivières alimentent une grande partie de l'Amérique du Sud, et ses centaines de milliards d'arbres stockent d'énormes quantités de carbone. Cet écosystème a donc un impact sur l'ensemble de la planète.
Au cours des 100 dernières années, le Brésil a réduit la surface de sa forêt atlantique de plus de 90% et procédé à la déforestation de 50% du Cerrado [la savane brésilienne] et de 20% de l'Amazonie. Au moment où le Groupe d'experts intergouvernemental sur l'évolution du climat (GIEC) nous avertit de l'urgence qu'il y a à réduire les émissions de gaz à effet de serre, Bolsonaro veut faire exactement le contraire. Malheureusement pour le Brésil et le reste du monde, il n'y a pas de raison de penser qu'il n'y parviendra pas.
Traduit de l'anglais par Patrice Horovitz