Hoe klimaatmaatregelen te verkopen aan Afrika
JOHANNESBURG – Er is een bekend verhaal over twee schoenenverkopers die begin twintigste eeuw naar Afrika reisden om nieuwe markten te zoeken. Binnen enkele dagen na aankomst concludeerde de eerste verkoper dat er geen potentieel was voor de verkoop van schoenen omdat iedereen blootsvoets was. Zijn collega daarentegen zag een enorme onaangeboorde markt.
Dit verhaal doet me denken aan de manier waarop de rijke wereld, waarschijnlijk om goedbedoelde redenen, ervoor heeft gekozen om over de klimaatverandering te praten, vooral met betrekking tot Afrika. NGO's, donoren en regeringen in het Mondiale Noorden stellen de klimaatverandering voor als één rampzalig verhaal. Het pessimisme strekt zich uit tot de gebruikte woorden, zoals ʻklimaatnoodsituatie,' ʻklimaatcrisis' en ʻklimaatvluchtelingen.'
We worden er voortdurend aan herinnerd dat Afrika de regio zal zijn die het hardst door de klimaatverandering wordt getroffen. Het verhaal, versterkt door beelden van droogte, hongersnood en overstromingen, schildert onze boeren, vissers en dorpelingen consequent af als slachtoffers.
Maar dit rampenverhaal heeft weinig gedaan om klimaatactie te katalyseren, dus hebben we een nieuw scenario nodig. Het uitgangspunt moet zijn dat de klimaatcrisis – ondanks de schijn van het tegendeel, en ondanks de waarschuwingen van activisten als Greta Thunberg – niet alleen maar kommer en kwel is. Net als de COVID-19-pandemie is het een kans voor een wereldwijde reset die Afrika zeer ten goede zou kunnen komen.
Zo'n reset zou de gerichte ontwikkeling en schaalvergroting van innovaties voor klimaataanpassing en -mitigatie mogelijk maken, wat de economische ontwikkeling van Afrika zou kunnen bevorderen. We hebben alles in huis om de sector voor hernieuwbare energie op te bouwen – te beginnen met wind-, water- en zonne-energie en geothermische energie. We hebben ook het kobalt, grafiet, lithium en mangaan die nodig zijn om elektrische accu's te produceren, en het staal, zink en aluminium die nodig zijn om windturbines en andere koolstofarme technologieën te vervaardigen. Groene industrieën kunnen banen scheppen, bedrijvigheid voeden en economieën in Afrika stimuleren, en tegelijkertijd de planeet redden – en niet genoeg mensen verkopen dat verhaal.
De Japanse autofabrikant Toyota heeft bijvoorbeeld onlangs aangekondigd 624 miljoen dollar in India te zullen investeren om onderdelen voor elektrische voertuigen te produceren, waardoor 3.500 banen worden gecreëerd. Dit is het soort projecten dat naar Afrika zou kunnen en moeten komen.
Subscribe to PS Digital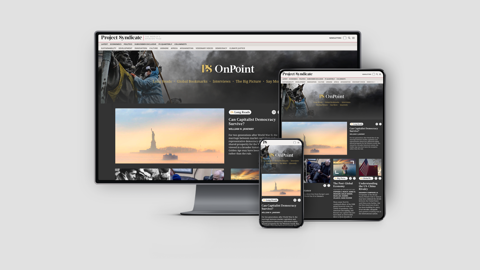 Subscribe to PS Digital
Access every new PS commentary, our entire On Point suite of subscriber-exclusive content – including Longer Reads, Insider Interviews, Big Picture/Big Question, and Say More – and the full PS archive.
De afgelopen twee decennia heeft Afrika slechts twee procent van de miljarden dollars aan wereldwijde investeringen in hernieuwbare energie naar zich toe getrokken, en nog geen drie procent van de banen die in deze groeiende sector worden gegenereerd. Om deze aantallen te verhogen moeten Afrikaanse regeringen een investeringsvriendelijk klimaat scheppen, effectiever onderhandelen om bedrijven aan te trekken, en erop aandringen dat zij lokale banen creëren en technische bijstand bieden om de capaciteit van het continent op het gebied van schone energie op te bouwen.
Evenzo zouden jonge Afrikanen die demonstreren voor verandering borden omhoog moeten houden waarop zij hun regeringen oproepen om te zorgen voor ʻklimaatbanen' en ʻklimaatkansen,' in plaats van te verwachten dat zij ʻde planeet redden.' Zij zouden beleidsmakers moeten aansporen om de grootschalige investeringen aan te trekken die nodig zijn om de uitstoot van broeikasgassen aanzienlijk te verminderen en de voorwaarden te scheppen voor bloeiend milieuondernemerschap.
Een robuuste groene sector kan Afrika de economische hefbomen geven die het continent nodig heeft om meer mensen te helpen beter te leven, niet alleen in economische termen maar ook in termen van de toegang tot energie. We hoeven niet langer te vertrouwen op verouderde energiedistributiesystemen die in handen zijn van regeringen die niet over de financiële middelen of de prikkels beschikken om te investeren in de uitbreiding van het netwerk naar iedereen. Hernieuwbare energie biedt het continent de kans om verouderde systemen over te slaan en nieuwe, gedecentraliseerde manieren te omarmen om iedereen van goedkope, betrouwbare energie te voorzien.
Afrika heeft een soortgelijke sprong voorwaarts gemaakt op het gebied van mobiele telecommunicatie. Het eerste mobiele telefoongesprek op het continent vond plaats in 1987 in de Democratische Republiek Congo. Vandaag is Afrika de snelst groeiende mobiele-telecommunicatiemarkt ter wereld en de op één na grootste mobiele markt na Azië. In slechts vijfendertig jaar heeft de sector ruim een half miljard mensen met elkaar verbonden, duizenden banen gecreëerd en succesvolle inheemse bedrijven doen ontstaan. Dankzij nieuwe technologie, goedkopere infrastructuur en handsets, competitieve markten, een gunstig toezichtsklimaat en bedrijfsmodellen die zijn ontworpen voor de massamarkt, is Afrika de uitdaging van de aanleg van infrastructuur voor vaste telefonie uit de weg gegaan.
Wat de mobiele technologie voor Afrika heeft gedaan, kan ook in de klimaatsector worden toegepast, en we hoeven niet te wachten tot de krap bij kas zittende regeringen van het continent en de particuliere sector het geld hebben gevonden. In plaats daarvan moeten we meer vaart zetten achter de agenda voor klimaatvoorbereidingen. Er ís geld beschikbaar, en de landen die herhaaldelijk hun beloften om financiële steun te verlenen hebben gebroken – de Verenigde Staten, Canada, Australië, het Verenigd Koninkrijk en de meeste lidstaten van de Europese Unie – moeten hun schulden betalen.
Laten we het dus niet meer hebben over klimaatrampen of -crises, maar over klimaatkansen in de vorm van banen, ondernemerschap en financiering. En laten we, net als de schoenenverkoper die enorme kansen zag waar zijn collega er geen zag, onze aanpak van de marketing van klimaatmaatregelen aan Afrikanen heroverwegen.
Melinda Gates Foundation, is Executive Director van Africa No Filter.
Vertaling: Menno Grootveld