Umowa do Ocalenia Oceanu
AUCKLAND/MADRYT/VICTORIA/ANSE ROYALE – Ocean pokrywa ponad 70% powierzchni naszej planety, wytwarza połowę tlenu, którym oddychamy, dostarcza pożywienie dla miliardów ludzi i zapewnia setki milionów miejsc pracy. Odgrywa również ważną rolę w łagodzeniu zmian klimatycznych: ponad 80% światowego obiegu węgla przechodzi przez ocean. Ale ten cenny zasób naturalny nie jest niezniszczalny. Pomimo wszystkich korzyści, jakie nam zapewnia, ocean stoi dziś w obliczu bezprecedensowych kryzysów spowodowanych przez działania człowieka, które zagrażają naszemu zdrowiu oraz zdolności do podtrzymywania życia na Ziemi.
Największym zagrożeniem dla bioróżnorodności morskiej jest przełowienie. Ponad jedna trzecia światowych zasobów rybnych jest przełowionych, a dalsze 60% jest blisko tego. Każdego roku rządy na całym świecie zachęcają do przełowienia, zapewniając 22 miliardy dolarów szkodliwych subsydiów dla rybołówstwa. Chociaż dotacje te mają na celu wspieranie społeczności przybrzeżnych, zamiast tego wspierają niezrównoważoną i nieopłacalną działalność połowową, uszczuplając zasoby, od których zależą źródła utrzymania lokalnej ludności.
Ten problem nie jest nowy. W rzeczywistości członkowie Światowej Organizacji Handlu (WTO) od 2001 r. próbują negocjować umowę mającą na celu ograniczenie tych szkodliwych płatności. Światowi przywódcy potwierdzili swoje zaangażowanie w rozwiązanie tego problemu, kiedy w 2015 r. zgodzili się na Cele Zrównoważonego Rozwoju (SDGs). W ramach SDG 14, którego celem jest umieszczenie zdrowego oceanu w centrum globalnej agendy zrównoważonego rozwoju, przywódcy obiecali do 2020 r. osiągnięcie porozumienia w WTO, które ograniczy dotacje na rybołówstwo. Ale nie dotrzymali terminu, ponieważ negocjacje spowolniono podczas najgorszych miesięcy pandemii COVID-19.
Badania pokazują, że gdyby członkowie WTO zlikwidowali wszystkie szkodliwe subsydia dla rybołówstwa – najbardziej ambitny scenariusz – światowa biomasa ryb mogłaby wzrosnąć o 12,5% do 2050 roku. To dodatkowe 35 milionów ton metrycznych ryb, czyli ponad czterokrotność rocznego spożycia ryb w Ameryce Północnej w 2017 r. I są to ostrożne szacunki. Usunięcie destrukcyjnych dotacji naprawdę oznacza więcej ryb w morzu.
Celem nie jest odebranie wsparcia społecznościom rybackim, ale raczej przekierowanie go w bardziej znaczący i mniej szkodliwy sposób. Nawet jeśli porozumienie nie wyeliminuje wszystkich szkodliwych dotacji, to stworzy globalne ramy odpowiedzialności i przejrzystości programów dotacji. To z kolei pobudziło by dialog między rządami, społecznościami rybackimi i innymi zainteresowanymi stronami, aby pobudzić rozwój projektowanych polis, które lepiej wspierają rybaków i jednocześnie chronią nasze globalne dobra wspólne.
Co więcej, porozumienie jest w zasięgu ręki – jeśli będzie wola polityczna, aby je osiągnąć. Ostatni przeskok w negocjacjach wynikał z różnic co do tego, jak ustrukturyzować elastyczność systemów dotacji dla krajów rozwijających się, a także jak zdefiniować i egzekwować przepisy dotyczące nielegalnych połowów i zrównoważonych zasobów. Jednak po wielu propozycjach i dyskusjach, kompleksowy projekt, o którym jest teraz mowa, łączy środki mające na celu ograniczenie szkodliwych subsydiów z konkretnymi wyjątkami dla krajów rozwijających się.
Introductory Offer: Save 30% on PS Digital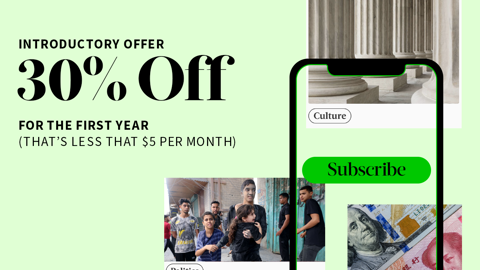 Introductory Offer: Save 30% on PS Digital
Subscribe now to gain greater access to Project Syndicate – including every commentary and our entire On Point suite of subscriber-exclusive content – starting at less than $5 per month.
Wraz z rozpoczęciem 12-tej Konferencji Ministerialnej WTO w Genewie nadszedł czas na zawarcie porozumienia. Nie wyciągnięcie takiego wniosku zaszkodziłoby nie tylko oceanom i źródłom utrzymania tych, którzy są od nich uzależnieni, ale także osłabiłoby globalny system oparty na zasadach i zaszkodziłoby realizacji Agendy na Rzecz Zrównoważonego Rozwoju 2030. W przeciwieństwie do tego, zniesienie szkodliwych subsydiów dla rybołówstwa zmniejszyłoby skumulowaną presję na ocean i zwiększyłoby jego odporność na zmiany klimatyczne.
Po Konferencji Narodów Zjednoczonych w sprawie Zmian Klimatu (COP26) w Glasgow, rządy muszą wykazać gotowość do wykorzystania wszelkich dostępnych im narzędzi, aby poradzić sobie z kryzysem klimatycznym. Stawka nadchodzącej konferencji ministerialnej WTO chyba nigdy nie była wyższa. Przyszłość wielostronnej współpracy handlowej jest zagrożona a przede wszystkim miejsca pracy, bezpieczeństwo żywnościowe i zdrowie naszych globalnych dóbr wspólnych.
Dlatego 33 byłych przywódców rządowych i ministrów z całego świata połączyło siły z ok. 400 naukowcami, aby nakłonić członków WTO do "wykorzystania mandatu politycznego do ochrony zdrowia oceanów i dobrobytu społeczeństwa."
Rządy obiecały, że ograniczą destrukcyjne dotacje dla rybołówstwa. Spotkanie w Genewie sprawdzi wiarygodność tego zobowiązania.
Komentarz ten podpisują również: Axel Addy – Minister Handlu i Przemysłu Liberii (2013-18); Mercedes Aráoz – Premier Peru (2017-18) i Wiceprezydent Peru (2016-2020); Hakim Ben Hammouda – Minister Gospodarki i Finansów Tunezji (2014-15); Herminio Blanco – Minister Handlu i Przemysłu Meksyku (1994-2000); Maria Damanaki – Komisarz Unii Europejskiej ds. Gospodarki Morskiej i Rybołówstwa (2010-14); Eduardo Frei Ruiz-Tagle – Prezydent Chile (1994-2000); Michael Froman – przedstawiciel handlowy USA (2013-17); Tim Groser – Minister Handlu Nowej Zelandii (2008-2015); Enrique V. Iglesias – Prezes Międzyamerykańskiego Banku Rozwoju (1988-2005); Hilda Heine – Prezydent Wysp Marshalla (2016-2020); Ban Ki-moon – Sekretarz Generalny ONZ (2007-2016); Ricardo Lagos – Prezydent Chile (2000-2006); Pascal Lamy – Dyrektor Generalny WTO (2005-2013); Roberto Lavagna – Minister Gospodarki Argentyny (2002-05); Cecilia Malmström – Komisarz UE ds. Handlu (2014-19); Peter Mandelson – Komisarz UE ds. Handlu (2004-08); Sergio Marchi – Minister Handlu Międzynarodowego Kanady (1997); Heraldo Muñoz – Minister Spraw Zagranicznych Chile (2014-18); Pierre Pettigrew – Minister Handlu Międzynarodowego Kanady (1999-2003), Minister Spraw Zagranicznych Kanady (2004-06); Tommy Remengesau, Jr. – Prezydent Republiki Palau (2001-09, 2013-2021); José Luis Rodríguez Zapatero – Premier Hiszpanii (2004-2011); José Manuel Salazar – Minister Handlu Zagranicznego Kostaryki (1997-98); Susan Schwab – przedstawiciel handlowy USA (2006-09); Juan Somavía – Dyrektor Generalny Międzynarodowej Organizacji Pracy (1999-2012); Alberto Trejos – Minister Handlu Zagranicznego Kostaryki (2002-2004); Allan Wagner – Minister Spraw Zagranicznych Peru (1985-88, 2002-03, 2021); Andrés Velasco – Minister Finansów Chile (2002-2006); Ernesto Zedillo Ponce de León – Prezydent Meksyku (1994-2000); Robert Zoellick – przedstawiciel handlowy USA (2001-05).
Z angielskiego przetłumaczyła Marz McNamer