Die große Transformation
BERLIN – Die Weltwirtschaft steht nach wie vor unter dem Schock der COVID-19-Krise. Die technikaffine Moderne, gleich ob freiheitlich liberal verfasst oder autoritär, ob Asien, Amerika oder Europa, hatte etwas Vergleichbares in tiefsten Friedenszeiten noch nicht erlebt.
Wird es eine zweite oder gar noch mehr Wellen geben? Diese bange Frage treibt Milliarden von Menschen, ihre Staaten und deren Lenker um. Man weiß es einfach nicht. Ein mikroskopisch kleines, sehr ansteckendes Virus zwingt die hochtechnologisierte und globalisierte Weltwirtschaft mit all ihren internationalen Lieferketten in die Knie.
Es wäre ein Fehler, die Folgen dieser abrupten Vollbremsung der Weltwirtschaft nur aus kurzfristig pragmatischer Perspektive zu analysieren, so wichtig diese kurzfristige Perspektive auch immer ist und in naher Zukunft sein wird: die Bekämpfung der Pandemie, die ökonomischen und sozialen Folgen für Milliarden von Menschen und auch die mit der Pandemie einhergehenden Machtverschiebungen im globalen politischen und wirtschaftlichen System.
Aber die COVID-19-Krise weist auch weit darüber hinaus und verfügt über eine viel grundsätzlichere Dimension. Rückblickend wird diese Krise im Jahr 2020 einmal als der Beginn der "großen Transformation" der globalen Industriegesellschaft hin zu einer Gesellschaft der Nachhaltigkeit und der Verantwortungsübernahme der Menschen für ihr Tun bezeichnet werden, soweit sie sich in Industriegesellschaften organisieren.
Wenn es gut geht, erweist sich das Virus als ein Weckruf zur rechten Zeit, wenn nicht wird es den Beginn einer beispiellosen Katastrophe der Menschheit markieren. Auf jeden Fall setzt die COVID-19-Krise einen Endpunkt für jene Zeit einer naiven menschlichen Fortschrittsidee, die glaubte, die unbeabsichtigten Folgen des Wachstums der Menschheit und ihrer Industriegesellschaften gegen alle wissenschaftliche Fakten und Mahnungen weiter verdrängen zu können. Wir kontrollieren die Natur eben nur bis zu einem bestimmten, durch kurzfristige menschliche Interessen definierten Punkt. Mehr nicht. Alle Migrationsphantasien ins All helfen darüber nicht hinweg.
Objektiv wird heute aber – das ist die Lektion der COVID-19-Krise – von der menschlichen Zivilisation ein sehr viel weiterer Verantwortungshorizont verlangt, den subjektiv die Menschheit zwar erkennt, aber aus dem die verantwortlichen Konsequenzen zu ziehen und die große Transformation einzuleiten sie nicht (noch nicht?) bereit ist.
Subscribe to PS Digital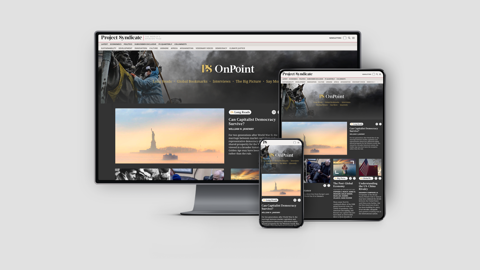 Subscribe to PS Digital
Access every new PS commentary, our entire On Point suite of subscriber-exclusive content – including Longer Reads, Insider Interviews, Big Picture/Big Question, and Say More – and the full PS archive.
Die Menschheit zählt heute mehr als sieben Milliarden Individuen, und dies geht einher mit der ebenfalls wachsenden Befriedigung grundsätzlich nach oben offener menschlicher Bedürfnisse in immer größerer Zahl, basierend auf dem Fortschritt der Wissenschaften und auf dem Raubbau an der Natur, die zu unserem Pech zu ihrer Erholung ganz anderen Zeiträumen folgt als wir Menschen.
Die Menschheit hat ein neues Zeitalter betreten, das auch bereits einen Namen hat: das "Anthropozän". Das heißt, die Macht der menschlichen industriellen Zivilisation rund um den Globus ist so gewaltig, dass deren beabsichtigte und nicht beabsichtigte Folgen den Fortgang der Erdgeschichte bestimmen werden.
Mit dieser Macht der menschlichen Zivilisation wächst der Menschheit eine gewaltige Verantwortung für die Zukunft unserer Erde zu. Mehr noch, in der Vergangenheit, vor allem bis zum Beginn Industriellen Revolution um 1800 herum, entzog sich der Verlauf der Erdgeschichte menschlichem Einfluss. Diese Zeit ist vorbei, und das ist ein gewaltiger Einschnitt!
Die seit etwa 1950 dramatisch gewachsene Anzahl der Menschen und die technischen Innovationssprünge in Verbindung mit dem zunehmenden Massenkonsum haben die scheinbar unerschöpflichen natürlichen Ressourcen dahin schmelzen lassen und die globale Atmosphäre in atemberaubender Geschwindigkeit aufgeheizt.
Die Alternativen, die sich vor der Menschheit zu Beginn des 21. Jahrhunderts auftun, heißen demnach die Verantwortung zu übernehmen, d. h. aus schlichtem Selbsterhaltungsinteresse heraus den Mut und die Weitsicht zur großen Transformation aufzubringen, oder sehenden Auges auf die Rückkehr der apokalyptischen Reiter, die man mit der industriell-wissenschaftlichen Moderne für immer überwunden glaubte, zu warten. Mit COVID-19 ist der erste von ihnen bereits wieder aufgetaucht.
Wozu wird es eigentlich der künstlichen Intelligenz und der Quantencomputer bedürfen? Für eine verbesserte Waffentechnik? Für noch verfeinerte Konsumplattformen? Oder für eine verbesserte Systemanalyse des Zustands unserer globalen Umwelt und des Weltklimas?
Die Welternährung der Zukunft wird ohne Pflanzenschutz nicht gehen. Nur werden wir uns auch in Zukunft noch die Illusion erlauben dürfen, mit dem wissenschaftlichen Pflanzenschutz dort aufzuhören, wo er eigentlich beginnen müsste angesichts eines beispiellosen Artensterbens, nämlich damit, genau dieses zu verhindern?
Bei COVID-19 haben wir gelernt, auf den wissenschaftlichen Rat zu hören. Warum tun wir dies nicht auch bei noch sehr viel gefährlicheren Entwicklungen, die heute schon unsere Wirklichkeit bestimmen, wie der Erderwärmung und der Klimakrise?
Die entwickeltsten Industriegesellschaften werden bei der Transformation zu einer Verantwortungsgesellschaft an erster Stelle gefragt sein, denn sie verfügen über das Know-how und das notwendige Kapital, sie setzen die Entwicklungstrends für die Zukunft. Und unter diesen sind vor allem jene westlichen Gesellschaften gefragt, die es mit der Freiheit ernst meinen. Freiheit und Verantwortung sind Begriffe, die auf das Engste verflochten sind. Wer die Freiheit will, darf sich also vor der Verantwortung nicht drücken. Dies wird angesichts der Erfahrung mit COVID-19 mehr denn je gelten.
Und noch eine Lektion gilt es zu berücksichtigen: die USA und China bewegen sich gegenwärtig in Richtung einer scharfen Konfrontation um die Führungsrolle in der Welt von morgen. Nur, wie wird diese Welt eigentlich aussehen? Und wird Macht auch in Zukunft vor allem durch militärische Überlegenheit definiert werden? Wird es das sein, was die Welt zusammenhält? Oder wird die Macht im 21. Jahrhundert völlig neu und sehr grundsätzlich anders definiert werden?
Für das alte Europa bietet sich eine unverhoffte Chance, wenn es nicht auf die Konkurrenz der Supermächte setzt, sondern den Mut hat, eine Führungsrolle bei dieser großen Transformation anzustreben.