Verantwoordelijkheid of ondergang
BERLIJN – Na vele maanden is de wereldeconomie nog steeds aan het bijkomen van de schok van de COVID-19-pandemie. Nooit eerder in vredestijd heeft onze door technologie gedreven moderne samenleving iets ervaren dat hier ook maar in de verte op lijkt.
Zal er een ʻtweede golf' komen, gevolgd door nog meer golven? Die angstige vraag houdt nu veel mensen in de wereld bezig, maar vooral beleidsmakers en nationale leiders. Niemand weet het antwoord. Er is geen speelboek voor een scenario waarin een hightech-wereldeconomie, onderling verbonden door mondiale aanbodketens, op haar knieën wordt gedwongen door een microscopische ziekteverwekker.
Het zou een vergissing zijn de betekenis van deze abrupte stilstand louter vanuit een kortetermijnperspectief te bekijken. De eerlijkheid gebiedt te zeggen dat de onmiddellijke prioriteit de strijd tegen COVID-19 is. De pandemie heeft zware economische en sociale gevolgen gehad voor miljarden mensen, en lijkt een mondiale verschuiving van de politieke en economische macht te versnellen.
Maar de crisis zal ook gevolgen hebben die veel langer zullen duren dan de komende maanden en jaren. Het is niet onredelijk om te verwachten dat toekomstige historici zich 2020 zullen herinneren als het begin van een tijdperk van transformatieve verandering. Dit kan het moment zijn waarop we, nadat we ons bewust zijn geworden van de gevolgen van de manier waarop we onze economische systemen hebben georganiseerd en met de natuur zijn omgegaan, eindelijk een beslissende stap in de richting van duurzaamheid zullen gaan maken.
In dat geval zal het coronavirus hebben gediend als een tijdige wake-up call. Maar als we er niet in slagen de noodzakelijke veranderingen door te voeren, zal de pandemie van 2020 het begin markeren van een ongekende menselijke catastrofe.
Eén ding is nu al zeker: de crisis moet ons eindelijk bevrijden van ons naïeve geloof in de menselijke vooruitgang. Al veel te lang is er eenvoudigweg van uitgegaan dat de negatieve, onbedoelde gevolgen van de voortdurende economische groei zullen worden gecompenseerd of geminimaliseerd door de vruchten van die groei. In weerwil van de duidelijke feiten en de waarschuwingen van wetenschappers hebben we onszelf ervan overtuigd dat we uiteindelijk de natuur beheersen. Maar ondanks onze fantasieën over het koloniseren van de ruimte is het een feit dat onze macht zich slechts tot op een bepaald punt uitstrekt, doorgaans gedefinieerd door de horizon van het menselijk belang. Daarbuiten bevindt zich alles wat we nog steeds niet weten.
Subscribe to Project Syndicate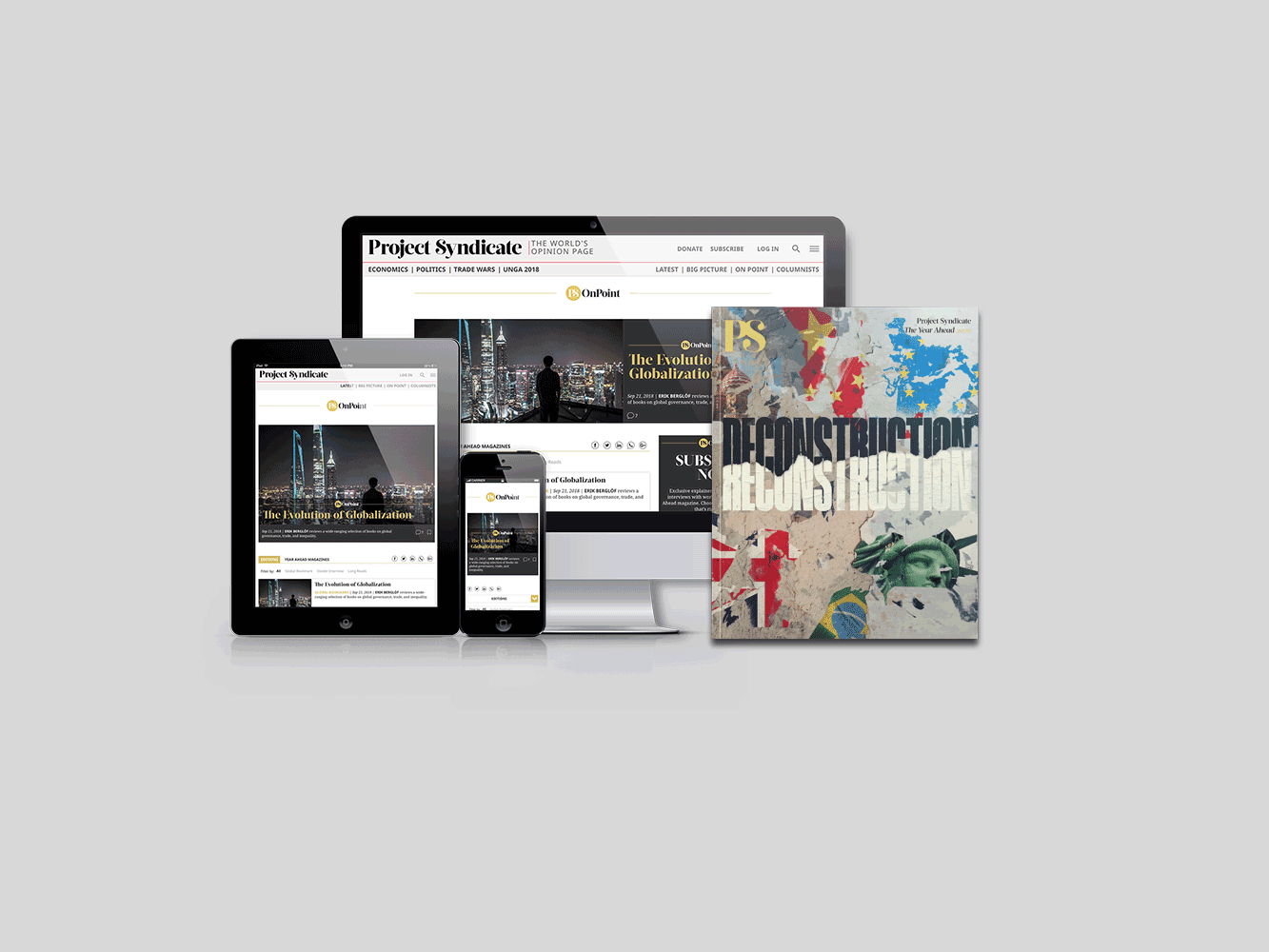 Subscribe to Project Syndicate
Enjoy unlimited access to the ideas and opinions of the world's leading thinkers, including weekly long reads, book reviews, and interviews; The Year Ahead annual print magazine; the complete PS archive; and more – all for less than $2 a week.
De onmiddellijke les van de COVID-19-crisis is dat de menselijke beschaving dringend behoefte heeft aan een dieper verantwoordelijkheidsgevoel. De meesten van ons zijn individueel al tot dit besef gekomen. De vraag is of we daar collectief gevolg aan zullen geven door de veranderingen teweeg te brengen die we nodig hebben.
Er zijn 7,7 miljard mensen op de planeet, en dat aantal zal naar verwachting in 2050 zijn gegroeid naar 9,7 miljard. Onze onverzadigbare vraag naar natuurlijke hulpbronnen zal blijven toenemen, hetgeen impliceert dat onze uitputting van de planeet het regeneratieve vermogen van natuurlijke systemen zal blijven overtreffen. Die werkelijkheid ligt ten grondslag aan het geologische tijdperk dat het Antropoceen wordt genoemd: hoe dan ook heeft de mensheid het punt bereikt waarop ons handelen de toekomst zal bepalen van vrijwel iedere andere soort op de planeet.
Zo'n enorme macht brengt enorme verantwoordelijkheden met zich mee. Tot het begin van de Industriële Revolutie hadden de menselijke activiteiten betrekkelijk weinig gevolgen voor de planeet zelf. Nu hebben zij buitengewoon onevenredige, alomvattende gevolgen. De bevolkingsgroei en de massaconsumptie, gestuurd door exponentiële verbeteringen van de technologie, hebben geleid tot een dramatische afname van natuurlijke hulpbronnen die ooit onuitputtelijk leken. En de uitstoot van al deze productie heeft ervoor gezorgd dat de atmosfeer in een adembenemend tempo is opgewarmd.
We kunnen die verantwoordelijkheid aanvaarden en de moed verzamelen om een Grote Transformatie in gang te zetten, of we kunnen, met onze ogen wijd open, wachten op de Vier Ruiters van de Apocalyps. Met COVID-19 is de eerste ruiter al ten tonele verschenen.
Geconfronteerd met een dergelijke keuze zijn er vele vragen die je zou kunnen stellen. Met welk doel voor ogen moeten we kunstmatige intelligentie en quantum computers gebruiken? Velen zullen in de verleiding komen om steeds geavanceerder oorlogstuig te ontwikkelen, of steeds verfijndere consumentenplatforms. Maar wat we echt nodig hebben is een betere systeemanalyse ter verbetering van de volksgezondheid, de bescherming van het milieu en het behoud van een draaglijk klimaat.
In de toekomst zal het voeden van de mensheid niet mogelijk zijn zonder de bescherming van het mondiale plantenleven. Tegen de achtergrond van een ongekende massa-sterfte van plant- en diersoorten mogen we geen illusies koesteren over ons vermogen om deze fundamentele taak te vervullen. Hoewel de pandemie de meeste mensen heeft geleerd in bepaalde contexten gehoor te geven aan wetenschappelijke adviezen, zouden we in ontkenning kunnen blijven als het gaat om nog gevaarlijker ontwikkelingen, zoals de klimaatverandering.
Het leiding geven aan de Grote Transformatie zal onvermijdelijk een taak zijn voor 's werelds meest geavanceerde economieën, omdat die beschikken over de noodzakelijke know-how en financiële middelen. Met name de westerse democratieën zullen het concept van de vrijheid die zij menen te vertegenwoordigen serieus moeten nemen.
Vrijheid en verantwoordelijkheid zijn nauw met elkaar verbonden: degenen die vrijheid verlangen ontlopen hun verantwoordelijkheid voor eigen risico. De COVID-19-crisis heeft dit duidelijk gemaakt: om lockdowns en andere restricties in een later stadium te vermijden, moet je die eerst ondergaan.
Er is nóg een nevenproduct van de crisis dat niet genegeerd kan worden. De Verenigde Staten en China bewegen zich momenteel in de richting van een confrontatie over het mondiale leiderschap. Maar hoe zal de wereld van morgen er uitzien? Zal macht vooral worden gedefinieerd door militaire superioriteit, zoals in het verleden? Of zal hij verbonden zijn met volledig nieuwe en fundamenteel andere bronnen? Zal een traditioneel begrip van macht überhaupt nog langer datgene zijn dat de wereld bijeen houdt?
Europa heeft een onverwachte kans gekregen, mits het continent zich er niet toe zal laten verleiden om mee te doen aan de concurrentiestrijd tussen de supermachten. In plaats daarvan moet het de moed verzamelen om het voorbeeld van collectieve verantwoordelijkheid te stellen dat de mensheid nodig heeft.
Vertaling: Menno Grootveld