Skutečné nebezpečí globálního oteplování
PRAHA – Jsem překvapen, jak mnoho lidí v Evropě, ve Spojených státech i jinde v současnosti lne k podpoře politiky vyrůstající z hysterie nad globálním oteplováním, zejména legislativy limitů a povolenek k redukci emisí skleníkových plynů a dotací pro "zelené" zdroje energie. Jsem přesvědčen, že se jedná o scestnou strategii, a to nejen kvůli nejistotě rizik, jež by globální oteplování mohlo znamenat, ale i kvůli jistotě újmy, již tyto navrhované politiky usilující o jeho zmírňování, přivodí.
Byl jsem pozván, abych o tomto tématu pojednal na konferenci v kalifornské Santa Barbaře. Mezi posluchači byli přední podnikatelé, kteří doufají, že na politikách limitů a obchodu s povolenkami a na subvencích do obnovitelné energie a "zelených" pracovních míst vydělají. Radou, kterou jsem jim dal, bylo nepropadat této hysterii.
V realizaci politik, které by měly zmírnit globální oteplování, je Evropa o několik let dál než USA. Všechny členské země Evropské unie ratifikovaly Kjótský protokol a přijaly širokou škálu politik ke snížení emisí a splnění svých kjótských cílů.
K těmto politikám patří iniciativa postavená na limitech a povolenkách známá jako systém obchodování s emisemi, horentní daně z paliv a ctižádostivé programy výstavby větrníků a dalších projektů obnovitelné energie. Tyto politiky se uskutečňovaly v dobách, kdy se ekonomice EU dařilo, a – člověk doufá – s plným vědomím toho, že vyjdou hodně draho.
S nástupem globální finanční krize a nenadálým ekonomickým poklesem začínají být jasné dvě věci. Zaprvé, nebude snadné si tyto nákladné nové zdroje energie dovolit. Zadruhé, energetické přídělové politiky na způsob limitů a povolenek budou setrvalou brzdou ekonomické aktivity. Je paradoxní, že účinkem těchto politik doposud emisí neubylo, ale ubývá jich teď proto, že světové hospodářství směřuje do recese.
To není překvapením pro někoho, jako jsem já, aktivní účastník transformace mé vlasti od komunismu ke svobodné společnosti a tržnímu hospodářství. Staré, překonané podniky těžkého průmyslu, které bývaly chloubou komunistického režimu, se prakticky přes noc zavřely, protože nemohly přežít otevření ekonomiky. Výsledkem byl dramatický propad emisí CO2.
Introductory Offer: Save 30% on PS Digital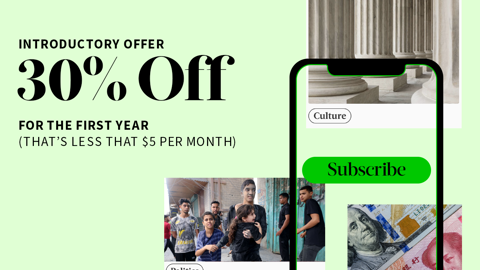 Introductory Offer: Save 30% on PS Digital
Subscribe now to gain greater access to Project Syndicate – including every commentary and our entire On Point suite of subscriber-exclusive content – starting at less than $5 per month.
Tajemstvím za úbytky emisí byl hospodářský úpadek. Jak se ekonomiky České republiky a dalších zemí střední a východní Evropy rekonstruovaly a začaly znovu růst, emise se začaly přirozeně zvyšovat. Každému by mělo být jasné, že existuje velice silná korelace mezi hospodářským růstem a spotřebou energie.
Jsem proto ohromen, když vidím ty, kdo se ztotožňují s momentálně módním politickým argumentem, že politiky jako obchodování s emisními povolenkami, vládní nařizování a dotace do obnovitelné energie mohou vlastně ekonomice prospět. Vláda prý ve spolupráci s podnikateli vytvoří "ekonomiku nových energií", angažovaným firmám to prospěje a všichni se budou mít líp.
To je iluze. Limity a povolenky mohou fungovat jedině skrze zvýšení cen energií. Spotřebitelé nucení platit vyšší ceny za energie budou mít méně peněz na výdaje za jiné věci. Může se sice dařit konkrétním podnikům, které poskytují drahou "zelenou" energii, ale čistý ekonomický efekt bude negativní.
Je nutné vidět celkový obraz. Když se energie přídělově omezuje anebo subvencuje, lze sice dosahovat výnosů, ale jen v rámci ekonomiky, která vykazuje nízký, či dokonce záporný růst. To znamená, že v delším časovém horizontu budou všichni soupeřit o kus koláče, který bude menší, než by byl bez energetického přídělového hospodářství.
To nevěští nic dobrého růstu ani snaze najít cestu z dnešní krize.