Le véritable danger du réchauffement climatique
PRAGUE – Je suis surpris du grand nombre de personnes en Europe, aux USA et ailleurs qui soutiennent une politique de l'environnement sous-tendue par une hystérie quant au réchauffement climatique. Je pense notamment à la législation sur le plafonnement et l'échange des droits d'émission de gaz à effet de serre ( cap-and-trade initiative ) et à la subvention des sources d'énergie ampquot;verteampquot;. Je suis convaincu qu'il s'agit d'une erreur stratégique – non seulement en raison des incertitudes quant aux dangers du réchauffement climatique, mais à cause de la certitude des dégâts que ces mesures vont engendrer.
J'ai été invité récemment à parler de cette question lors d'une conférence à Santa Barbara en Californie. Mon auditoire comportait des dirigeants d'entreprise qui espéraient profiter des mesures d'échange des droits d'émission, des subventions aux énergies renouvelables et des emplois ampquot;vertsampquot;. Je leur ai conseillé de ne pas se laisser prendre par le climat d'hystérie qui prévaut dans ce domaine.
L'Europe à plusieurs années d'avance sur les USA en ce qui concerne les mesures visant à limiter le réchauffement climatique. Tous les membres de l'UE ont ratifié le Protocole de Kyoto et adopté un large éventail de mesures pour diminuer leurs émissions et atteindre les objectifs fixés par le Protocole.
Ces mesures comportent le plafonnement et l'échange des droits d'émission de gaz à effet de serre (ce que l'on appelle aussi le négoce des émissions polluantes), des taxes élevées sur l'essence et des programmes ambitieux de construction d'éoliennes, ainsi que d'autres projets d'énergie renouvelable. Elles ont été décidées au moment où l'économie européenne se portait bien – et on peut l'espérer, avec la conscience de leur coût – des plus significatif.
Avec la crise financière mondiale et le brusque ralentissement de l'économie, deux choses deviennent claires. Premièrement ces sources d'énergie sont très coûteuses et deuxièmement, les mesures de rationnement comme les droits d'émission constitueront une menace permanente sur l'activité économique. Paradoxalement, les émissions n'ont pas diminué en raison de ces mesures, mais à cause de la récession mondiale.
Cela ne m'étonne pas, car je me suis fortement impliqué dans la transition de mon pays du communisme vers une société libre et l'économie de marché. Nos industries lourdes, vieilles et démodées, ont mis la clé sous la porte pratiquement du jour au lendemain, car elles étaient incapables de faire face à l'ouverture de l'économie. Cela a entraîné une réduction spectaculaire des émissions de CO2 .
Secure your copy of PS Quarterly: The Year Ahead 2023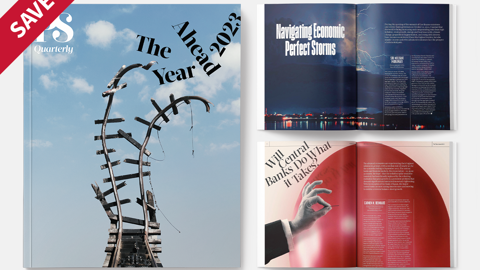 Secure your copy of PS Quarterly: The Year Ahead 2023
Our annual fourth-quarter magazine is here, and available only to Digital Plus and Premium subscribers. Subscribe to Digital Plus today, and save $15.

Le secret derrière la réduction des émissions était donc le déclin économique. Lorsque l'économie a redémarré en République tchèque et dans d'autres pays d'Europe centrale et d'Europe de l'Est, les émissions ont naturellement augmenté. Il est évident qu'il y a une très forte corrélation entre croissance économique et utilisation de l'énergie.
Je suis donc étonné de voir des gens adhérer à l'argument politique à la mode selon lequel des mesures comme les droits d'émission des gaz à effet de serre, les plans d'action gouvernementaux et les subventions aux énergies renouvelables peuvent bénéficier à l'économie. On prétend que les gouvernements, en collaboration avec le secteur privé, vont créer une ampquot;nouvelle économie de l'énergieampquot;, que les entreprises impliquées vont réaliser des bénéfices et que tout le monde s'en trouvera mieux.
C'est illusoire. Le négoce des droits d'émission n'aboutira qu'à une hausse du coût de l'énergie. Les consommateurs seront donc contraints de resserrer les cordons de leur bourse et de restreindre leurs dépenses dans d'autres domaines. Certaines entreprises ampquot;vertesampquot; qui fourniront de l'énergie verte à prix élevé tireront peut-être leur épingle du jeu, mais l'effet économique net sera négatif.
Il faut avoir une vue d'ensemble. Il est possible de réaliser des bénéfices quand l'énergie est rationnée ou subventionnée, mais à condition que la croissance soit faible, voire négative. Autrement dit, à long terme, chacun bataillera pour avoir sa part du gâteau - un gâteau qui sera plus petit en raison du rationnement de l'énergie.
Cela n'augure rien de bon, que ce soit en terme de croissance ou de sortie de la crise actuelle.