Op zoek naar water
HAMILTON, CANADA – In grote delen van de wereld zijn er simpelweg geen conventionele zoetwaterbronnen meer beschikbaar om aan de groeiende vraag te voldoen. Behalve dat dit de economische groei belemmert bedreigt het gebrek aan voldoende zoetwater het welzijn van miljarden mensen door conflict, sociale onrust, en migratie te veroorzaken. De enige manier om deze uitdaging tegemoet te treden is door de planning en het beheer van waterbronnen radicaal te heroverwegen op een manier die de creatieve exploitatie van onconventionele waterbronnen benadrukt.
Er bestaat een groot en groeiend aantal onconventionele bronnen van zoetwater met een enorm potentieel, om te beginnen met ontzilt zee- of zeer brak grondwater. Er zijn al 18.000 ontziltingscentrales in meer dan 100 landen die ruwweg 32 miljard kubieke meter zoetwater produceren – ongeveer een derde van het water dat jaarlijks door de Niagarawatervallen stroomt.
Ongeveer 44% van de mondiale productie van ontzilt water vindt plaats in het Midden-Oosten en Noord-Afrika en er worden nieuwe faciliteiten gebouwd in Azië, de Verenigde Staten, en Latijns-Amerika. De jaarlijkse ontziltingscapaciteit groeit gemiddeld 7-9% per jaar.
Recente studies laten zien dat de kosten van irrigatie met ontzilt water ondanks dat deze nog steeds hoger zijn dan die van conventioneel zoetwater aan het dalen zijn. Enige tientallen jaren geleden kostte ontzilt water meer dan 5 dollar per kubieke meter, nu minder dan 50 dollarcent.
Een tweede veelbelovende alternatieve bron van zoetwater is mist: er kan een verticaal net gebruikt worden om vocht uit de lucht op te vangen, waarbij de druppels zich verzamelen in een tank of distributiesysteem. Gegeven het feit dat mist zelfs in droge gebieden zeer algemeen voorkomt zijn systemen om mist te oogsten een praktische en kosteneffectieve manier om zoetwater direct aan plattelandsgemeenschappen aan te bieden.
Sommige landen trekken al voordeel uit deze technologie. In Kaapverdië brengt een vierkante meter van een opvangsysteem in het piekseizoen dagelijks tot 12 liter zoetwater op. In Eritrea oogst een net van 1600 vierkante meter tot 12000 liter per dag. Het grootste systeem voor de afvang en distributie van mist ter wereld werd in 2015 gebouwd in de bergen in Marokko – een gebied waar weinig water beschikbaar is maar waar het zes maanden per jaar zwaar mist.
Subscribe to PS Digital Now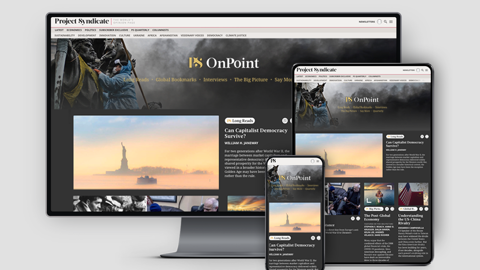 Subscribe to PS Digital Now
Access every new PS commentary, our entire On Point suite of subscriber-exclusive content – including Longer Reads, Insider Interviews, Big Picture/Big Question, and Say More – and the full PS archive.
Het opvangen van mist kost momenteel 1 tot 3 dollar per kubieke meter water. De kosten worden verwacht verder te dalen terwijl de markt voor de apparatuur groeit en steeds meer bevolkingen van dorpen de bediening en het onderhoud overnemen. Gegeven de eenvoud hiervan zijn operatiekosten van mistafvangsystemen minimaal en kunnen deze makkelijk door onopgeleide teams beheerd worden.
Overeenkomstig is 'het opvangen van regenwater op microschaal' – waarbij bepaalde hellingen en contouren in het landschap gebruikt worden om de wateropvang uit regen te maximaliseren en deze te concentreren in een beplant bassin waar het effectief wordt 'opgeslagen' in de grond – bruikbaar voor droge ecosystemen waar de meeste neerslag verloren gaat. Verschillende projecten in het Midden-Oosten en Noord-Afrika demonstreren het potentieel van deze aanpak om in zeer droge gebieden vegetatiegroei in stand te houden.
Nog een onconventionele bron van zoetwater is gebruikt grijs water en afvalwater uit stedelijke gebieden. Mechanismen om dit soort water veilig te collecteren, behandelen, en te hergebruiken zijn al gedemonstreerd en gedocumenteerd, waarbij stringente regelgeving voor het lozen van afvalwater in Noord-Amerika, Noord-Europa, en Japan de norm zet voor de rest van de wereld. Grondwater dat in diepe geologische formaties en in onderzeese aquifiers besloten ligt kan eventueel ook nog afgetapt worden.
Een laatste – en bijzonder verrassende – potentiele optie, die momenteel door de Verenigde Arabische Emiraten onderzocht wordt, is het slepen van ijsbergen. Alhoewel de Canadese olie- en gasindustrie al regelmatig ijsbergen wegsleept om schade aan boorplatforms te voorkomen zal het ijs intact houden tijdens de zuidwaartse reis van 10.000 km die tot een jaar kan duren voor de VAE geen makkelijke opgave worden. Maar gezien de hoeveelheid water die er in een gemiddelde ijsberg zit is dit toch het overwegen waard.
Ondanks de bewezen belofte van onconventionele waterbronnen (de urgentie van de waterschaarste in veel landen nog geheel daargelaten) is het ontmoedigend hoe weinig het potentieel van deze oplossingen onderzocht blijft. Alhoewel de meeste landen met waterschaarste het gebruik van ontzilt water al reguleren moeten besluitvormers hun investeringsstrategieën, beleid voor waterbeheer, en publieke budgetten om het hele scala aan waterbronnen te integreren vernieuwen.
Tot dit doel moeten regeringen afstand doen van hun achterhaalde aannames dat het aanboren van onconventionele waterbronnen technisch moeilijk of excessief duur zou zijn. Er moeten inspanningen ondernomen worden om de potentiele voordelen van dit soort investeringen te analyseren, waarbij de economische, sociale, milieu- en gezondheidskosten van waterschaarste meegenomen worden.
Regeringen moeten tevens de verantwoordelijkheden van nationale waterschappen verhelderen en de capaciteit van water-gerelateerde instituties op alle niveaus verbeteren om grootschalige onconventionele waterprogramma's te institutionaliseren. De beste werkwijzen moeten vastgelegd worden, innovaties geïdentificeerd en getest, en kennis en ervaring gedeeld.
Ook de private sector heeft een grote rol te spelen in de verschuiving naar onconventionele waterbronnen; een rol die verder moet gaan dan de huidige inspanningen om ontzilt, stedelijk grijswater, en afvalwater af te tappen. Tot slot moeten lokale instituties, niet-gouvernementele organisaties, en lokale gemeenschappen gemobiliseerd worden – bijvoorbeeld door publieke campagnes die de voordelen van het benutten van het potentieel van onconventionele waterbronnen laten zien.
Sustainable Development Goal nummer 6 omvat de universele toegang tot schoon water en sanitatie. Wanneer regeringen onconventionele waterbronnen niet zullen omhelzen zal het behalen van dat doel net zo moeilijk worden als water uit een steen knijpen – en zullen de consequenties voor waterschaarse regio's schrijnend zijn.
Vertaling Melle Trap