Wat heeft de wereld nodig om duurzame, inclusieve groei te bereiken?
BALI – In november kwamen honderden bedrijfsleiders en staatshoofden bijeen op het Indonesische eiland Bali, voor de B20-top van het mondiale bedrijfsleven. De onderwerpen op de agenda draaiden dit jaar rond drie onderling verbonden doelstellingen: duurzaamheid, inclusie en economische groei.
Deze drie doelstellingen zijn niet met elkaar in strijd, maar kunnen elkaar juist versterken. Een duurzame wereld zou de klimaatverandering binnen de perken kunnen houden en het natuurlijk kapitaal en de biodiversiteit kunnen behouden. Inclusiviteit zou economische kansen en gedeelde vooruitgang voor iedereen creëren. En hoewel sommigen menen dat economische groei onverenigbaar is met het tegengaan van de klimaatverandering, is die groei noodzakelijk om de financiële middelen te produceren die nodig zijn om een duurzame, inclusieve wereld te creëren – mits die middelen correct worden gebruikt.
Om de omvang van de toekomstige uitdagingen in te schatten, hebben wij twee cruciale indicatoren onderzocht. In de eerste plaats hebben we de duurzaamheidskloof gemeten – de extra investering in emissiearme technologieën die elk land moet doen om tegen 2050 een netto-nul-uitstoot te bereiken. Aangezien de wereld op weg is om zijn ʻkoolstofbudget' – de hoeveelheid koolstofdioxide die nog mag worden uitgestoten zonder een gevaarlijk niveau van opwarming van de aarde te veroorzaken – tegen 2030 uit te putten, blijft er weinig tijd over om cruciale investeringen te doen. De transitie naar een netto-nul-economie vergt beslissende stappen tegen het einde van dit decennium.
Een andere indicator, die wij de ʻempowermentkloof' noemen, is het consumptieniveau dat nodig is om in basisbehoeften zoals voedsel en energie te voorzien, over een vrij besteedbaar eigen inkomen te beschikken en noodsituaties het hoofd te kunnen bieden. Volgens onze berekeningen bedraagt de empowerment-grens elf dollar per persoon per dag in armere landen en vijfenvijftig dollar in rijkere landen (op basis van de koopkrachtpariteit van 2011). Als elk huishouden in de wereld tegen 2030 dat consumptieniveau zou kunnen bereiken, zou elke volwassene tegen 2050 uit de armoede zijn geklommen en in economische zekerheid verkeren. Maar ook op dit punt zou de wereld drastische veranderingen moeten doorvoeren voordat dit decennium ten einde loopt.
Economische groei zou ons kunnen helpen beide doelen te bereiken. Overheden zouden een deel van de inkomsten uit de groei kunnen besteden om armere huishoudens in de mondiale middenklasse op te nemen, en een deel ervan kunnen gebruiken voor de aanleg van groene infrastructuur.
Tegelijkertijd blijkt uit onderzoek dat wij op de B20-top hebben gepresenteerd dat groei alleen niet in staat zal zijn de kloven op het gebied van duurzaamheid en empowerment te dichten. Als de onderzochte landen en regio's hun huidige uitgavenniveau zouden handhaven, zouden slechts weinig landen en regio's in staat zijn om tegen 2030 meer dan de helft van hun empowermentkloof te dichten, en geen enkel land zou meer dan de helft van zijn duurzaamheidskloof kunnen dichten. In de Verenigde Staten bijvoorbeeld schatten we de empowermentkloof op vijf biljoen dollar en de duurzaamheidskloof op 5,6 biljoen dollar. Als de Amerikaanse economie de rest van het decennium jaarlijks met 2,1 procent zou groeien, zou het land tegen 2030 slechts 36 procent van zijn empowermentkloof en zeven procent van zijn duurzaamheidskloof dichten.
Subscribe to PS Digital Now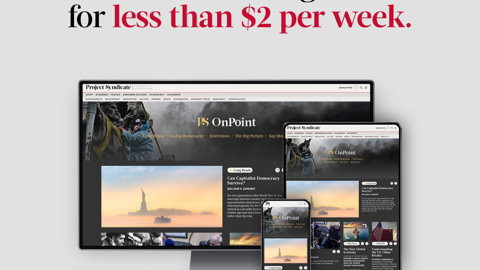 Subscribe to PS Digital Now
Access every new PS commentary, our entire On Point suite of subscriber-exclusive content – including Longer Reads, Insider Interviews, Big Picture/Big Question, and Say More – and the full PS archive.
De situatie is heel anders in Afrika bezuiden de Sahara, waar de empowermentkloof volgens onze ramingen veel groter is, namelijk 10,3 biljoen dollar, terwijl de duurzaamheidskloof zeshonderd miljard dollar bedraagt. Naar verwachting zal de groei (volgens de huidige prognoses) slechts zes procent van de empowermentkloof en vijfentwintig procent van de duurzaamheidskloof dichten.
Om deze kloven te dichten zou de economische groei moeten worden ondersteund door bijkomende krachten. Door het bedrijfsleven geleide innovatie, om te beginnen, zou het huidige groeimodel kunnen veranderen op een manier die meer gericht is op inclusie en duurzaamheid. Grote bedrijven uit de G20-landen besteden ruim twee biljoen dollar per jaar aan onderzoek en ontwikkeling, en kunnen dus een cruciale rol spelen bij de ontwikkeling van nieuwe technologieën en oplossingen om de kosten van de duurzaamheidstransitie te beperken.
En wanneer deze bedrijven ontdekken hoe zij de kosten van infrastructuur met lage emissies kunnen verlagen, kunnen zij ook helpen de groei om te buigen in de richting van duurzaamheid door de voorkeur van de consument te verschuiven naar groene producten, zoals fabrikanten van elektrische voertuigen de afgelopen jaren hebben gedaan. Tegelijkertijd kan door het bedrijfsleven geleide innovatie, wanneer deze gepaard gaat met strategieën en overheidsbeleid die onderwijs, training, kinderopvang, gezondheidszorg en inclusieve aanwerving mogelijk maken, de empowermentkloof helpen dichten door het inkomen van werknemers te verhogen.
Overheid en filantropie zouden ook prikkels en overheidsmiddelen kunnen sturen in de richting van duurzaamheid en inclusie. Overheden zouden bijvoorbeeld meer particulier kapitaal kunnen mobiliseren voor duurzame projecten door erin te investeren, een aanpak die bekend staat als gemengde financiering. Koolstofbelastingen en subsidies voor koolstofarme projecten kunnen beleggers ook stimuleren om de duurzaamheidskloof te dichten. Een andere mogelijkheid is dat overheden directe geldoverdrachten gebruiken om meer huishoudens over de emancipatiegrens te tillen.
Helaas kunnen de huidige mondiale empowerment- en duurzaamheidskloven niet onmiddellijk worden gedicht. Maar dat zou een aansporing moeten zijn, geen reden om niets te doen. Bedrijven moeten niet alleen de uitdaging aangaan en innoveren, maar ook de vele mogelijkheden aangrijpen die er al zijn. Evenzo moeten regeringen en filantropen zich richten op gebieden waar de markten momenteel tekortschieten. Als het bedrijfsleven, de overheid en de sociale sector samenwerken, kunnen we de duurzame en inclusieve groei genereren die de wereld dringend nodig heeft.
Vertaling: Menno Grootveld