De digitale Ontwikkelingskloof
STOCKHOLM – Op 25 september zullen wereldleiders in New York bijeenkomen om de nieuwe Sustainable Development Goals aan te nemen. De SDG's, die 17 doelen en 169 hieraan gerelateerde doelstellingen omvatten, zijn resultaat van intensieve politieke onderhandelingen en zullen de komende 15 jaar criterium zijn voor het overkoepelende doel van de internationale gemeenschap om 'armoede overal en in al zijn vormen uit te roeien.'
De SDG's zijn nobel en absoluut ambitieus. En toch zijn ze, in een tijdsgewricht van diepgaande wetenschappelijke en technologische veranderingen, opvallend conventioneel. Informatietechnologie – de bepalende sociale en economische ontwikkeling van deze eeuw – wordt slechts kort vermeld (in een van de nevendoelstellingen). Nergens in het document wordt er ook maar gehint op de revolutionaire rol die de ontluikende explosie van connectiviteit, informatie, en data zou kunnen spelen in het beëindigen van de armoede.
Er is geen twijfel mogelijk over de impact die informatietechnologie zal hebben op de economische groei. Overheden, politici, en internationale organisaties moeten het potentieel van het internet kanaliseren om de mondiale en individuele ontwikkeling te dienen.
De debatten over internetbeleid zijn de laatste jaren gedomineerd door kwesties rond veiligheid en bestuur. Dit is tot op zekere hoogte te rechtvaardigen: er is een overweldigende breedte aan thema's, variërend van internationale normen voor overheidsgedrag op het web tot uitdagingen als internetcriminaliteit en groeiende censuur. Maar het is ondertussen ook duidelijk dat de landen die het meeste gaan profiteren van de voortdurende informatierevolutie de landen zijn die het lukt het echte hoofddoel niet uit het oog te verliezen, te weten: het gebruikmaken van deze explosie om hun economieën te versterken en de levens van hun burgers beter te maken.
Een studie uit 2009 door de Wereldbank vond dat een verhoging van 10% in de toegang tot breedbandinternet het bbp van een ontwikkelende economie ongeveer 1,4% opstuwt. Deze bevindingen onderschatten de invloed van technologie waarschijnlijk schromelijk; een groot deel van de ontwikkelingswereld maakt nu tenslotte de snelle uitrol van mobiel internet met een veel grotere capaciteit dan beschikbaar was dan ten tijde van de studie mee.
Dit fenomeen is het beste zichtbaar in Azië en Afrika, die dit jaar samen verantwoordelijk zijn voor drie kwart van de mondiale groei in het gebruik van smartphones. Het aantal smartphone aansluitingen zal de komende vijf jaar wereldwijd van 2,9 miljard naar 7,7 miljard stijgen, en er wordt verwacht dat 80% van de nieuwe gebruikers uit deze twee werelddelen zal komen.
Subscribe to PS Digital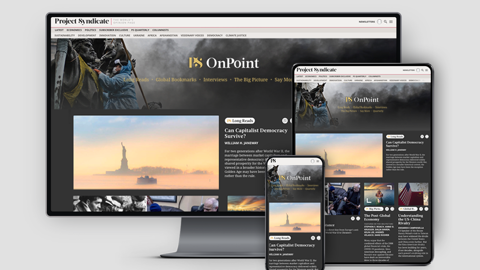 Subscribe to PS Digital
Access every new PS commentary, our entire On Point suite of subscriber-exclusive content – including Longer Reads, Insider Interviews, Big Picture/Big Question, and Say More – and the full PS archive.
Het wijdverbreide gebruik van informatietechnologie in de ontwikkelingswereld opent een zee aan mogelijkheden; en we staan nog maar aan het begin. Er is mobiele data-analyse gebruikt om ebola te bestrijden in West-Afrika, en modern bankieren is door middel van mobiele telefoonnetwerken naar eerder onbediende bevolkingen door de hele ontwikkelingswereld gebracht. Deze nieuwe technologieën geven mensen – en vooral de snel groeiende jeugdige bevolking – vrijheid en openen nieuwe wegen naar economische en sociale ontwikkeling.
Mobiele connectiviteit zou zelfs het belangrijkste ontwikkelingsmiddel ooit kunnen blijken voor de miljarden mensen in opkomend Afrika en Azië. Er zal natuurlijk een digitale kloof blijven bestaan, maar deze zal steeds meer generationeel worden dan geografisch. Binnen tien jaar zal de meerderheid van de jongeren in Afrika waarschijnlijk net zo een goede connectie hebben als die in Europa of Noord-Amerika. En dit zal de wereld verregaand veranderen.
De grote vraag is of regeringen zich bewust zijn van de potentiele kracht van deze ontwikkeling. Als de SDG's hiervan een indicatie zijn, is dit waarschijnlijk niet het geval. De doelen en doelstellingen die de wereld op het punt staat te omarmen reflecteren onvoldoende hoe significant deze overgang naar een nieuw tijdperk is.
Dit gebrek aan bewustzijn wordt ook weerspiegeld in de voorbereidingen voor een VN-topontmoeting over het internationaal beleid voor internet en ontwikkeling die in december plaats zal vinden. De vergadering, die de vooruitgang die sinds de Wereldtop over de Informatiemaatschappij in 2005 is geboekt zal beoordelen, is de uitkomst van een onderhandelingsproces van drie jaar. Helaas hebben politiek gesteggel over problemen rond internettoezicht en -veiligheid de voorbereidingen voor de ontmoeting overschaduwd en is er weinig discussie geweest over de revolutionaire mogelijkheden die een open, dynamisch en vrij internet kan bieden.
Regeringen blijven achter terwijl ondernemers en uitvinders de vlucht naar voren maken. Maar maximalisatie van het potentieel van nieuwe technologie vereist ook het stabiele en voorspelbare speelveld zowel als de ondersteuning van basisonderzoek waar alleen overheden in kunnen voorzien. Nu is de tijd voor alle wereldleiders om de mogelijkheden van internet bovenaan de ontwikkelingsagenda te zetten.
Vertaling Melle Trap