Rozvrat jako cesta k trvalé udržitelnosti
ŽENEVA – Po desítkách let zdráhavého přístupu vedoucích světových představitelů se rychlý, hladký a smysluplný přechod na trvale udržitelný rozvoj jeví jako nepravděpodobný. Během celých lidských dějin byly takto významné změny častěji vnuceny světu okolnostmi, neboť lídři se zaměřovali na krátkodobější otázky typu politického chaosu či hospodářské stagnace tak dlouho, až v jejich ekonomikách a společnostech nastal vážný rozvrat.
Nemusí tomu ovšem tak být. Politici mohou vyvinout řešení, která využijí bezprostředních problémů, a zajistí tak posun směrem k trvale udržitelnější a inkluzivnější budoucnosti.
Letošní rok, který byl označen za "rok trvale udržitelného rozvoje", představuje v tomto směru ideální příležitost. Na březnových jednáních na vysoké úrovni v japonském Sendai a na červencovém jednání v etiopské Addis Abebě budou vedoucí světoví představitelé usilovat o užší spolupráci v oblasti snižování rizik katastrof, respektive mobilizace financí určených na rozvoj. V září pak Organizace spojených národů odstartuje své "trvale udržitelné rozvojové cíle", které budou sloužit jako rámec globálního rozvojového úsilí do roku 2030.
Na sklonku roku navíc dospějí do kritického bodu jednání o globálním klimatu, neboť světoví lídři se v prosinci sejdou v Paříži na konferenci OSN o klimatických změnách. A v agendách nadcházejících summitů skupin G-7 a G-20 budou figurovat opatření pro boj proti klimatickým změnám.
Podobné multilaterální rámce urychlují pokrok. Je nepravděpodobné, že by bez nich došlo k takovým ujednáním, jako byla loňská dohoda mezi Čínou a Spojenými státy na snížení emisí oxidu uhličitého – nemluvě o iniciativách za mobilizaci podnikání, jako je We Mean Business. Jak ovšem ve slavném výroku prohlásil ekonom Mancur Olson, hnacím motorem kolektivního úspěchu jsou individuální zájmy zúčastněných.
Například skutečnost, že se Čína nedávno přihlásila k trvale udržitelnému rozvoji, což poslouží dlouhodobým zájmům planety, je zapříčiněna především domácími problémy se znečištěním vzduchu, vody a půdy. Místo aby se čínská vláda trápila stupňujícím se rozvratem, rozhodla se raději uspíšit posun směrem k dynamické zelené společnosti, i když to znamená odepsat některá aktiva a dopustit krach firem, které nevyhovují měnícím se čínským potřebám – tento přístup totiž zajistí zemi dlouhodobou konkurenční výhodu. Zbytek světa by si měl uvědomit, jak je přínosné, když krátkodobé rozvratné jevy nenarušují agendu trvalé udržitelnosti, ale jsou jejím hnacím motorem.
Subscribe to PS Digital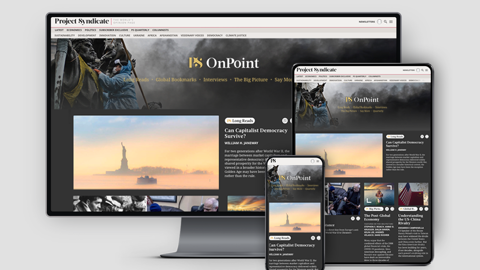 Subscribe to PS Digital
Access every new PS commentary, our entire On Point suite of subscriber-exclusive content – including Longer Reads, Insider Interviews, Big Picture/Big Question, and Say More – and the full PS archive.
Jednou z oblastí, kde je taková příležitost už dnes patrná, je finanční reforma. Dnešní historicky nízké úrokové sazby by měly podněcovat dlouhodobé investice, neboť snižují běžné kapitálové náklady. Nové finanční regulační rámce – jako jsou Basel III, který se snaží snížit riziko v bankovním sektoru, a Solvency II, ekvivalent Evropské unie pro pojišťovny – však tyto investice bezděčně odrazují. To podkopává jak krátkodobé úsilí o zvýšení zaměstnanosti, tak i dlouhodobý cíl trvale udržitelného růstu.
Nemusí to tak být. Jak na brífinku během Světového ekonomického fóra v Davosu zdůraznili zástupci Programu OSN pro životní prostředí, záchrana finančního sektoru před sebou samotným může urychlit přechod na trvale udržitelný rozvoj. Například efektivní řízení rizik a dlouhodobější politické cíle by byly lépe koordinované, pokud by regulátoři snížili kapitálové požadavky pro banky, jež poskytují úvěry na klimaticky přizpůsobivé a ekologicky příznivé investice. Také nafouklé účetní rozvahy centrálních bank – důsledek krátkodobých protikrizových opatření – by se mohly prostřednictvím schémat refinancování použít na podporu zelených investic. Další kvantitativní uvolňování podobné tomu, jaké provádí Evropská centrální banka, by se dalo nasměrovat k cenným papírům krytým zelenějšími aktivy.
Dokonce i negativní signály se dají zmírnit a proměnit v pozitivum. Místo aby vlády dopustily podněcování spotřeby prostřednictvím nízkých cen ropy, mohly by využít příležitosti a zavést malou a politicky přijatelnou daň z energie nebo z ekvivalentního uhlíku – takový přístup prosazuje řada ekonomů a specialistů na rozvoj včetně Jeffreyho Sachse, Lawrence Summerse a Kemala Dervişe. Zmíněná daň by nejen udržovala cenové signály potřebné k orientaci společnosti na trvale udržitelnější energetickou trajektorii, ale také by zajistila příjmy, které by se daly použít na tvorbu zaměstnanosti a na dlouhodobé zelené investice, což by aktivovalo soukromý kapitál.
Podobně i makroobezřetnostní aktivity centrálních bank, které se vyvíjely převážně v reakci na globální finanční krizi, by se mohly zaměřit na dlouhodobější rizika pro finanční sektor, včetně kumulativního dopadu klimatických změn, ekologické politiky a převratných čistých technologií. Guvernér Bank of England Mark Carney se postavil do čela tohoto úsilí a inicioval uvážlivé hodnocení dopadu klimatických změn na britský sektor pojišťovnictví. Další instituce – včetně multilaterálních organizací typu Banky pro mezinárodní platby (BIS), Výboru pro finanční stabilitu (FSB) a skupiny G-20 – by ho mohly následovat.
Svět dnes potřebuje lídry ochotné překlenout propast mezi palčivými krátkodobými požadavky a žádoucími dlouhodobými výsledky. Místo aby se neustále zaobírali současností, měli by vedoucí světoví představitelé chápat rok 2015 jako příležitost k zajištění, aby dnešní rozvratné krize poskytly základ pro zítřejší trvale udržitelnou prosperitu.
Z angličtiny přeložil Jiří Kobělka.