Rok udržitelného rozvoje
NEW YORK – Rok 2015 bude největší příležitostí naší generace posunout svět směrem k udržitelnému rozvoji. V období od července do prosince mohou tři jednání na vysoké úrovni přeformulovat globální rozvojovou agendu a dát chodu globální ekonomiky důležitý impuls k zásadním změnám. Výzvou generálního tajemníka OSN Pan Ki-muna k činům v jeho zprávě "Cesta k důstojnosti" začal Rok udržitelného rozvoje.
V červenci 2015 se světoví vůdci sejdou v etiopské Addis Abebě, aby načrtli reformy globální finanční soustavy. V září 2015 se sejdou znovu, aby schválili Cíle udržitelného rozvoje (CUR), jimiž se budou národní a globální politiky řídit do roku 2030. Konečně v prosinci 2015 se lídři shromáždí v Paříži, aby přijali celosvětovou dohodu s cílem zamezit narůstajícím hrozbám člověkem vyvolané změny klimatu.
Stěžejním cílem těchto summitů je navést svět na cestu směřující k udržitelnému rozvoji čili inkluzivnímu a udržitelnému růstu. To znamená růst, který zvyšuje průměrné životní úrovně, prospívá společnosti napříč distribucí příjmů, nejen bohatým, a neničí, nýbrž chrání přírodní prostředí.
Světová ekonomika je přiměřeně schopná dosahovat hospodářského růstu, ale neumí zajistit, aby se prosperita spravedlivě sdílela a byla environmentálně udržitelná. Příčina je prostá: největší firmy světa neúnavně – a dosti úspěšně – usilují o vlastní zisky, velice často na úkor ekonomické spravedlnosti a životního prostředí.
Maximalizace zisku nezaručuje rozumnou distribuci příjmů ani bezpečnou planetu. Právě naopak, globální ekonomika obrovské počty lidí opomíjí, a to i v nejbohatších zemích, zatímco samotná planeta Země je v bezprecedentním ohrožení v důsledku člověkem vyvolané změny klimatu, znečišťování životního prostředí, vyčerpávání zásob vody a vymírání bezpočtu druhů.
CUR vycházejí z premisy, že je nezbytná rychlá a dalekosáhlá změna. John F. Kennedy před půlstoletím trefně řekl: "Určíme-li jasně svůj cíl, učiníme-li jej zvládnutelnějším a méně vzdáleným, můžeme tak pomoci všem lidem, aby jej pochopili, čerpali z něj naději a neodolatelně k němu směřovali." Právě to je jádrem Panova vzkazu členským státům OSN: definujme CUR srozumitelně a inspirujme tak občany, podniky, vlády, vědce a občanskou společnost na celém světě, aby k nim směřovali.
Subscribe to PS Digital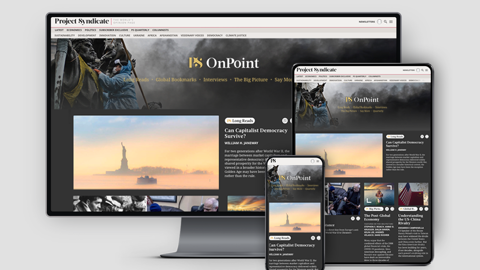 Subscribe to PS Digital
Access every new PS commentary, our entire On Point suite of subscriber-exclusive content – including Longer Reads, Insider Interviews, Big Picture/Big Question, and Say More – and the full PS archive.
Hlavní cíle CUR jsou už dohodnuté. Komise Valného shromáždění OSN stanovila 17 cílových oblastí, mimo jiné vykořenění krajní chudoby, zajištění vzdělání a zdravotní péče pro všechny a postup proti člověkem vyvolané změně klimatu. Valné shromáždění jako celek se vyslovilo ve prospěch těchto priorit. Zbývajícím klíčovým krokem je proměnit je ve funkční soubor cílů. Když byly CUR v roce 2012 prvně navrženy, členské země OSN uvedly, že "by měly být akčně orientované," "snadno sdělné" a "početně omezené," přičemž řada vlád se vyslovila pro celkem asi 10-12 cílů, které postihnou vybraných 17 prioritních oblastí.
Dosažení CUR bude vyžadovat hlubokou reformu globální finanční soustavy, což je stěžejní záměr červencové Konference o financování rozvoje. Je zapotřebí zdroje z ozbrojených střetů, daňových děr pro bohaté a nehospodárných výdajů za novou přípravu k těžbě ropy, plynu a uhlí přesměrovat do priorit, jako jsou zdravotnictví, školství a nízkouhlíková energetika, a dále silněji usilovat o potírání korupce a úniků kapitálu.
Červencový summit se pokusí získat od světových vlád závazek, že vyčlení více prostředků na sociální potřeby. Stanoví také lepší způsoby, jak zajišťovat, aby se rozvojová pomoc dostávala k chudým, v čemž se poučí z úspěšných programů, jako je Globální fond pro boj proti tuberkulóze, AIDS a malárii. Jednou takovou inovací by mohl být nový Globální fond pro vzdělávání, který by zajistil, že si děti všude na světě budou moci dovolit navštěvovat školu alespoň do středoškolské úrovně. Dále potřebujeme lepší způsoby jak pumpovat soukromé peníze do udržitelné infrastruktury, jako je větrná a solární energetika.
Tyto cíle jsou na dosah. Jsou pro nás opravdu jediným způsobem jak zastavit utápění bilionů dolarů ve finančních bublinách, nesmyslných válkách a environmentálně ničivých formách energetiky.
Úspěch v červenci a září dodá energii rozhodujícímu prosincovému vyjednávání v Paříži nad změnou klimatu. Debata o člověkem vyvolaném globálním oteplování se vede zdánlivě bez konce. Během 22 let od doby, kdy svět podepsal Rámcovou úmluvu OSN o změně klimatu na Summitu Země v Riu, došlo k příliš malému pokroku směrem k reálné činnosti. Rok 2014 proto zřejmě bude nejteplejším rokem v zaznamenané historii, který také přinesl ničivá sucha, záplavy, pustošivé bouře a vlny veder.
Ještě v letech 2009 a 2010 se vlády světa dohodly, že vzestup globální teploty udrží pod hranicí 2° Celsia oproti předprůmyslové éře. V současnosti však oteplování míří k dosažení 4-6 stupňů do konce století – tak vysoko, že zničí globální produkci potravin a dramaticky zvýší četnost extrémních povětrnostních jevů.
Abychom zůstali pod hranicí dvou stupňů, vlády světa musí přijmout stěžejní koncepci: "hlubokou dekarbonizaci" světové energetické soustavy. To znamená rázný odklon od energetických zdrojů uvolňujících uhlík, jako je uhlí, ropa a plyn, k větrné, solární, jaderné a vodní energetice a dále zavedení technologií k zachytávání a ukládání uhlíku, kde se budou fosilní paliva nadále používat. Špinavá, vysoce uhlíková energie musí ustoupit čisté energii s nízkými či nulovými emisemi uhlíku a veškerou energii je nutné používat mnohem účinněji.
Úspěšná klimatická úmluva by příští rok v prosinci měla potvrdit hranici dvou stupňů Celsia pro oteplování, zahrnout národní "dekarbonizační" závazky až do roku 2030 a "cesty" k hluboké dekarbonizaci do roku 2050, zahájit rozsáhlé celosvětové úsilí vlád i firem o zlepšení provozní výkonnosti technologií nízkouhlíkové energetiky a poskytnout rozsáhlou a spolehlivou finanční pomoc chudším zemím, neboť se vypořádávají s klimatickými obtížemi. Spojené státy, Čína a členské státy Evropské unie a další země už dávají najevo záměr udělat krok správným směrem.
CUR mohou otevřít cestu k hospodářskému rozvoji, který bude technologicky vyspělý, sociálně spravedlivý a environmentálně udržitelný. Dohody uzavřené příští rok během tří summitů nebudou zárukou úspěchu udržitelného rozvoje, ale rozhodně mohou globální hospodářství obrátit správným směrem. Za naší generace se taková příležitost znovu nenaskytne.
Z angličtiny přeložil David Daduč