Philippinen: untergehen oder schwimmen
MANILA – Die Tragödie des Untergangs der Fähre "Princess of the Stars" vor der Küste von Romblon auf den Philippinen – in der vermutlich immer noch hunderte von Leichen eingeschlossen sind – ist der Beweis dafür, dass das Land nicht nur häufig von Naturkatastrophen heimgesucht wird, sondern auch von Desastern von Menschenhand. Die Entscheidung, das Schiff direkt in den Pfad von Taifun Frank segeln zu lassen, war schlicht und einfach das Ergebnis von Inkompetenz.
Schlimmer noch: Dieselbe Schifffahrtslinie war in den letzten 11 Jahren in mindestens drei weitere Tragödien auf See verwickelt, darunter auch das Desaster der "Dona Paz" 1987, bei dem über 4000 Menschen umkamen und das als die weltweit schlimmste Seekatastrophe in Friedenszeiten bezeichnet wurde. Diese schändliche Vorgeschichte macht den Verlust, den die Freunde und Familien derer erlitten, die starben oder vermisst bleiben, umso schmerzlicher. Hätten die philippinischen Behörden nur ihre Lehre aus früheren Tragödien gezogen, so hätte diese letzte wohl abgewendet werden können.
Wie die meisten anderen Rechtsprechungen weltweit klassifiziert das philippinische Recht das Beförderungsgeschäft als eine öffentliche Angelegenheit. Es wird nicht als normales Geschäft unter den traditionellen Laisser-faire-Bedingungen geführt, sondern als eines von öffentlichem Interesse.
Besonders wichtig ist die Tatsache, dass das Reisen auf dem Seeweg immer schon gefährlich war und auch bleibt. Seit tausend Jahren reglementieren Staaten den Transport auf See, um die Sicherheit auf dem Meer zu erhöhen. Theoretisch hätten die philippinischen Behörden ihre gesetzliche Aufsichtsbefugnis mit wesentlich mehr Sorgfalt ausüben sollen. Stattdessen gestatteten die Hafenbeamten in Manila und die philippinische Küstenwacht der Princess of the Stars, die Segel zu setzen, trotz der eindeutigen Warnungen des Wetteramts, dass das Schiff auf das Auge des Taifuns zusteuere. Das Problem liegt also nicht in den Bestimmungen, sondern in dem Willen, diese durchzusetzen.
Zudem ist es überaus merkwürdig, dass ein Unternehmen mit einem derart schlechten Sicherheitsprotokoll weiterbetrieben werden durfte. Gewiss erklärt die Tatsache, dass die Philippinen dafür berüchtigt sind, eines der korruptesten Länder der Welt zu sein, warum seeuntüchtige Schiffe mit inkompetenten Mannschaften weiterhin regelmäßig ihre Routen abfahren. Es ist ganz einfach ein grundsätzliches Versagen der Rechtsstaatlichkeit in den Philippinen, das an der Notlage der Opfer Schuld ist.
Teil des Problems ist, dass das philippinische Recht den Wert des menschlichen Lebens sehr gering schätzt. So belaufen sich die Schadensersatzkosten für ein Menschenleben in philippinischen Gerichten auf nur $ 2.500. In den Gesetzesbüchern des Landes ist der Wert sogar noch niedriger – nur $ 100.
Subscribe to PS Digital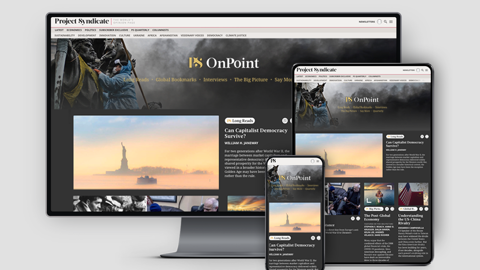 Subscribe to PS Digital
Access every new PS commentary, our entire On Point suite of subscriber-exclusive content – including Longer Reads, Insider Interviews, Big Picture/Big Question, and Say More – and the full PS archive.
Dieser Schätzwert stellt unter Umständen nicht den vollen Schadensersatzbetrag dar, den die Erben von Opfern, die infolge eines Verbrechens oder eines Vertragsbruchs gestorben sind, am Ende erhalten. Dennoch hat die Weigerung der philippinischen Gerichte, Schadensersatzzahlungen zuzugestehen, die über die tatsächlichen Schäden und nominale moralische Schäden hinausgehen, dazu geführt, dass sich der Verlust von Leben für diejenigen, die mit ihren vertraglichen Verpflichtungen nachlässig umgehen, lohnt.
Selbstverständlich gibt es in den Gesetzesbüchern Entschädigungen mit Strafzweck und Bußgelder, um Verhaltensweisen zu vermeiden, die der Gesellschaft schaden. Doch haben die philippinischen Gerichte sich geweigert, solche Entschädigungen zur Steuerung des Verhaltens, insbesondere von Geschäftsleuten, zuzuerkennen. Die jüngsten Versuche philippinischer Anwälte, zivilrechtliche Ansprüche für Umweltdelikte und Menschenrechtsverletzungen vor amerikanischen Gerichten durchzusetzen, zeigen nur, wie verzweifelt philippinische Kläger darum kämpfen müssen, Entschädigungen von denjenigen zu erhalten, die nachlässig gehandelt haben oder straflos davongekommen sind.
Das erklärt, warum Sulpicio Lines, der Eigner der Princess of the Stars, trotz vieler Fehler weiterhin den Betrieb aufrechterhalten darf. Einfach ausgedrückt, haben es die philippinischen Gerichte für das Unternehmen nicht teuer genug gemacht, seeuntüchtige Schiffe weiter zu nutzen.
Schlimmer ist, dass ein Rechtsstreit auf den Philippinen im Durchschnitt bis zum Abschluss mindestens fünf Jahre dauert. Sogar die Filipinos, die sich ein Verfahren leisten können, müssen warten; ein Kläger der Dona-Paz-Tragödie wartete z. B. 19 Jahre, bevor er Schadensersatz in Höhe von $ 250.000 erhielt. Im Allgemeinen sind philippinische Fähr- und Schiffspassagiere jedoch arm und können sich weder die Dienste von Anwälten noch die hohen Gebühren leisten, die die Gerichte verlangen. Daher begnügen sie sich mit den Krümeln, die nach dem Desaster schließlich von den Schiffseignern angeboten werden.
Diese gesetzlose Legalität ist in einem Land, in dem 85 % der Menschen in elender Armut leben, nur zu üblich. Für viele von ihnen bleibt der Seeweg die einzige Beförderungsmöglichkeit, die sie sich leisten können. Neben seeuntüchtigen Schiffen wäre ihre einzige Alternative, zu schwimmen oder – wie die Menschen an Bord der Princess of the Stars – unterzugehen.