Red onze bodem
BERLIJN – De Verenigde Naties hebben 2015 uitgeroepen tot het International Jaar van de Bodem, en van 19 tot 23 april is het dit jaar Wereldbodemweek. Dit soort evenementen krijgen, ook al zijn ze niet bepaald sexy, lang niet de aandacht die ze verdienen.
Intacte bodems zijn een onvervangbare hulpbron van onschatbare waarde, een die talloze functies heeft in het bereiken van de belangrijkste ontwikkelings- en milieudoelen van de internationale gemeenschap. En ze hebben nu een urgente behoefte aan bescherming.
Gezonde bodems zijn van levensbelang voor de menselijke voeding en het gevecht tegen honger. We vertrouwen niet alleen op ze voor voedselproductie, maar ook om nieuw drinkwater te creëren. Ze helpen het klimaat van de aarde te reguleren en slaan meer koolstof op dan alle bossen ter wereld bij elkaar (alleen de oceanen houden nog meer koolstof vast), en zijn essentieel in het behouden van biodiversiteit: een handvol vruchtbare aarde bevat meer micro-organismen dan er mensen op de wereld zijn. Twee derde van de soorten op de wereld leven onder de grond.
Maar erosie en vervuiling oefenen ernstige druk uit op de bodem. Wereldwijd gaat er jaarlijks 24 miljard ton vruchtbare grond verloren, gedeeltelijk door de groei van de steden en infrastructuur. In Duitsland alleen al claimen bouwprojecten gemiddeld meer dan 75 hectare per dag. Ongepaste landbouwpraktijken dragen ook schuld: het vrije gebruik van kunstmest bijvoorbeeld decimeert het aantal organismen in de bodem en verandert de structuur ervan. Het duurt millennia voordat zich een vruchtbare bovenlaag vormt; op veel plekken echter hoeft er nu maar een wolkbreuk aan te pas te komen om deze weg te spoelen.
Tegelijkertijd groeit de mondiale vraag naar voedsel, veevoeder, en biomassa voor brandstof, wat op zijn beurt de waarde van land opdrijft – een feit dat niet aan de aandacht van internationale investeerders is ontsnapt. Volgens een schatting van de Wereldbank is 10 tot 30 % van het vruchtbare land wereldwijd – land dat anders zou worden bewerkt door miljoenen kleine boeren, nomaden, en lokale stammen – aangetast door investeringen op grote schaal.
De worsteling om landrechten veilig te stellen voor individuen en gemeenschappen is in vele delen van de wereld zo een kwestie van leven of dood geworden. Toegang tot land is een van de sleutelfactoren qua honger en deze is zelfs nog ongelijker verdeeld dan het inkomen. Ongeveer 20% van de hongerende gezinnen zijn landloos en 50% van de huishoudens met voedselproblemen zijn gezinnen van keuterboeren.
Subscribe to PS Digital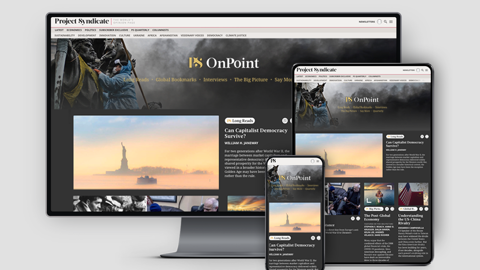 Subscribe to PS Digital
Access every new PS commentary, our entire On Point suite of subscriber-exclusive content – including Longer Reads, Insider Interviews, Big Picture/Big Question, and Say More – and the full PS archive.
In Europa zijn we allang ons eigen landbouwgrond ontgroeid, zodat we het nu op grote schaal 'importeren' uit het mondiale zuiden. Om alleen al het veevoeder te produceren om de vleesconsumptie van de Europese Unie te dekken vereist een stuk landbouwgrond in Brazilië dat zo groot is als het Verenigd Koninkrijk. Als elk mens net zoveel vlees at als de gemiddelde EU-burger zou 80% van het vruchtbare land ter wereld gebruikt worden om dit te produceren, vergeleken met de huidige 33%. En laten we duidelijk zijn: gegeven het feit dat 100 calorieën veevoeder op zijn hoogst 30 calorieën vlees te produceren, is het gebruik van vruchtbaar land voor dit doel regelrechte verspilling.
Deze trend zal worden doorgezet in zo een mate dat de 'groene groei' die veel regeringen beloven leunt op biobrandstoffen om fossiele brandstoffen zoals olie en kolen te vervangen. Biobrandstoffen zijn lang niet zo voordelig voor het klimaat als wind- of zonne-energie, en hebben een rendement van slechts een tiende van de energie per vierkante meter. Als resultaat hiervan zouden de vereisten zoals neergelegd in het Raamwerk voor Klimaat en Energie voor 2030 van de EU nog eens 70 miljoen hectare aan land vereisen – een gebied groter dan Frankrijk.
Het beschermen van de bodem hoeft de welvaart niet te ondermijnen. In tegendeel, duurzame bodembescherming kan de landbouwopbrengsten zelfs groter maken – in het bijzonder die van keuterboeren. De diversificatie van gewassen, recycling, en bodembedekking kunnen allemaal bijdragen aan een levende, vruchtbare en actieve bodem die in staat is tot optimaal waterbeheer.
Een benadering, de zogeheten agro-ecologie is gebaseerd op de traditionele kennis en ervaring van kleine boeren, wat het makkelijk aanpasbaar maakt aan lokale omstandigheden. Een studie van agro-ecologische landbouwmethoden door Jules Pretty uit 2006 onderzocht 286 duurzame landbouwprojecten in 57 landen en concludeerde dat de opbrengsten met een gemiddelde van 79% waren gestegen.
Ondanks het bewezen succes van zulke methodes is het gebruik van kunstmest de afgelopen 50 jaar met een factor van meer dan 5 gestegen en veel Afrikaanse overheden besteden tot 60% van hun landbouwbegroting om deze te subsidiëren. Vooral in tropische milieus leiden zulke producten tot de vernietiging van de bovenlaag en tot vermindering van de biodiversiteit (en de afvoer komt in de oceanen terecht waar deze marine ecosystemen beschadigt). En alhoewel hun belangrijkste ingrediënt, stikstof, biologisch en duurzaam geproduceerd zou kunnen worden, zou dit in gaan tegen de belangen van een handjevol machtige kunstmestproducenten en -distributeurs.
Beleidsmakers moeten zich de volgende vraag stellen: Hoe kunnen arme mensen genoeg voedsel produceren om aan honger en ellende te ontkomen op een manier die de bodem beschermt, de klimaatverandering verzacht, en de biodiversiteit in stand houdt?
Ondanks de urgentie van deze kwestie worden benaderingen als agro-ecologische productie nergens op enige serieuze manier gepromoot. Gebeurtenissen als het Internationale Jaar van de Bodem en de Wereldbodemweek bieden een kans om dit te veranderen – vanaf de grond af.