Er moet een markt voor herbebossing komen
NEW YORK – Begin oktober, kort nadat orkaan Maria in Puerto Rico aan land was gegaan, zei Tesla-CEO Elon Musk op Twitter dat zijn bedrijf, als het daartoe de kans zou krijgen, het elektriciteitsnetwerk van het eiland met behulp van zonne-energie weer zou kunnen opbouwen. Temidden van zo veel menselijk leed was dat een vermetele uitspraak. Maar vanuit technologisch perspectief was de timing perfect. Eind oktober waren er zonnepanelen en accu's met een hoog opslagvermogen geïnstalleerd in het Hospital del Niño (kinderziekenhuis) van San Juan, en er zitten extra projecten in de pijplijn.
Dit type respons op een natuurramp – het vervangen van een op fossiele brandstoffen draaiend elektriciteitsnet door duurzame energie – moet worden toegejuicht. Maar hoe schoon en hoe efficiënt duurzame energiebronnen ook mogen zijn, ze zullen nooit helemaal de klimaateffecten kunnen verzachten die orkanen als Maria aan land laten komen.
Dat kan op een andere manier worden bewerkstelligd, en die is veel goedkoper dan wat Musk heeft voorgesteld.
Puerto Rico biedt onderdak aan een van de meest efficiënte en goedkope instrumenten die beschikbaar zijn in de strijd tegen de klimaatverandering: regenwouden. Op de oostelijke punt van het eiland is het bijna 29.000 acre omvattende El Yunque National Forest een van de meest belangrijke systemen in de Caraïben voor het opvangen en opslaan van kooldioxide.
Maria heeft ook het bos verwoest. Maar de tech-CEO's hebben niet over het herstel van die hulpbron getweet, omdat ze – op dit moment althans – geen levensvatbaar bedrijfsmodel kunnen ontwaren in het redden van bomen.
Maar hoe zou het zijn als zo'n model wel zou bestaan? Wat als er wel manieren zouden zijn om tropische regenwouden levend meer waard te laten zijn dan dood?
Introductory Offer: Save 30% on PS Digital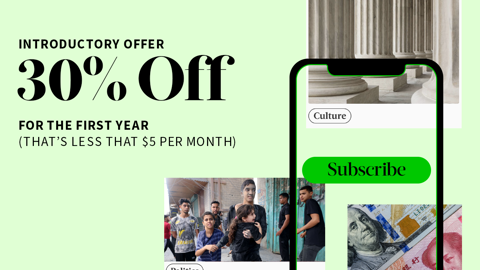 Introductory Offer: Save 30% on PS Digital
Subscribe now to gain greater access to Project Syndicate – including every commentary and our entire On Point suite of subscriber-exclusive content – starting at less than $5 per month.
De wereldleiders hebben jarenlang over deze vraag nagedacht. En bij de klimaatonderhandelingen van de VN zijn ze voor de dag gekomen met een nieuwe oplossing: een initiatief, genaamd Reducing Emissions from Deforestation and Forest Degradation (REDD+). Het idee is eenvoudig: met de juiste prikkels zullen mensen, overheden en bedrijven de tropische regenwouden beschermen en herstellen, in plaats van ze ondersteboven te schoffelen. In ruil daarvoor krijgt de wereld meer plekken waar broeikasgassen kunnen worden opgeslagen.
REDD+, dat in verschillende vormen al bijna tien jaar bestaat, biedt een betaalstructuur voor pogingen tot behoud en herstel. Door een economische waarde te verbinden aan bossen, voor de rol die ze spelen bij het op grote schaal opvangen en opslaan van kooldioxide, maakt REDD+ het mogelijk dat bomen die met rust worden gelaten kunnen concurreren met andere, lucratieve vormen van grondgebruik – zoals bomenkap of landbouw – die in ontbossing resulteren.
Het eerste grootschalige REDD+-programma, een overeenkomst tussen Noorwegen en Brazilië, werd in 2008 geïnitieerd. Noorwegen stemde ermee in $1 mrd aan "op prestaties gebaseerde betalingen" te verrichten aan Brazilië, voor het succesvol beschermen van zijn regenwouden. Het geld van Noorwegen werd stukje bij beetje vrijgegeven, terwijl Brazilië zijn bossen beschermde. De resultaten waren indrukwekkend: Brazilië wist het gemiddelde tempo van de ontbossing in het Amazone-gebied het afgelopen decennium met ruim 60 procent terug te dringen, waardoor het ongeveer 3,6 miljard ton extra kooldioxide wist op te slaan, meer dan enig ander land. En Noorwegen was in staat te helpen de gevolgen van de kooldioxide-uitstoot te verzachten.
Maar ondanks het succes van dit partnerschap is het REDD+-programma vandaag de dag naarstig op zoek naar kapitaal. De oplossing lijkt op veel manieren op het zonne-energievoorstel van Musk voor Puerto Rico. Alleen is de innovatie deze keer niet van technische, maar van financiële aard.
Het creëren van een markt voor REDD+-kredieten zou leiden tot beleggingsmogelijkheden op het gebied van het behoud van het tropisch regenwoud voor zwaar vervuilende bedrijven en industrieën. Als er sprake zou zijn van een adequaat beleidskader, zouden REDD+-kredieten via bestaande markten – zoals die in Californië of Zuid-Korea – kunnen worden aangeboden, waardoor miljarden aan extra kapitaal voor herbebossingsprojecten zouden kunnen worden vrijgemaakt.
Door het ontwikkelen van een dergelijk beleidskader zou REDD+ ook deel kunnen gaan uitmaken van toekomstige systemen, zoals het systeem dat door de mondiale luchtvaartsector wordt ontwikkeld voor het beperken van de uitstoot, of de emissiemarkt die China later dit jaar wil lanceren. De integratie in deze markten kan ook nieuwe financiering opleveren voor behoud en herbebossing, omdat financiële bemiddelaars als het REDD+ Acceleration Fund REDD+-projecten daardoor rechtstreeks op de privésector zouden kunnen aansluiten.
Op dit moment is het grootste deel van dit alles alleen nog maar wensdenken. REDD+ is louter een serie richtlijnen, en voor een kredietmarkt voor herbebossing zullen regels en normen nodig zijn om te bepalen hoe beschermings- en herbebossingsquota moeten worden verdeeld onder de kopers en in de huidige markten kunnen worden geïntegreerd. De mondiale leiders die deze week samenkomen op de VN-klimaatveranderingstop in het Duitse Bonn kunnen deze inspanningen bevorderen door de ontwikkeling van effectieve en transparante rekenmechanismen voor REDD+-projecten te blijven steunen.
Er schuilt gevaar in uitstel. In de twee jaar sinds het klimaatverdrag van Parijs werd aangenomen, is de ontbossing sterk toegenomen in Indonesië en delen van de Amazone, waar zich een groot deel van de grootste en meest vitale tropische regenwouden van de wereld bevindt. Volgens de Union of Concerned Scientists is tropische ontbossing jaarlijks verantwoordelijk voor drie miljard ton aan extra kooldioxide in de atmosfeer – meer dan de hele mondiale transportsector.
Geen technologie is zo effectief voor het opslaan van kooldioxide als tropische regenwouden, en het redden en herstellen daarvan biedt een van de goedkoopste grootschalige oplossingen voor het opvangen en opslaan van emissies, nog afgezien van de andere ecologische en sociale voordelen die dit met zich zou meebrengen. Om te kunnen profiteren van deze belangrijke methode voor het tegengaan van de opwarming van de planeet moeten er meer bomen blijven staan. Voor degenen onder ons die geloven dat een kredietmarkt voor herbebossing cruciale middelen kan opleveren voor de bescherming van onze planeet is het "Musk-moment" gearriveerd. We moeten net zo vermetel zijn als hij.
Vertaling: Menno Grootveld