Hat Putins Wahnsinn Methode?
BARCELONA – Der russische Einmarsch in der Ukraine hat die Welt fassungslos gemacht und viele Kommentatoren zu dem Schluss geführt, dass nur ein irrationaler Autokrat oder womöglich ein Wahnsinniger einen derart unbesonnenen Akt begehen könne. Andere jedoch haben eine rationale Strategie zur Ausnutzung der aktuellen Schwäche des Westens ausgemacht, um das alte Sowjetreich wiederherzustellen. Wer hat Recht?
Von den Fiaskos in Syrien und Afghanistan bis hin zum Brexit und der sich vertiefenden Polarisierung und Paralyse in den USA und Europa (das zudem hoffnungslos abhängig ist von russischer Energie) gibt es eine Menge Gründe, warum der russische Präsident Wladimir Putin entschieden haben könnte, dass dies der Moment zum Zuschlagen sei. Wenn man dann noch den postimperialen Katzenjammer der Russen nach dem Fall der Sowjetunion mit berücksichtigt, wird erkennbar, warum er glauben könnte, ein Gewinnerblatt in der Hand zu halten.
Putin hat seinen Krieg gegen die Ukraine mit hanebüchenen Behauptungen über einen in den östlichen Provinzen des Landes begangenen Genozid an Russen gerechtfertigt. All dies erinnert in gespenstischer Weise an Hitlers große Lüge des Jahres 1938. Nachdem Hitler behauptet hatte, dass 300 Sudetendeutsche von der tschechischen Polizei ermordet worden seien, erteilte ihm der Westen in München sein Plazet, und Hitler machte sich daran, in der Tschechoslowakei einzumarschieren und diese auseinanderzureißen. Wir alle wissen, was als Nächstes geschah. Winston Churchill hat sich über den britischen Premierminister Neville Chamberlain bei dessen Rückkehr bekanntlich wie folgt geäußert: "Sie hatten die Wahl zwischen Krieg und Schmach. Sie haben Schmach gewählt und werden Krieg bekommen."
Dass Großbritannien und Frankreich Deutschland tschechisches Gebiet überließen (das sie anboten, ohne die Tschechen auch nur zu konsultieren), führte zu einem Krieg, den Hitler in Wahrheit die ganze Zeit über geplant hatte. In ähnlicher Weise scheint inzwischen klar, dass Putin seinen Einmarsch in der Ukraine schon lange geplant hatte. Zusätzlich zum Abschluss neuer Wirtschaftsverträge mit China und einer Flutung der internationalen und nationalen Medien mit Desinformationen häufte er auch rund 630 Milliarden Dollar an Devisenreserven an.
Auch wenn aufgrund der historisch schweren Sanktionen, die nun gegen sein Regime verhängt wurden, diese Kriegskasse jetzt außer Reichweite ist, zeigt die Anhäufung dieser Mittel doch eine beträchtliche Menge an Planung. Putin und seine Gefolgsleute im Kreml konnten es nicht ertragen, dass ein benachbarter slawischer Nationalstaat eine Demokratie westlichen Stils aufbaute und bereit war, sich eines Tages um eine NATO-Mitgliedschaft zu bemühen. Während führende europäische Politiker wie etwa der französische Präsident Emmanuel Macron um einen Dialog mit Russland bemühten und verschiedene Formen des Appeasements anboten, wissen wir jetzt, dass eine diplomatische "Lösung" nie wirklich zur Debatte stand.
Was für Überlegungen haben wohl in Putins Strategie Eingang gefunden? Zunächst einmal setzte er vermutlich darauf, dass die Sanktionen erträglich sein würden. Schließlich hatte sich der Westen, als Russland die Krim annektierte, in westliche Wahlen eingriff, weltweit Auftragsmorde verübte und 2014 eine Rolle beim Abschuss eines zivilen Passagierflugzeugs spielte, nur zu begrenzten Reaktionen durchringen können. Der Kreml ging außerdem zu Recht davon aus, dass die westlichen Demokratien auf militärische Maßnahmen nicht mit Gewalt reagieren würden.
Subscribe to PS Digital Now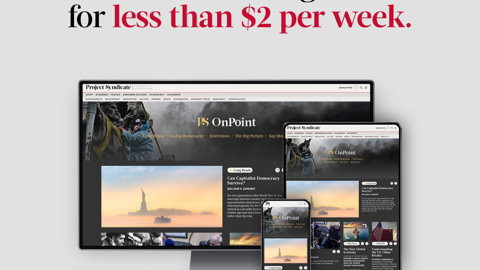 Subscribe to PS Digital Now
Access every new PS commentary, our entire On Point suite of subscriber-exclusive content – including Longer Reads, Insider Interviews, Big Picture/Big Question, and Say More – and the full PS archive.
Da China das Interesse des Kremls an der weltweiten Eindämmung der freiheitlichen Demokratie teilt, konnte zudem Putin darauf zählen, dass die Chinesen ihm mit dem Kauf von russischem Erdgas eine zusätzliche wirtschaftliche Rettungsleine hinwerfen würden. Doch diese neue Beziehung wird nicht umsonst zu haben sein. Mit zunehmender Aufspaltung der Welt in separate Technologie- und Wirtschaftsblöcke wird Russland in noch stärkere Abhängigkeit von China geraten, was einen Verlust strategischer Autonomie mit sich bringt. Russland mag ein starkes Militär haben, doch mit einem BIP ähnlich dem Spaniens und Italiens ist es alles andere als eine Wirtschaftsmacht.
Ein weiterer Preis, den Russland zahlen muss, wird die Wiederbelebung der NATO sein, die dann nicht mehr hirntot (wie Macron es formuliert hat), sondern unverzichtbar sein wird. Etwa 25 % der estländischen und lettischen Bevölkerungen sind russischer Herkunft. Trotz ihrer Mitgliedschaft im Bündnis werden diese Länder nach dem, was in der Ukraine passiert ist, einer zusätzlichen Rückversicherung bedürfen. Tatsächlich hat der Kreml mit seiner Drohung gegenüber Finnland und Schweden wegen ihrer Teilnahme an jüngsten NATO-Gesprächen gezeigt, dass Putins Ziele weit über die Ukraine hinausreichen.
Putin hat zudem ziemlich unverhohlen mit dem Einsatz von Atomwaffen gedroht: Jeder, der in der Ukraine interveniere, würde "Konsequenzen erleiden, die man in der Geschichte noch nicht erlebt hat". Hat die gesicherte gegenseitige Vernichtung ihre Wirksamkeit als nukleare Abschreckung verloren? Ist das nicht Wahnsinn?
Höchstwahrscheinlich ist es ein weiterer strategischer Trick, den man früher als Madman-Theorie der Diplomatie bezeichnet hat. Es ist ein Vorteil für Putin, wenn der Westen glaubt, dass Russland sich seiner Mission derart verpflichtet fühlt, dass es das Risiko massiver Schäden eingeht und zu allem fähig sein könnte. Damit diese Haltung glaubwürdig ist, muss Putin sich konsequent verstellen. Wenn er einmal vor etwas zurückschreckt, weiß der Westen, dass er die ganze Zeit über eine kalkulierte Strategie verfolgt hat. Spieltheoretisch ausgedrückt: Er würde zeigen, dass sein "Typ" in Wahrheit nicht immer aggressiv ist. Damit würde er einen wichtigen strategischen Vorteil einbüßen.
Der Kreml hat seine aggressive Linie bisher aufrechterhalten. Aber das ist mit zwei Gefahren verbunden. Die erste ist, dass ein Unfall oder Missverständnis eine direkte militärische Konfrontation mit dem Westen auslöst. Russland kann sich das nicht leisten, sofern es nicht uneingeschränkt von China unterstützt wird, das bei einem derartigen Szenario bisher nichts zu gewinnen hätte.
Die zweite Gefahr ist, dass der Westen versucht, den Kreml mit begrenztem, aber starkem eigenen militärischen Widerstand auf die Probe zu stellen. Dies in der Ukraine zu tun ist womöglich zu riskant, obwohl es durch ein Massaker in einer großen Stadt ausgelöst werden könnte. Doch eine Sperrung des Bosporus und der Dardanellen für russische Kriegsschiffe lässt einen möglichen Weg erkennen.
Putin hat diese Möglichkeit vermutlich ausgeschlossen, weil er zu dem Schluss gekommen ist, dass der Westen zu schwach dafür ist. Was wäre, wenn man ihm bewiese, dass er Unrecht hat? Was wäre, wenn der Westen dem Kreml einen guten Grund gibt, zu glauben, dass er doch nicht so schwach ist? Letztlich wird viel davon abhängen, welchen Preis der Westen für ein Containment Russlands zu zahlen bereit ist.
Aus dem Englischen von Jan Doolan