¿Hay método en la locura de Putin?
BARCELONA – La invasión rusa de Ucrania asombró al mundo, y muchos comentaristas concluyeron que un acto tan temerario sólo podía cometerlo un autócrata irracional (incluso demente). Pero otros perciben una estrategia racional para explotar la debilidad actual de Occidente y restablecer el viejo imperio soviético. ¿Quién tiene razón?
De los fiascos de Siria y Afganistán al Brexit y la cada vez más profunda polarización y parálisis en Estados Unidos y Europa (que además tiene una dependencia insalvable de la energía rusa), hay abundantes razones por las que el presidente ruso Vladímir Putin puede haber decidido que era el momento de atacar. Si a esto le sumamos la resaca postimperial de los rusos tras la caída de la Unión Soviética, podemos empezar a entender por qué tal vez Putin piense que tiene las de ganar.
Putin justificó su guerra contra Ucrania con afirmaciones ridículas de que en las provincias orientales del país se está cometiendo un genocidio contra los rusos, algo inquietantemente parecido a la «Gran Mentira» de Hitler en 1938. Cuando este aseguró que la policía checa había matado a 300 alemanes en los Sudetes, Occidente le hizo un gesto de aprobación en la Conferencia de Múnich, y Hitler procedió a invadir y desmembrar Checoslovaquia. Lo que sucedió después es bien sabido. Como dijo Winston Churchill sobre el primer ministro británico Neville Chamberlain cuando este regresó de la conferencia: «Se le dio a elegir entre la guerra y el deshonor. Eligió el deshonor, tendrá la guerra».
La concesión de territorio checo a Alemania por parte de Gran Bretaña y Francia (que no se molestaron en consultar a los checos) condujo a una guerra que en realidad Hitler ya venía planeando mucho antes. Hoy también hay motivos para creer que Putin estaba preparando su invasión a Ucrania desde hace mucho. Además de cerrar nuevos acuerdos económicos con China y llenar de desinformación los medios rusos e internacionales, también acumuló unos 630 000 millones de dólares en reservas de divisa extranjera.
Las sanciones inéditas contra su régimen le han dejado ese tesoro fuera de su alcance, pero el hecho de que lo haya acumulado da prueba de un grado importante de planificación. Putin y sus acólitos en el Kremlin no tolerarían tener al lado un estado‑nación eslavo construyendo una democracia al estilo occidental y camino de unirse algún día a la OTAN. Aunque dirigentes europeos como el presidente francés Emmanuel Macron dialogaron con Rusia y ofrecieron diversas formas de apaciguamiento, ahora sabemos que una «solución» diplomática nunca fue una posibilidad real.
¿Qué consideraciones habrán pesado en la estrategia de Putin? Para empezar, es probable que diera por sentado que las sanciones serían tolerables, ya que la respuesta de Occidente cuando Rusia anexó Crimea, interfirió en elecciones occidentales, ejecutó asesinatos por todo el mundo y participó en el derribo de un avión de pasajeros en 2014 fue limitada. El Kremlin también previó, acertadamente, que las democracias occidentales no responderían a una acción militar con la fuerza.
Subscribe to PS Digital Now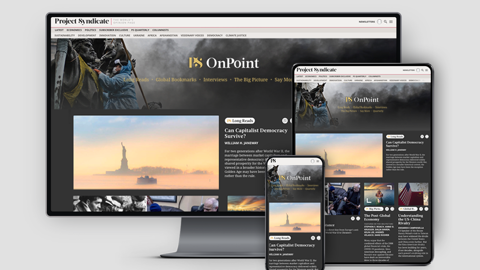 Subscribe to PS Digital Now
Access every new PS commentary, our entire On Point suite of subscriber-exclusive content – including Longer Reads, Insider Interviews, Big Picture/Big Question, and Say More – and the full PS archive.
Además, como China comparte el interés del Kremlin en contener el avance de la democracia liberal en todo el mundo, Putin puede contar con que los chinos le provean un salvavidas económico adicional mediante la compra de gas ruso. Pero esta nueva relación no será gratuita. Conforme el mundo se siga dividiendo en bloques tecnológicos y económicos separados, Rusia se volverá todavía más dependiente de China, lo que implica una pérdida de autonomía estratégica. Por más poderoso que sea su ejército, Rusia tiene un PIB similar a los de España e Italia y está lejos de ser una potencia económica.
Otro costo será el renacimiento de la OTAN, que de la muerte cerebral (según palabras de Macron) pasará a la condición de indispensable. Alrededor del 25% de la población de Estonia y Letonia es de origen ruso. A pesar de ser miembros de la alianza, estos países necesitarán garantías adicionales después de lo que pasó en Ucrania. De hecho, con las amenazas a Finlandia y Suecia por sus conversaciones recientes con la OTAN, el Kremlin ha indicado que la misión de Putin va mucho más allá de Ucrania.
Putin también ha pronunciado una amenaza no tan velada de usar armas nucleares: quienquiera que intervenga en Ucrania enfrentará «consecuencias nunca antes vistas en su historia». ¿Ha perdido la destrucción mutua asegurada eficacia como elemento de disuasión nuclear? ¿No es esto una locura?
Lo más probable es que sea otro ardid estratégico: lo que en diplomacia se denominaba teoría del loco. A Putin le conviene que Occidente crea que Rusia está tan comprometida con su misión que está dispuesta a correr el riesgo de sufrir daños inmensos y que Putin es capaz de cualquier cosa. Para que sea creíble, tiene que fingir todo el tiempo; basta que dude un instante para que Occidente sepa que estuvo siguiendo desde el inicio una estrategia calculada. En términos de teoría de juegos, revelaría que en realidad su «tipo» de jugador no es siempre agresivo, y al hacerlo perdería una ventaja estratégica esencial.
Hasta ahora el Kremlin ha mantenido la línea agresiva. Pero esto supone dos peligros. El primero es que un accidente o un malentendido inicien una confrontación militar directa con Occidente. Es algo que Rusia no puede permitirse, a menos que cuente con el respaldo total de China, que en la actualidad no tiene nada qué ganar en un escenario de esa naturaleza.
El segundo peligro es que Occidente intente poner a prueba al Kremlin presentándole resistencia militar propia en forma limitada pero vigorosa. Hacerlo en Ucrania puede ser demasiado arriesgado (aunque una masacre en alguna ciudad grande podría motivarlo), pero una posibilidad sería impedir el paso de buques de guerra rusos por los estrechos del Bósforo y los Dardanelos.
Lo más probable es que Putin haya descartado esta posibilidad, porque está convencido de que Occidente carece de determinación suficiente. ¿Y si estuviera errado? ¿Y si Occidente le diera al Kremlin un buen motivo para creer que después de todo no era tan débil? Al final, mucho dependerá del precio que Occidente esté dispuesto a pagar para contener a Rusia.