La folie réelle ou simulée de Poutine
BARCELONE – L'invasion de l'Ukraine par la Russie a stupéfié le monde entier, conduisant de nombreux commentateurs à conclure qu'un acte si irrationnel ne pouvait être commis que par un autocrate irrationnel, voire même par un fou. Mais d'autres ont mis en évidence une stratégie rationnelle pour exploiter la faiblesse actuelle de l'Occident en vue de rétablir l'ancien empire soviétique. Qui a raison ?
Depuis les fiascos en Syrie et en Afghanistan, en passant par le Brexit qui n'a fait qu'aggraver la polarisation et la paralysie aux États-Unis et en Europe (une Europe qui dépend irrémédiablement de la Russie pour son approvisionnement en énergie), les raisons qui ont poussé le président russe Vladimir Poutine à passer à l'attaque ne manquent pas. Ajoutez à cela la gueule de bois post-impériale des Russes après la chute de l'Union soviétique et vous pouvez commencer à comprendre pourquoi il a pu penser avoir toutes les cartes en main.
Poutine a justifié sa guerre contre l'Ukraine par des affirmations absurdes au sujet d'un génocide commis contre les Russes dans les provinces de l'Est du pays, ce qui rappelle étrangement le Grand mensonge d'Hitler en 1938. Après que Hitler eut affirmé que 300 Allemands des Sudètes avaient été tués par la police tchèque, l'Occident a offert son approbation à Munich et Hitler a procédé à l'invasion et au démembrement de la Tchécoslovaquie. Nous savons tous ce qui est arrivé ensuite. Comme Winston Churchill l'a dit à son retour au Premier ministre britannique Neville Chamberlain : « On vous a donné le choix entre la guerre et le déshonneur. Vous avez choisi le déshonneur et vous aurez la guerre. »
La concession par la Grande-Bretagne et la France du territoire tchèque à l'Allemagne (qu'ils ont accordé sans prendre la peine de consulter les Tchèques) a conduit à une guerre que Hitler avait en fait entièrement planifiée. De même, il semble clair à présent que Poutine se prépare depuis longtemps à envahir l'Ukraine. Non content de forger de nouveaux accords économiques avec la Chine et d'inonder les médias nationaux et internationaux de fausses informations, il a également amassé 630 milliards de dollars en réserves de change.
Bien que les sanctions historiquement sévères imposées à son régime à l'heure actuelle aient mis ce trésor de guerre hors de portée, le fait de l'avoir accumulé atteste d'une planification considérable. Poutine et ses acolytes du Kremlin n'ont pas pu supporter le fait d'avoir un État-nation slave voisin, qui construise une démocratie à l'occidentale et se prépare à demander son adhésion à l'OTAN. Alors que les dirigeants politiques européens comme le président français Emmanuel Macron ont poursuivi le dialogue avec la Russie et proposé diverses formes d'apaisement, nous savons maintenant qu'une « solution » diplomatique n'a jamais vraiment été envisagée.
Quelles considérations ont bien pu être prises en compte dans la stratégie de Poutine ? Tout d'abord, il a probablement compté sur des sanctions supportables, étant donné que l'Occident n'a fourni qu'une réponse limitée lorsque la Russie a annexé la Crimée, lorsqu'elle a interféré dans les élections occidentales, procédé à des assassinats dans le monde entier et joué un rôle dans la destruction en vol d'un avion de ligne civil en 2014. Le Kremlin avait également prévu, à juste titre, que les démocraties occidentales ne répondraient pas à une action militaire par la force.
Subscribe to PS Digital Now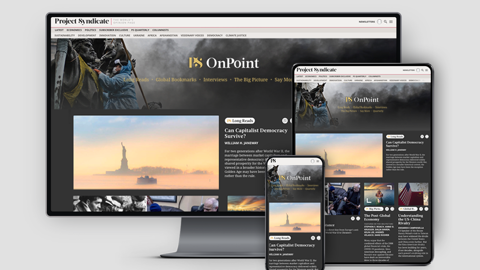 Subscribe to PS Digital Now
Access every new PS commentary, our entire On Point suite of subscriber-exclusive content – including Longer Reads, Insider Interviews, Big Picture/Big Question, and Say More – and the full PS archive.
En outre, alors que Chine partage l'intérêt du Kremlin pour contenir l'avancée de la démocratie libérale dans le monde entier, Poutine pourrait compter sur les Chinois pour fournir une bouée de sauvetage économique supplémentaire en achetant du gaz russe. Mais cette nouvelle relation ne sera pas gratuite. Alors que le monde continue de se diviser en blocs technologiques et économiques distincts, la Russie va devenir encore plus dépendante de la Chine, ce qui implique une perte d'autonomie stratégique. La Russie dispose peut-être d'une armée puissante, mais avec un PIB similaire à celui de l'Espagne et de l'Italie, elle est loin d'être une puissance économique.
Un autre coût sera la renaissance de l'OTAN, qui passera du statut de mort cérébrale (selon les termes de Macron) à celui d'une institution indispensable. Environ 25 % des populations estoniennes et lettones sont d'origine russe. Malgré leur adhésion à l'alliance, ces pays auront besoin de garanties supplémentaires après ce qui vient de se passer en Ukraine. En effet, en menaçant la Finlande et la Suède suite à leur participation aux récents pourparlers de l'OTAN, le Kremlin a indiqué que la mission de Poutine va bien au-delà de l'Ukraine.
Poutine a également émis une menace pas si voilée d'utiliser des armes nucléaires : quiconque intervient en Ukraine sera confronté à « des conséquences que vous n'avez jamais rencontrées dans votre histoire ». La destruction mutuelle assurée a-t-elle perdu son efficacité de dissuasion nucléaire ? Qu'est-ce sinon un accès de folie ?
Il s'agit probablement d'un autre stratagème stratégique : ce que l'on appelait autrefois la théorie de la diplomatie du fou. Si l'Occident croit que la Russie est tant engagée dans sa mission qu'elle risque de subir d'importants dégâts et qu'elle pourrait être capable de quoi que ce soit, alors une telle croyance donne à l'avantage à Poutine. Pour que cette posture soit crédible, il doit constamment la dissimuler. S'il montre son véritable visage, l'Occident saura qu'il a poursuivi une stratégie calculée depuis le début. En termes de théorie des jeux, il aura révélé que son « type » n'est pas toujours agressif après tout. Avec cela, il perdra un avantage stratégique essentiel.
Jusqu'à présent, le Kremlin a maintenu sa ligne agressive. Mais une telle approche comporte deux dangers. Le premier, c'est qu'un accident ou un malentendu déclenchera une confrontation militaire directe avec l'Occident. La Russie ne peut pas se le permettre à moins d'être entièrement soutenue par la Chine, qui n'a actuellement rien à gagner dans un tel scénario.
Le second risque, c'est que l'Occident tente de tester le Kremlin avec sa propre résistance militaire, limitée mais énergique. Il est peut-être trop risqué d'employer cette stratégie en Ukraine, bien qu'elle puisse être déclenchée par un massacre dans une grande ville. Mais barrer la route du Bosphore et des détroits de Dardanelles aux navires russes est une voie possible.
Poutine a très probablement exclu cette possibilité parce qu'il a conclu que l'Occident était trop inefficace. Et s'il avait tort ? Et si l'Occident devait donner au Kremlin une bonne raison de croire qu'il n'était pas si faible après tout ? En fin de compte, beaucoup de choses vont dépendre du prix que l'Occident est prêt à payer pour résister à la Russie.