Hacia un objetivo climático viable
BERLÍN – En diciembre pasado, 195 gobiernos llegaron en París a un consenso sobre cómo limitar el cambio climático en las próximas décadas. Sin embargo, como suele ocurrir cuando se trata de las Naciones Unidas, en el acuerdo se formalizaron grandes ambiciones que se volvieron mucho más modestas a la hora de manifestar compromisos de acciones concretas.
El acuerdo climático de París se pone por objetivo mantener el calentamiento global "bien por debajo de los dos grados Celsius sobre los niveles preindustriales". Más aún, a pedido de los países más vulnerables, se añadió texto prometiendo "impulsar iniciativas para limitar el aumento de la temperatura a 1,5º".
El problema es que estas aspiraciones no coinciden con los compromisos expresados en el tratado. En su lugar, el sistema de promesas voluntarias de mitigación que este contiene permitirá el ascenso de las emisiones globales hasta 2030, probablemente llevando a un calentamiento de entre 3 y 3,5º para 2100. Parece un ejemplo perfecto de inconsistencia en la formulación de políticas.
Antes que todo, el problema radica en los objetivos que señala el acuerdo. Ni las autoridades ni el público pueden guiarse de manera eficaz por objetivos como limitar el calentamiento a 1,5º o 2º, que se refieren a todo el sistema planetario, no a actores ni gobiernos individuales. Al no señalar explícitamente lo que cada país debe cumplir, permite a los gobernantes apoyar metas que parecen ambiciosas, al tiempo que impulsan iniciativas de mitigación que en realidad son insignificantes.
Ninguna fórmula científica puede describir cómo compartir la carga de la mitigación global de manera equitativa entre países, dando a cada gobierno la capacidad de declarar con confianza que sus políticas están en línea con un objetivo de temperatura determinado. Solamente a nivel global es posible hacer una evaluación de si se están alcanzando las metas y, en consecuencia, no se puede culpar a ningún país si el objetivo no se logra. Como resultado, cada cumbre climática de la ONU concluye con expresiones de gran preocupación por lo inadecuado de las iniciativas a nivel global.
Esto ha de cambiar. El enfoque convencional es llamar a una mayor consistencia entre las declaraciones, las decisiones y las acciones. Pero la inconsistencia es inherente a la formulación de políticas. Los diplomáticos y los políticos abordan por separado las declaraciones, las decisiones y las acciones, a fin de satisfacer las demandas de un grupo heterogéneo de partes involucradas y elevar al máximo el apoyo externo a sus organizaciones. En el ámbito de las políticas climáticas, la mayoría de los gobiernos escogen una actitud progresista a la hora de declarar y decidir, pero una más cauta cuando se trata de actuar. Las ambiciosas metas climáticas de la ONU han acabado por convertirse no en un requisito, sino un sustituto de la acción.
Holiday Sale: Save $50 on all new PS subscriptions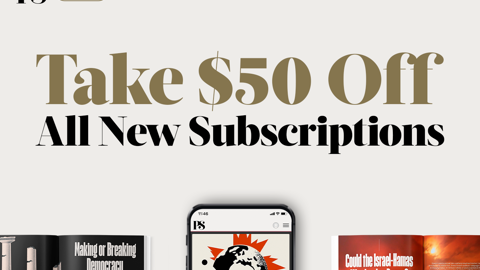 Holiday Sale: Save $50 on all new PS subscriptions
Subscribe now to gain greater access to Project Syndicate – including every commentary and our entire On Point suite of subscriber-exclusive content – starting at just $34.99.
Esta no es razón para abandonar del todo los objetivos climáticos. La formulación de políticas complejas a largo plazo sólo funciona si se guía por metas ambiciosas, pero estas no pueden ser vagas aspiraciones sino objetivos precisos, evaluables, alcanzables y motivadores. El mismo acuerdo de París ofrece un posible enfoque. Oculto tras una vaga fórmula se ha introducido un tercer objetivo de mitigación: lograr cero emisiones en la segunda mitad del siglo.
Un objetivo de cero emisiones señala con precisión a las autoridades y al público la dirección que se debe seguir, y aborda directamente la actividad humana. Las emisiones de cada país deben llegar a un punto máximo y luego ir bajando hasta llegar a cero, en lo que ofrece un sistema transparente para evaluar las acciones no sólo de los gobiernos nacionales, sino también de las ciudades, sectores económicos, compañías e incluso los ciudadanos individuales. Sería menos fácil abandonarlo porque es sencillo advertir (y, lo que es más importante, explicar al público) si las emisiones aumentan o disminuyen.
Un objetivo así situaría bajo intenso escrutinio toda infraestructura de nueva construcción basada en combustibles fósiles: si hay que bajar las emisiones, ¿por qué construir otra planta de carbón o edificios mal aislados? Incluso, si se comparte una visión común se cero emisiones, hasta podría iniciarse una carrera por quién llega primero. Suecia desea alcanzar ese punto para el año 2045. Gran Bretaña ha anunciado que planea hacerlo pronto, y Alemania podría ser el siguiente país tras sus nuevas elecciones.
Los científicos prefieren umbrales exactos para la estabilización climática, mientras que las autoridades encargadas de determinar las políticas prefieren símbolos potentes. Por eso los objetivos de temperatura predominan en el discurso climático global. Pero la historia demuestra que esto no conduce automáticamente a la acción. Sustituir los umbrales de temperatura por un esfuerzo por alcanzar las cero emisiones aseguraría la rendición de cuentas y reduciría la inconsistencia política.
Existe un precedente para un enfoque de este tipo. El Protocolo de Montreal para la protección de la capa de ozono aborda principalmente las sustancias dañinas, apuntando a acelerar su abandono en fases graduales, más que definir una meta de estabilización para la capa de ozono.
Se está ampliando rápidamente la brecha entre las emisiones en el mundo real y las medidas necesarias para mantener el calentamiento por debajo de los límites acordados. La ONU ha pedido al Panel Intergubernamental sobre el Cambio Climático que lleve a cabo una investigación detallada sobre cómo cumplir el techo de 1,5ºC, que ya es poco realista, lo que implica que el mundo perderá tiempo valioso en otro debate más sobre metas altisonantes.
Sea cual sea el objetivo de temperatura, las emisiones globales tendrán que llegar pronto a su máximo y luego decrecer hasta llegar a cero. El acuerdo climático de París solamente se recordará como un éxito si logramos pasar con eficacia de las palabras a la acción.
Traducido del inglés por David Meléndez Tormen