Směřování k uskutečnitelným klimatickým cílům
BERLÍN – Minulý prosinec dosáhlo v Paříži 195 vlád shody v tom, jak v následujících dekádách omezit klimatickou změnu. Nicméně jak je již u OSN obvyklé, dohoda je plná velkých slov a ambicí, ale mnohem skromnější v otázce závazků a konkrétních akcí.
Klimatická úmluva z Paříže zahrnuje závazek udržet oteplování "hodně pod dvěma stupni Celsia nad předindustriální úrovní." Na žádost nejvíce zranitelných zemí světa bylo dále přidáno slibné "snažit se o omezení nárůstu teploty na 1,5º."
Problémem je, že tyto aspirace nejsou sladěny se závazky, ke kterým úmluva vyzývá. Namísto toho umožní systém úmluvy, založený na dobrovolných závazcích o snížení, že globální emise do roku 2030 porostou, což pravděpodobně povede k oteplení o 3-3,5º do roku 2100. Vypadá to jako prvotřídní ukázka nekonzistentnosti v tvorbě politiky.
Problém leží v první řadě v cílech uvedených v úmluvě. Cíle jako omezení oteplování na 1,5º nebo 2º nemohou efektivně navést ani politiky, ani veřejnost. Zahrnují celý systém Země, ne individuální činitele nebo vlády. Tím, že se jim nedaří přímo popsat, co musí jednotlivé země splnit, umožňují vůdcům podporovat cíle, které se zdají ambiciózní, zatímco se ale snaží o zmírnění, která jsou ale ve skutečnosti bezvýznamná.
Žádná vědecká metoda nedokáže popsat, jak rozdělit břemeno globálního zmírňování spravedlivě mezi země, a nechat tak každou vládu, ať sebevědomě prohlásí o své politice, že je v souladu s jakýmkoliv daným teplotním cílem. Zhodnocení jestli je cílů dosahováno, se dá realizovat pouze na globální úrovni, žádná země tak nemůže být vedena k odpovědnosti, pokud se cílů nedosáhne. Výsledkem je, že každý summit OSN končí vyjádřením vážného znepokojení, že je celková snaha nedostatečná.
To se musí změnit. Konvenční přístup spočívá v domáhání se větší konzistence mezi řečmi, rozhodnutími a akcí. Nekonzistentnost však k politice neodmyslitelně patří. Diplomaté a politici berou hovory, rozhodnutí a akce nezávisle na sobě, aby tak uspokojili poptávku různorodého souboru zainteresovaných subjektů a také k maximalizaci vnější podpory pro jejich organizace. V politice klimatu volí většina vlád progresivní postoj během hovorů a rozhodování, ale mnohem opatrnější postoj, když přijde čas jednat. Ambiciózní klimatické cíle OSN tak neslouží jako podmínka, ale jako náhražka pro akci.
Holiday Sale: Save $50 on all new PS subscriptions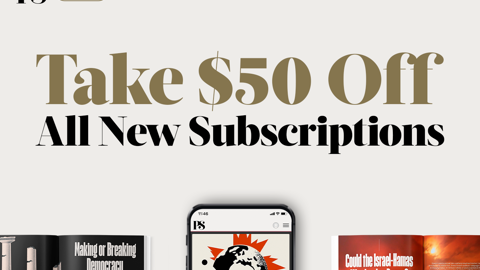 Holiday Sale: Save $50 on all new PS subscriptions
Subscribe now to gain greater access to Project Syndicate – including every commentary and our entire On Point suite of subscriber-exclusive content – starting at just $34.99.
Není to důvod proč zcela vzdát klimatické cíle. Komplexní a dlouhodobá strategie funguje pouze za přítomnosti ambiciózních cílů. Cíle však nemohou být vágní ambicí; musí být přesné, hodnotitelné, dosažitelné a motivující. Pařížská úmluva nabízí jeden možný přístup. Představila třetí zmírňující cíl, schovaný za vágně definovanými plány: dosáhnout nulových emisí v druhé polovině století.
Cíl nulových emisí politikům a veřejnosti říká, co přesně se musí udělat a přímo oslovuje lidskou aktivitu. Emise každé země musí dosáhnout vrcholu, klesnout a nakonec být na nule. To poskytuje transparentní systém ke zhodnocení akcí nejen vlád, ale také měst, ekonomických sektorů, společností a dokonce i jednotlivců. Od nesplnění by odrazovala lehkost, s jakou by bylo vidět – emise by šly nahoru, nebo dolů.
Takový cíl by uvrhl všechnu infrastrukturu založenou na fosilních palivech pod intenzivní drobnohled; pokud potřebujeme snížit emise, proč stavět další uhelnou elektrárnu nebo špatně odizolovanou budovu? Sdílená vize nulových emisí by dokonce mohla vyvolat závod o dosažení této mety. Švédsko jí chce dosáhnout do roku 2045. Velká Británie oznámila, že brzy plánuje přijít s konkrétním cílem nulových emisí. Německo po dalších volbách možná bude následovat.
Vědci preferují exaktní hranice pro stabilizaci klimatu, a politici mají rádi silné symboly. Proto dominují globální diskuzi o klimatu cíle s teplotami. Historie však prokazuje, že to nevede automaticky k akci. Nahrazení teplotních hranic snahou o snížení emisí na nulu by zajistilo zodpovědnost a minimalizovalo politickou nekonzistentnost.
Pro takový přístup existuje precedens. Montrealský protokol o ochraně ozonové vrstvy primárně odkazuje na škodlivé substance a snaží se urychlit jejich vyřazení z užívání, místo aby definoval stabilizační cíl pro ozonovou vrstvu.
Mezera mezi emisemi reálného světa a tím, co bude potřeba k udržení oteplování pod odsouhlasenými limity, se rychle rozšiřuje. OSN uložilo Mezivládnímu panelu pro klimatickou změnu, aby provedl detailní šetření s cílem zjistit, jak dosáhnout – již teď nerealistického – stropu 1,5°C. To s sebou nese riziko, že svět promrhá drahocenný čas na další debatu o vznešených cílech.
Bez ohledu na náš teplotní cíl musí globální emise brzy dosáhnout vrcholu a poté začít klesat – a to až k nule. Klimatická úmluva z Paříže vejde v paměť jako úspěch pouze v případě, když se nám podaří přesunout náš zájem z debat k efektivní akci.