Satu Bumi, Satu Samudera
NEW YORK – Samudera dan atmosfir terhubung dalam cara yang baru sedikit kita pahami. Layaknya saudara kandung, langit yang berada di atas serta air di sekitar kita memiliki banyak karakteristik yang sama – khususnya yang relevan akhir-akhir ini adalah perlunya perlindungan atas keduanya. Kita semua bersaudara dan berupaya mewujudkan agenda bersama untuk melindungi samudera dan atmosfir – suatu agenda yang menentukan masa depan bagi jutaan saudara kita, ayah, ibu, teman, dan tetangga serta seluruh life-form yang ada di daratan dan lautan, bagi generasi sekarang dan masa depan.
Patut disyukuri bahwa kini pemerintah negara-negara di dunia mulai paham akan tantangan yang ada dan diharapkan mampu mencapai – atau setidaknya mengalami kemajuan – penetapan dua perjanjian penting di tahun ini: traktat internasional baru mengenai perlindungan kehidupan laut di perairan internasional dan kesepakatan tentang perubahan iklim untuk melindungi atmosfir. Selaras dengan serangkaian Tujuan Pembangunan Berkelanjutan (Sustainable Development Goals), perjanjian-perjanjian tersebut akan menjadi rambu-rambu yang mengarahkan jalur yang harus diikuti perekonomian negara-negara dunia selama 15 tahun ke depan dan seterusnya.
Rumusan perjanjian-perjanjian ini muncul di tengah-tengah upaya luar biasa yang dilakukan negara, pemerintah daerah, perusahaan, dan penduduk  demi melindungi iklim dan lautan. Investasi pada energi terbarukan berjalan dengan sangat baik dan bahkan melebihi $250 miliar per tahun dan banyak negara mengeluarkan dana lebih besar untuk menghasilkan energi dari sumber-sumber energi hijau dibandingkan dengan bahan bakar fosil.
Sebagai contoh, negara asal kami, Kosta Rika, kini menghasilkan 80% energinya dari sumber-sumber energi terbarukan. Di Tiongkok energi terbarukan berkembang pesat dan penggunaan batubara berkurang 2.9% secara year on year pada tahun 2014. Sementara itu di daratan, pentingnya perlindungan terhadap kawasan konservasi laut dan penangkapan ikan secara berkelanjutan sudah diakui dan bahkan di beberapa tempat upaya perlindungan sudah dilengkapi dengan terobosan teknologi yang mampu menguatkan kemampuan petugas untuk mengawasi dan melacak penangkapan ikan tidak sah.
Para ilmuwan yang mempelajari perubahan iklim sudah menunjukkan cara mengatasi permasalahan ini dengan menerapkan arahan yang jelas serta target pencapaian yang progresif. Kita harus menjadikan emisi global mencapai titik puncaknya dalam waktu satu dekade ke depan, setelah itu menurunkannya secara cepat dan mewujudkan keseimbangan antara emisi dan kapasitas serapan alami planet bumi pada pertengahan abad.
Samudera secara historis memainkan peran penting dalam mewujudkan keseimbangan tersebut. Sebagai carbon sinks alami, lautan mampu menyerap sekitar 25% dari keseluruhan karbon dioksida yang dihasilkan dari aktivitas manusia setiap tahunnya. Namun kita terlalu memaksakan hingga melampaui kapasitas serapan yang ada. Karbon yang larut dalam laut mengubah struktur kimia sehingga menaikkan keasaman sebesar 30% dibandingkan dengan awal masa Revolusi Industri. Laju perubahan ini, sejauh yang kita pahami, terjadi jauh lebih cepat dibandingkan perubahan selama 65 juta tahun terakhir dan bahkan selama 300 juta tahun terakhir.
Subscribe to PS Digital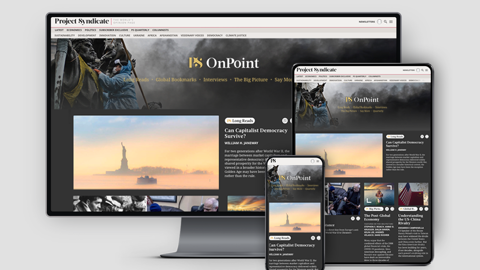 Subscribe to PS Digital
Access every new PS commentary, our entire On Point suite of subscriber-exclusive content – including Longer Reads, Insider Interviews, Big Picture/Big Question, and Say More – and the full PS archive.
Jika emisi karbon dioksida tidak mampu dikendalikan, maka tingkat pengasamanan akan terus bertambah dan berdampak fatal bagi spesies laut. Sebagai akibat dari masuknya karbon dioksida di atmosfir ke dalam perairan dan membuat lautan bergejolak, hal ini mengurangi jumlah ion-ion karbonat yang diperlukan bagi tumbuhan dan satwa di laut untuk membuat tempurung dan tulang rangka mereka. Jika tingkat karbon dioksida terus bertambah sesuai laju sekarang maka para ilmuwan memperkirakan bahwa 10% perairan di Samudera Arktik akan bersifat korosif sehingga dapat menghancurkan tempurung spesies laut pada tahun 2018. Banyak wilayah perairan lain mungkin bernasib sama.
Perjanjian internasional akan berhasil jika trend politik, ekonomi, dan sosial yang ada sekarang dapat selaras dan mampu membangkitkan visi baru tentang masa depan dan hubungan baru antar kemanusiaan dan planet yang kita huni. Upaya mewujudkan visi akan melibatkan beberapa generasi. Samudera dan iklim keduanya membutuhkan rencana dengan cakupan global, rencana yang dapat dipercaya, dapat diukur dan dapat diterapkan guna mencapai perlindungan. Kawasan konservasi laut yang saat ini mendapat perlindungan penuh namun masih tersebar perlu diperluas dari cakupan perlindungan yang ada pada 1% wilayah perairan agar mampu membentuk jaringan global yang sesungguhnya.
Bulan lalu, 13 kepala negara dan pemerintah dari negara-negara di kawasaan Karibia menyerukan perumusan perjanjian internasional yang efektif dan mengakui dampak terkini dan masa mendatang. Kondisi  ini sangat mengkhawatirkan: bertambahnya frekuensi kejadian ekstrim, curah hujan yang tinggi dan berubah-ubah, tingginya pengasaman dan pemanasan laut, pemutihan terumbu karang, naiknya permukaan laut, erosi pantai, salinitas pada akuifer, tingginya laju penyebaran penyakit menular baru, berkurangnya produktivitas pertanian, dan gangguan pada tradisi penangkapan ikan."
Ancaman-ancaman tersebut menjadi buktinya adanya kebutuhan mendesak untuk memperluas aturan-aturan internasional tentang konservasi dan pengelolaan iklim dan kehidupan laut yang berkelanjutan. Perjanjian tentang perubahan iklim yang diharapkan dapat ditetapkan di Paris bulan Desember ini tidak akan menyelesaikan permasalahan dengan seketika, sama halnya dengan perjanjian apapun jika menjadi satu-satunya instrumen perlindungan  tidak akan mampu mewujudkan kondisi laut yang lebih baik. Namun sangat penting bagi kita untuk menetapkan arah kebijakan yang diperlukan guna memastikan semua negara akan berperan dalam upaya perlindungan planet bumi, sembari membantu negara atau populasi yang rentan untuk beradaptasi terhadap dampak-dampak degradasi lingkungan hidup yang sedang berlangsung.