Jedna Země, jeden oceán
NEW YORK – Oceán a atmosféra jsou propojené způsoby, které začínáme plně chápat až dnes. Podobně jako dva sourozenci mají také obloha nad námi a vodstvo kolem nás řadu společných vlastností – v dnešní době zejména potřebu být chráněny. A my jsme sourozenci pracující na společné agendě ochrany obou – na agendě, která určí budoucnost mnoha milionů bratrů, sester, otců, matek, přátel a sousedů, ale i živých organismů na souši a v mořích, a to dnes i v příštích generacích.
Vlády z celého světa naštěstí začínají tuto výzvu chápat a očekává se, že letos dojednají dvě významné dohody – nebo přinejmenším udělají pokrok jejich směrem: novou globální úmluvu o ochraně mořského života v mezinárodních vodách a dohodu a klimatických změnách, která zvýší bezpečnost atmosféry. Společně se souborem cílů trvale udržitelného rozvoje budou tyto dohody sloužit jako klíčové dopravní značky na cestě, kterou se ekonomiky světa v příštích 15 a více letech vydají.
Plánované dohody přicházejí v době mimořádného úsilí států, měst, firem a občanů ochránit klima a oceán. Investice do obnovitelné energie vysoce přesahují 250 miliard dolarů ročně a řada zemí vynakládá na výrobu zelených forem energie stejně vysoké částky jako na energii z fosilních paliv.
Například naše rodná Kostarika dnes získává 80% celkové energie z obnovitelných zdrojů. V Číně se obnovitelné zdroje rychle rozšiřují a spotřeba uhlí klesla v roce 2014 meziročně o 2,9%. Současně si uvědomujeme potřebu většího počtu mořských chráněných oblastí a trvale udržitelného rybolovu a v některých případech tuto potřebu uspokojujeme díky technologickým průlomům, které posilují schopnost oficiálních představitelů monitorovat a odhalovat ilegální úlovky.
Vědci zkoumající klimatické změny ukázali, jak lze tento problém řešit vytyčením jasné cesty s postupnými cíli. Musíme zajistit, aby celosvětové emise dosáhly v příštím desetiletí vrcholu, poté je rychle snížit a do druhé poloviny tohoto století nastolit rovnováhu mezi emisemi a přirozenou absorpční kapacitou planety.
Oceán hraje při dosahování této rovnováhy historicky důležitou roli. Jako přirozený uhlíkový rezervoár pohlcuje přibližně 25% veškerého oxidu uhličitého, který je ročně emitován v důsledku lidské činnosti. My však jeho absorpční schopnost přetěžujeme. Uhlík rozpuštěný v oceánu změnil jeho chemické složení a od počátku průmyslové revoluce zvýšil jeho kyselost o 30%. Rychlost těchto změn je podle našeho nejlepšího vědomí mnohokrát vyšší než kdykoliv jindy za posledních 65 milionů let a možná i za posledních 300 milionů let.
Subscribe to PS Digital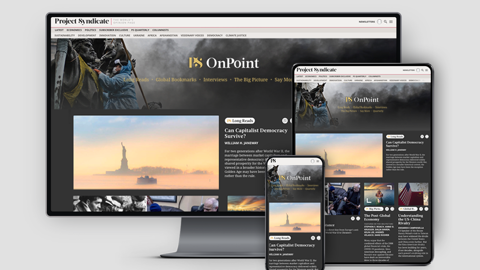 Subscribe to PS Digital
Access every new PS commentary, our entire On Point suite of subscriber-exclusive content – including Longer Reads, Insider Interviews, Big Picture/Big Question, and Say More – and the full PS archive.
Nedostaneme-li emise CO2 pod kontrolu, bude se okyselování nadále zrychlovat – se smrtícími dopady na obyvatele oceánů. S pronikáním CO2 z atmosféry do světových vod se snižuje dostupnost uhličitanových iontů, které řada mořských živočichů a rostlin potřebuje ke stavbě svých skořápek a koster. Bude-li hladina CO2 nadále růst současným tempem, pak se podle vědeckých odhadů stane zhruba 10% Severního ledového oceánu do roku 2018 natolik korozivních, že začne rozpouštět skořápky mořských živočichů. A podobná budoucnost čeká i řadu dalších oceánských vod.
Mezinárodní dohody jsou nejúspěšnější v situaci, kdy jsou politické, ekonomické a společenské trendy dané doby tak jako dnes ve vzájemném souladu, což vede ke zrodu nové vize budoucnosti a nového vztahu mezi lidstvem a planetou, kterou společně obýváme. Do realizace této vize se zapojí řada generací. Oceán i klima však potřebují globální, důvěryhodné, měřitelné a uskutečnitelné plány, které zajistí jejich ochranu. Naše roztroušené mořské chráněné oblasti se musí rozšířit ze současných 1% rozlohy oceánů tak, aby vznikla skutečně globální síť.
Prezidenti a premiéři třinácti karibských států minulý měsíc vyzvali k uzavření efektivní celosvětové dohody a odvolali se přitom na současné i budoucí dopady zmíněného problému. Je to alarmující seznam: "četnější extrémní jevy, intenzivnější a proměnlivější schémata dešťových srážek, výraznější okyselování a oteplování oceánů, vybělování korálů, stoupající hladiny moří, eroze pobřeží, salinizace zvodnělých vrstev, výrazně zrychlený výskyt nových nakažlivých onemocnění, nižší zemědělská produktivita a rozvrácení rybářských tradic".
Tyto hrozby představují důkaz naléhavé potřeby rozšířit mezinárodní pravidla, která upravují ochranu životního prostředí a trvale udržitelné řízení klimatu a mořského života. Dohoda o klimatických změnách, jež má být podle očekávání přijata v prosinci v Paříži, nevyřeší tento problém jediným škrtem pera, stejně jako žádná dohoda o ochraně mořského života nepovede sama o sobě ke vzniku zdravějších oceánů. Je ovšem nezbytné, abychom vytvořili politické cesty potřebné k zajištění, že všechny země přispějí svým dílem k ochraně planety a současně pomohou zranitelným státům s adaptací na ty dopady zhoršujícího se životního prostředí, které se již projevují.
Z angličtiny přeložil Jiří Kobělka.