Geen netto-nul zonder de natuur
LONDEN – Bedrijven, beleggers en regeringen die serieus werk willen maken van hun belofte om vóór 2050 een netto-nuluitstoot te realiseren, zouden zich moeten haasten om de natuurlijke hulpbronnen en ecosystemen die de economische groei, voedselzekerheid, gezondheid en het klimaat ondersteunen, te beschermen, in stand te houden en te regenereren. Toch lijken er verontrustend weinig pioniers op dit gebied te zijn.
Erger nog, we hebben niet veel tijd meer. De wetenschap maakt duidelijk dat we, om de meest catastrofale gevolgen van de klimaatverandering te voorkomen en veerkracht op te bouwen tegen de gevolgen die nu al onvermijdelijk zijn, vóór 2030 een einde moeten maken aan het biodiversiteitsverlies. Dat betekent dat we binnen acht jaar ten minste dertig procent van het land en de zee duurzaam in stand moeten zien te houden en vervolgens een koers moeten uitzetten om tegen 2050 in harmonie met de natuur te kunnen leven.
Hoewel de uitdaging enorm is, heeft het vanuit zakelijk oogpunt geen zin deze te negeren. In een witboek van het World Economic Forum wordt geschat dat een natuurvriendelijk beleid ʻtegen 2030 een geschatte tien biljoen dollar aan nieuwe jaarlijkse bedrijfswaarde kan genereren en 395 miljoen banen kan creëren.' Een dergelijk beleid zou onder meer gebruik maken van precisielandbouwtechnologieën om de gewasopbrengsten te verbeteren – waardoor het dieet zou worden gediversifieerd met meer fruit en groenten – en zou agrobosbouw en het herstel van veengronden stimuleren.
Een natuurvriendelijke aanpak kan ook kosteneffectiever zijn. Uit het Dasgupta-rapport (het eindrapport van het onafhankelijke onderzoek van het Verenigd Koninkrijk naar de economische aspecten van biodiversiteit) blijkt bijvoorbeeld dat groene infrastructuur zoals zoutmoerassen en mangroves twee tot vijf keer goedkoper is dan grijze infrastructuur zoals golfbrekers.
Toch blijft de particuliere sector in gebreke, ook in economische sectoren waar de gezondheid van waardeketens nauw verbonden is met die van de natuur. Dat is een van de belangrijkste bevindingen van een analyse die onlangs is gepubliceerd door de UN Climate Change High-Level Champions, Global Canopy, Rainforest Alliance, en anderen.
Van de 148 beoordeelde grote bedrijven maken er slechts negen – ofwel zes procent – grote vorderingen om de ontbossing een halt toe te roepen. Daaronder zijn de Braziliaanse papier- en pulpproducent Suzano en vijf van de grootste consumptiegoederenbedrijven ter wereld: Nestlé, PepsiCo, Unilever, Mars en Colgate-Palmolive.
Subscribe to PS Digital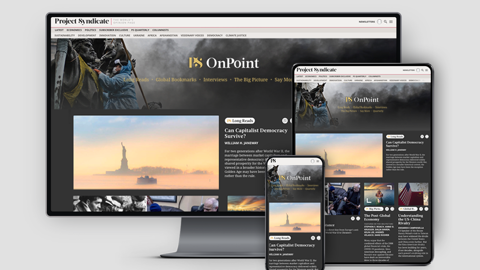 Subscribe to PS Digital
Access every new PS commentary, our entire On Point suite of subscriber-exclusive content – including Longer Reads, Insider Interviews, Big Picture/Big Question, and Say More – and the full PS archive.
Unilever bijvoorbeeld streeft naar een ontbossingsvrije aanbodketen tegen 2023 en concentreert zich daarom op palmolie, papier en karton, thee, soja en cacao, aangezien deze producten goed zijn voor ruim 65 procent van zijn impact op het land. Nestlé heeft nu ruim 97 procent van zijn primaire vlees-, palmolie-, pulp- en papier-, soja-, en suikeraanbodketens ontbossingsvrij gemaakt. En PepsiCo wil tegen 2030 zijn grondstoffen betrekken uit de regeneratieve landbouw en een einde maken aan de ontbossing en de ontwikkeling op veengronden.
Dit zijn positieve stappen, maar het zijn eerder uitzonderingen dan een nieuwe norm. Bovendien is de financiële sector ook traag geweest om zich natuurvriendelijker op te stellen. Sinds de klimaatconferentie COP26 vorig jaar in Glasgow hebben slechts 35 financiële ondernemingen zich ertoe verbonden de door landbouwgrondstoffen veroorzaakte ontbossing tegen 2025 aan te pakken. De hoop is nu dat tegen COP27 in november meer bedrijven zich bij de ontbossingstoezegging zullen aansluiten. Onder de paraplu van de Glasgow Financial Alliance for Net Zero hebben vijfhonderd financiële ondernemingen (die samen goed zijn voor 135 biljoen dollar aan activa) zich ertoe verbonden de uitstoot van hun portefeuilles tegen 2030 te halveren en tegen 2050 tot nul terug te brengen. En nu heeft de Alliance nieuwe ʻnet zero'-richtlijnen uitgebracht, met aanbevolen beleidslijnen voor de aanpak van ontbossing.
De natuur functioneert als een soort mondiaal kapitaal, en de bescherming ervan zou voor bedrijven, beleggers en overheden een no-brainer moeten zijn. Het World Economic Forum stelt vast dat ʻ44 biljoen dollar aan economische waardecreatie – ruim de helft van het totale bbp van de wereld – matig of sterk afhankelijk is van de natuur en haar diensten.' Maar deze diepgewortelde bron van waarde loopt steeds meer gevaar, zoals blijkt uit de huidige voedselcrisis, die niet alleen wordt aangewakkerd door de oorlog in Oekraïne, maar ook door klimaatgerelateerde rampen zoals droogte en de extreme hittegolf in India, sprinkhanenzwermen in Oost-Afrika, en overstromingen in China.
Bedrijven beschikken in toenemende mate over de instrumenten om dit soort problemen aan te pakken. Onlangs heeft het Science Based Targets-initiatief een methodologie vrijgegeven voor het aanpakken van emissies gerelateerd aan voedsel, land en landbouw. Capital for Climate's Nature-Based Solutions Investment-platform helpt financiers bij het identificeren van mogelijkheden om te beleggen in de natuur met een concurrerend rendement. En de Business for Nature-coalitie onderzoekt welke stappen de particuliere sector nog meer kan zetten.
Ook regeringen hebben stappen in de goede richting gezet. Tijdens COP26 hebben landen die samen meer dan negentig procent van de bossen in de wereld voor hun rekening nemen, een verklaring onderschreven om het verlies van bossen en de aantasting van het land tegen 2030 een halt toe te roepen. Een twaalftal landen heeft beloofd tegen 2025 12 miljard dollar aan overheidsfinanciering voor bossen ter beschikking te stellen en meer te doen om particuliere financiering voor hetzelfde doel aan te trekken. Zij kunnen nu beginnen die verbintenissen na te komen vóór COP27 in Sharm El-Sheikh, door het nodige beleid vast te stellen, de juiste stimulansen te geven en hun financiële beloften in te lossen.
Ondertussen zullen de door de VN gesteunde campagnes Race to Zero en Race to Resilienceparallel blijven werken om bedrijven, beleggers, steden en regio's te helpen natuurbehoud centraal te stellen bij hun inspanningen om koolstofneutraal te worden en veerkracht op te bouwen. De vijf bedrijven die het best presteren op het gebied van ontbossing doen mee aan de Race to Zero, en de onlangs aangescherpte criteria van de campagne zullen andere leden onder druk zetten om meer te doen aan duurzaam gebruik van biodiversiteit, en hun activiteiten en financiering af te stemmen op een klimaatbestendige ontwikkeling.
De wereld kijkt toe om te zien of de meest recente beloften van klimaatactie robuust en geloofwaardig zijn. Door nu in de natuur te investeren, kunnen regeringen en bedrijven laten zien dat zij meer bieden dan woorden alleen.
Vertaling: Menno Grootveld