¿El caso Dred Scott del cambio climático?
WASHINGTON, DC – En 2015, 21 jóvenes entre 11 y 22 años presentaron una importante demanda legal contra el gobierno estadounidense por no limitar los efectos del cambio climático. En Juliana v. Estados Unidos, los demandantes sostienen que como tendrán que convivir con las repercusiones del calentamiento global durante mucho más tiempo que cualquier otro, en promedio, la incapacidad por parte del gobierno de proteger el medio ambiente viola sus derechos constitucionales a igual protección según la ley y el debido proceso.
El filósofo Peter Singer señala que este caso representa un punto de quiebre histórico, porque aborda los derechos de los niños y de los norteamericanos futuros a un medio ambiente habitable. Pero el juicio va más allá del medio ambiente; tendrá vastas implicancias para la justicia intergeneracional en términos más amplios.
Consideremos la cuestión de la deuda pública. Siempre ha habido objeciones morales en torno de que una generación cargue a la siguiente con una deuda excesiva, limitando en efecto la libertad futura de los jóvenes al afectar su capacidad para formar familias, educar a sus hijos y generar riqueza. En un momento en que los déficits federales de Estados Unidos van camino a 1 billón de dólares al año, la cuestión se está tornando extremadamente urgente.
Al decidir Juliana v. Estados Unidos, la Corte Suprema debe lidiar con el hecho de que la Constitución de Estados Unidos no reconoce explícitamente a los ciudadanos futuros. Si bien fue la primera de muchas constituciones nacionales en representar los principios de la ilustración de que los ciudadanos son iguales ante la ley y están dotados de derechos inalienables, aplica estos principios solamente a los norteamericanos vivos. Los futuros ciudadanos estadounidenses tendrán derechos recién después de haber nacido.
Podría sonar razonable. Pero si no se protegen los intereses de los norteamericanos futuros, actores poderosos de hoy pueden agotar los recursos de quienes todavía no nacieron. El resultado es una degradación ambiental, una deuda pública insostenible y generaciones de personas con un bajo nivel de educación e ineptas para el empleo, que tendrán dificultades para criar a sus propios hijos hasta convertirse en adultos productivos.
Un país moderno sí reconoce este riesgo en su constitución: Alemania. El artículo 20ª del Grundgesetz (Derecho Básico) de Alemania estipula que, "Consciente también de su responsabilidad con las generaciones futuras, el estado protegerá los cimientos naturales de vida y los animales por ley y, según la ley y la justicia, mediante una acción ejecutiva y judicial…"
Introductory Offer: Save 30% on PS Digital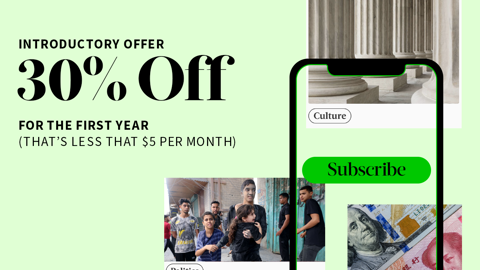 Introductory Offer: Save 30% on PS Digital
Subscribe now to gain greater access to Project Syndicate – including every commentary and our entire On Point suite of subscriber-exclusive content – starting at less than $5 per month.
Al demostrar que los ciudadanos vivos más jóvenes sufren más que sus contrapartes de más edad como consecuencia de políticas fiscales y ambientales cortas de miras, Juliana podría ser el primer paso en cuanto a reconocer una responsabilidad similar en Estados Unidos. Es un paso pequeño, pero un paso que podría tener implicancias de amplio alcance para la política, especialmente en un momento en que el presidente y su administración pretenden activamente implementar políticas que, en efecto, saquean a la próxima generación. Y, por supuesto, la administración del presidente norteamericano, Donald Trump, se ha opuesto al caso en todo momento.
A comienzos de este año, un tribunal inferior dictaminó que el caso podía pasar a juicio, y se estableció que el juicio se iniciaría en la Corte de Distrito de Estados Unidos en Oregón, el 29 de octubre. Pero, a fines de septiembre, el juez presidente de la Corte Suprema John Roberts emitió un aplazamiento temporal del caso para considerar un pedido del Departamento de Justicia de interrumpirlo por completo –una medida sumamente inusual.
Afortunadamente, la Corte Suprema decidió rechazar el pedido del gobierno y dejar que el juicio avance. Pero la administración Trump no se rinde: ahora ha presentado apelaciones de desestimación en la Corte de Distrito de Estados Unidos en Oregón y en la Corte de Apelaciones del Noveno Circuito en San Francisco.
Los abogados de la administración Trump insisten en que el caso no es "justiciable", lo que significa que los tribunales no son el lugar apropiado para resolver las cuestiones en Juliana; aunque éste no fuera el caso, continúan, los demandantes carecen de condición para demandar. Las cortes federales de Estados Unidos desde el nivel de distrito hasta la Corte Suprema –que, en su totalidad, ya han dictaminado que el caso debería ir a juicio- claramente no están de acuerdo.
Existen paralelismos entre Juliana v. Estados Unidos y la decisión infame de la Corte Suprema en Dred Scott v. Standford. Scott, un esclavo, presentó una demanda legal por su libertad y la de su familia en 1857 –ocho años antes de que la Decimotercera Enmienda de la Constitución de Estados Unidos aboliera la esclavitud-. El juez principal Roger B. Taney dictaminó que los esclavos y sus descendientes eran "seres de un orden inferior" que "no tenían ningún derecho que el hombre blanco se viera obligado a respetar". Scott, por lo tanto, no tenía condición para presentar una demanda en una corte federal.
¿Kelsey Juliana, la principal demandante en el juicio federal, también será desestimada? En los comentarios de la Corte Suprema de Estados Unidos sobre Juliana ya hay ecos de Dred Scott.
Sin embargo, el dictamen de Dred Scott en definitiva no sólo no estaba en sintonía con la moralidad básica, sino tampoco con el creciente poder económico y cultural del Norte y la dirección de la historia de Estados Unidos. Eso es lo que estamos viendo hoy, tanto en los argumentos de la administración Trump de que Juliana no es justiciable como en la incapacidad anticuada del derecho estadounidense para reconocer los derechos de los norteamericanos futuros a un medio ambiente habitable, liberado de una deuda excesiva.
Quienes se oponen a Juliana, entre ellos la industria energética políticamente influyente, esperan cínicamente conseguir que se desestime el caso y se depositen los derechos generacionales en manos de un Congreso profundamente dividido –y, por poderosos intereses creados, maleable-. Al igual que los opositores de la emancipación en los años 1850, cuentan el éxito en términos de los pocos meses o años que podrán seguir beneficiándose de las lacunae de la Constitución. Y bien pueden conseguir aferrarse al pasado un poco más. A la hora de abolir la esclavitud, Estados Unidos estaba rezagado más de 30 años respecto del Reino Unido –una demora que no hizo más que agravar las cosas a mediados de los años 1800.
Pero la dirección de la historia es clara. La ola se está tornando en contra de permitir que los ciudadanos vivos exploten a sus hijos y nietos. En este sentido, más allá de cuál sea el resultado, Juliana v. Estados Unidos es sólo el comienzo.