Der Dred Scott des Klimawandels?
WASHINGTON, DC – Im Jahr 2015 reichten 21 junge Menschen im Alter zwischen 11 und 22 Jahren eine umfangreiche Klage gegen die US-Regierung ein, weil sie die Auswirkungen des Klimawandels nicht begrenzt hat. In Juliana v. United States argumentieren die Kläger, dass das Versäumnis der Regierung, die Umwelt zu schützen, gegen ihre verfassungsmäßigen Rechte auf gleichen Schutz nach Gesetz und Gesetz verstößt, weil sie im Durchschnitt viel länger als jeder andere mit den Auswirkungen der globalen Erwärmung leben müssen.
Der Philosoph Peter Singer weist darauf hin, dass dieser Fall einen historischen Wendepunkt darstellt, weil er die Rechte von Kindern und zukünftigen Amerikanern auf eine lebenswerte Umwelt thematisiert. Aber bei dem Prozess geht es um mehr als nur um die Umwelt; er wird weitreichende Folgen für die intergenerationelle Gerechtigkeit im weiteren Sinne haben.
Nehmen wir das Thema Staatsverschuldung. Es gab schon immer moralische Einwände dagegen, dass eine Generation die nächste Generation mit überhöhter Verschuldung belastet und damit die zukünftige Freiheit der Jugendlichen effektiv einschränkt, weil dadurch ihre Fähigkeit zur Familiengründung, Kindererziehung und Vermögensbildung beeinträchtigt wird. Da die US-Bundesdefizite auf 1 Billion Dollar pro Jahr ansteigen, wird das Problem immer dringender.
Bei der Entscheidung Juliana v. United States muss sich der Oberste Gerichtshof damit auseinandersetzen, dass die US-Verfassung zukünftige Bürger nicht ausdrücklich anerkennt. Obwohl es die erste von vielen nationalen Verfassungen war, die die Prinzipien der Aufklärung verkörperte, dass die Bürger nach dem Gesetz gleichberechtigt und mit unveräußerlichen Rechten ausgestattet sind, gelten diese Prinzipien nur für lebende Amerikaner. Zukünftige US-Bürger werden erst nach ihrer Geburt Rechte haben.
Das klingt vielleicht vernünftig. Aber wenn die Interessen der zukünftigen Amerikaner nicht geschützt werden, können mächtige Akteure heute den noch nicht Geborenen Ressourcen entziehen. Das Ergebnis sind Umweltzerstörung, unhaltbare Staatsverschuldung und Generationen von ungebildeten, arbeitslosen Menschen, die es schwer haben werden, ihre eigenen Kinder zu produktiven Erwachsenen zu erziehen.
Ein modernes Land erkennt dieses Risiko in seiner Verfassung: Deutschland. In Artikel 20a des Grundgesetzes heißt es: "Im Bewusstsein seiner Verantwortung auch gegenüber zukünftigen Generationen schützt der Staat die natürlichen Lebensgrundlagen von Leben und Tieren durch Gesetzgebung und nach Recht und Gesetz durch Exekutiv- und Gerichtsverfahren....".
Introductory Offer: Save 30% on PS Digital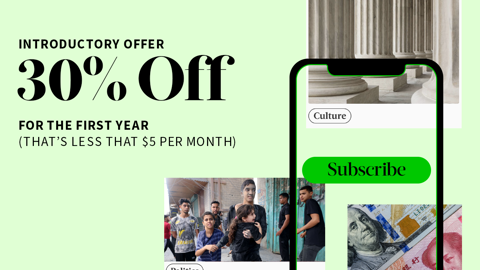 Introductory Offer: Save 30% on PS Digital
Subscribe now to gain greater access to Project Syndicate – including every commentary and our entire On Point suite of subscriber-exclusive content – starting at less than $5 per month.
Juliana könnte der erste Schritt sein, um eine ähnliche Verantwortung in den USA anzuerkennen, indem gezeigt wird, dass jüngere lebende Bürger mehr unter einer kurzsichtigen Finanz- und Umweltpolitik leiden als ihre älteren Landsleute. Es ist ein kleiner Schritt, aber einer, der weitreichende Auswirkungen auf die Politik haben könnte, besonders zu einer Zeit, in der der Präsident und seine Regierung aktiv Politik betreiben, die die nächste Generation effektiv ausplündert. Und in der Tat hat sich die Regierung von US-Präsident Donald Trump dem Fall in jeder Phase widersetzt.
Anfang dieses Jahres entschied ein unteres Gericht, dass der Fall vor Gericht gestellt werden könne, der Prozess sollte am 29. Oktober vor dem US-Bezirksgericht in Oregon beginnen. Aber Ende September gab der vorsitzende Richter des Obersten Gerichtshofs, John Roberts, einen vorübergehenden Aufschub des Falles heraus, um einen Antrag des Justizministeriums zu prüfen, ihn ganz einzustellen - ein höchst ungewöhnlicher Schritt.
Glücklicherweise entschied das Oberste Gericht, den Antrag der Regierung abzulehnen und den Prozess voranzubringen. Aber die Trump-Administration gibt nicht auf: Sie hat jetzt Abweisungsbeschwerden beim US District Court in Oregon und beim Ninth Circuit Court of Appeals in San Francisco eingereicht.
Trumps Verwaltungsanwälte bestehen darauf, dass der Fall "nicht justiziabel" sei, was bedeutet, dass die Gerichte nicht der richtige Ort sind, um die Probleme in Juliana zu lösen; aber selbst, wenn dies nicht der Fall wäre, so wird weiter argumentiert, hätten die Kläger keinen Anspruch auf Klage. Die US-Bundesgerichte von der Bezirksebene bis zum Obersten Gerichtshof - die alle bereits entschieden haben, dass der Fall vor Gericht gestellt werden sollte - sind eindeutig anderer Meinung.
Es gibt Parallelen zwischen Juliana v. United States und der berüchtigten Entscheidung des Obersten Gerichtshofs in Dred Scott v. Sandford. Scott, ein Sklave, klagte 1857 auf seine Freiheit und die seiner Familie - acht Jahre, bevor der 13. Zusatz der US-Verfassung die Sklaverei abschaffte. Oberrichter Roger B. Taney entschied, dass Sklaven und ihre Nachkommen "Wesen einer niederen Ordnung" seien, die "keine Rechte hätten, die der weiße Mann zwangsläufig respektieren müsste". Scott hatte daher keine Befugnis, vor dem Bundesgericht zu klagen.
Wird auch Kelsey Juliana, die Hauptklägerin im Bundesverfahren, abgelehnt? Bereits in den Kommentaren des US Supreme Court zu Juliana gibt es Anklänge an Dred Scott.
Letztendlich war das Dred Scott-Urteil jedoch nicht nur von der Grundmoral, sondern auch von der wachsenden wirtschaftlichen und kulturellen Macht des Nordens und der Richtung der US-Geschichte abgekoppelt. Das ist es, was wir heute sehen, sowohl in den Behauptungen der Trump-Administration, dass Juliana nicht justiziabel sei, als auch in dem antiquierten Versagen der US-Gesetze, die Rechte zukünftiger Amerikaner auf ein lebenswertes Umfeld anzuerkennen, das nicht durch übermäßige Schulden belastet ist.
Die Gegner von Juliana, einschließlich der politisch einflussreichen Energieindustrie, hoffen zynisch, dass es ihnen gelingen wird, den Fall abzuweisen und die Generationsrechte in die Hände eines tief gespaltenen - und für mächtige Eigeninteressen empfänglichen - Kongresses zu legen. Wie die Gegner der Emanzipation in den 1850er Jahren zählen sie Erfolge in Bezug auf die wenigen Monate oder Jahre, in denen sie weiterhin von den Lücken der Verfassung profitieren können. Und sie können vielleicht noch etwas länger an der Vergangenheit festhalten. Bei der Abschaffung der Sklaverei lagen die USA mehr als 30 Jahre hinter dem Vereinigten Königreich zurück - eine Verzögerung, die die Situation Mitte des 19. Jahrhunderts nur verschlimmerte.
Aber die Richtung der Geschichte ist klar. Das Blatt wendet sich gegen die Erlaubnis lebender Bürger, ihre Kinder und Enkelkinder auszubeuten. In diesem Sinne, was auch immer das Ergebnis ist, Juliana v. United States ist nur der Anfang.
Aus dem Englischen von Eva Göllner.