Ist die TPP gut für Amerika?
WASHINGTON D.C. – Die Transpazifische Partnerschaft (TPP) – das weit reichende Handels- und Investitionsabkommen, das die Vereinigten Staaten mit elf weiteren Ländern, darunter Kanada, Mexiko, Japan, Malaysia, Australien und Vietnam, ausgehandelt haben – steht jetzt zur Debatte. Damit die TPP in Kraft treten kann, muss der US-Kongress ihr zustimmen, was unwahrscheinlich ist, solange nicht genügend Mitglieder sich eine Meinung über das Für und Wider gebildet haben. Was also bedeutet die TPP jetzt und in der Zukunft für die US-Wähler?
Zunächst einmal: Zwar würde die US-Wirtschaft, gemessen am BIP und am Volkseinkommen, vermutlich leicht von der TPP profitieren, doch dürfte dieser Nutzen sehr klein sein und überwiegend darauf beruhen, dass sich durch den Abbau von Zollschranken und anderen Handelshemmnisse im Ausland die Exportchancen der USA verbessern. Auch würden sich einige Importe verbilligen, wovon die amerikanischen Verbraucher profitieren würden.
Die Analysen, auf die sich die Regierung von US-Präsident Barack Obama stützt, legen nahe, dass bei einer Verabschiedung der TPP die Gesamtgröße der US-Volkswirtschaft bis 2030 um 0,5% höher ausfallen würde, als das sonst der Fall wäre. Man beachte, dass dies eine Schätzung der Auswirkungen der TPP auf das Gesamteinkommen nach 15 Jahren ist und nicht ihrer Auswirkung auf die jährliche Wachstumsrate.
Angesichts der Tatsache, dass diese Einschätzung von den TPP-Befürwortern kommt, dürfte dies wohl das obere Ende dessen darstellen, was diese für plausibel halten. (Ich bin Senior Fellow am Peterson Institute for International Economics, unter dessen Federführung die Studie veröffentlicht wurde, war jedoch nicht an ihrer Erstellung beteiligt.) Leider erzeugen die in diesem Bereich verwendeten Modelle keine Fehlerbänder oder Konfidenzintervalle. Tatsächlich dürften diese Schätzungen angesichts der Komplexität des Handelsabkommens – und seines Schwerpunktes auf schwer quantifizierbaren nichttarifären Handelsschranken – hochgradig unpräzise sein.
Zweitens ignorieren diese Modelle zentrale Fragen, die in jede quantitative Analyse hineingehören. So hat etwa ein steiler Anstieg der Importe erhebliche negative Auswirkungen auf die Beschäftigungslage. Überzeugende Belege liefert diesbezüglich die herausragende Untersuchung von Daron Acemoglu, David Autor, David Dorn, Gordon Hanson und Brendan Price, laut der sich die "Gesamt-Arbeitsplatzverluste, die sich in den Jahren 1999-2011 aus der zunehmenden Konkurrenz durch chinesische Importe ergaben", auf 2-2,4 Millionen beliefen.
Menschen, die hochbezahlte Arbeitsplätze in der produzierenden Industrie verlieren, können alternative Jobs finden – aber in der Regel bei viel geringerer Bezahlung in einem produktivitätsarmen Teil des Dienstleistungssektors. Prinzipiell könnte man sie für diesen Verlust ihres Lebenseinkommens entschädigen, doch in den USA ist eine derartige Entschädigung sehr begrenzt. Faktisch ergeben sich daraus lang anhaltende oder sogar dauerhafte Auswirkungen für bestimmte Gemeinschaften – insbesondere für bildungsfernere Schichten an Orten, wo der Wohlstand auf der produzierenden Industrie beruhte, die nun einer verstärkten Konkurrenz durch Importe ausgesetzt ist.
Subscribe to PS Digital Now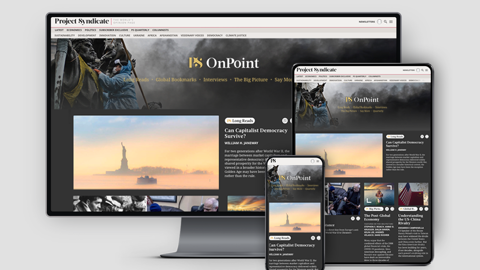 Subscribe to PS Digital Now
Access every new PS commentary, our entire On Point suite of subscriber-exclusive content – including Longer Reads, Insider Interviews, Big Picture/Big Question, and Say More – and the full PS archive.
Darüber hinaus geht das TPP-freundliche Modell davon aus, dass die Löhne im Einklang mit der Produktivität steigen werden. Das war in den USA früher der Fall, doch hat sich diese Beziehung in den letzten Jahrzehnten – also genau der Zeit, in der sich die Globalisierung verstärkt hat – stark abgeschwächt. Infolgedessen scheinen die Schätzungen des Modells in Bezug auf den Nutzen, den ungelernte Arbeitnehmer aus der TPP ziehen würden, überzogen.
Drittens ist es sehr gefährlich, politische Entscheidungen allein auf der Grundlage von Modellen zu treffen. Die TPP wird noch viele weitere Dimensionen staatlicher Politik beeinflussen, u. a. beim Schutz, der ausländischen Investoren eingeräumt wird (und es ihnen erleichtert, Regierungen zu verklagen), und beim Zugang zu preiswerten Medikamenten (für Länder niedrigen Einkommens, aber potenziell auch für Amerikaner).
Und es ist auffällig, dass die TPP gegenwärtig praktisch nichts tut, um vor Währungsmanipulationen abzuschrecken – nachhaltigen einseitigen Interventionen auf dem Devisenmarkt, die darauf abzielen, eine Währung abzuwerten und sich so einen Wettbewerbsvorteil zu verschaffen. In den 1980er Jahren beliefen sich die Importe von Waren und Dienstleistungen in die USA auf rund 10% vom BIP; heute liegt dieser Wert bei etwa 17%, und die TPP dürfte ihn noch weiter in die Höhe schrauben (so besagen jedenfalls die Modelle). Doch wenn die USA verstärkt Handel mit anderen Ländern treiben, werden sie anfälliger für durch Währungsmanipulationen verursachte Arbeitsplatzverluste.
Auf Grundlage der verfügbaren Belege scheint bezüglich der TPP der folgende Schluss nahezuliegen: Sie würde zu einem sehr geringen Anstieg des Gesamt-BIPs führen, sie würde zumindest in Bezug auf einige Messgrößen die Ungleichheit verstärken, und sie würde die Anzahl gefährdeter Arbeitsplätze erhöhen, ohne einen entsprechenden Schutz vor Währungsmanipulationen zu bieten.
Die US-Außenhandelsbehörde (ITC) ist derzeit dabei, eine in die Tiefe gehende Bewertung der TPP vorzunehmen, die in einigen Monaten fertig sein dürfte. Es ist zu hoffen, dass die ITC eine umfassendere und detailschärfere Analyse der TPP – einschließlich ihrer potenziellen Nachteile für verschiedene Sektoren – vorlegt, als bisher verfügbar ist.
Eine objektive Bewertung wird feststellen, dass die TPP kein Selbstgänger ist, der automatisch verabschiedet werden sollte. Die Details des Abkommens bedürfen deutlich gründlicherer Überprüfung. Die gute Nachricht ist, dass der Prozess einer sorgfältigen Bewertung inzwischen begonnen hat.
Aus dem Englischen von Jan Doolan