Si les poissons pouvaient hurler
PRINCETON – Mon père m'emmenait régulièrement en promenade lorsque j'étais enfant, souvent le long d'une rivière ou au bord de la mer. Nous croisions parfois des pêcheurs accrochés à leur ligne au bout de laquelle se débâtait un poisson. J'ai même vu une fois un homme sortir un petit poisson de son seau et l'accrocher à l'hameçon encore vivant pour servir d'appât.
A une autre occasion, lorsque nos pas nous menaient au bord d'un ruisseau tranquille, j'ai vu un homme qui observait sa ligne, apparemment en paix avec le monde, alors qu'à ses côtés, des poissons récemment pêchés se débattaient désespérément dans un seau, le souffle coupé. Mon père m'avait alors dit qu'il ne comprenait pas que l'on puisse apprécier de sortir des poissons de l'eau et de les voir mourir lentement.
Ces souvenirs d'enfance me sont revenus en mémoire à la lecture de Worse things happen at sea: the welfare of wild-caught fish (Les pires choses arrivent en mer : du bien-être des poissons sauvages, ndt), un rapport décisif publié le mois dernier sur le site fishcount.org.uk. On a fini par admettre un peu partout dans le monde que si des animaux doivent être tués afin d'être consommés, ils devraient l'être sans souffrance. La réglementation sur l'abattage des animaux exige généralement que les bêtes soient endormies avant d'être abattues, ou que la mort soit instantanée, ou, dans le cas d'abattages rituels, que l'abattage soit aussi proche que possible de l'instantané en fonction de ce qu'autorisent les doctrines religieuses.
Pas pour les poissons. Il n'y a aucune obligation d'humanité concernant la pêche et l'abattage de poisons sauvages en mer, ni en ce qui concerne les poissons d'élevage dans la plupart des cas. Les poissons pris dans les filets des chalutiers sont balancés à bord du bateau où on les laisse suffoquer. Empaler un appât vivant sur un hameçon est une pratique commerciale commune : la pêche à longue ligne traînante, par exemple, utilise des centaines, et même des milliers d'hameçons sur une ligne unique dont la longueur peut atteindre de 50 à 100 kilomètres. Lorsque les poissons se prennent à l'appât, ils peuvent rester accroché ainsi des heures durant avant que la ligne de pêche ne soit ramenée.
La pêche commerciale dépend de même fréquemment de filets maillants – des murs de filets au maillage étroit dans lesquels les poissons se retrouvent piégés. Leurs ouïes comprimées par le maillage, il ne peuvent respirer et suffoquent dans les filets où ils peuvent rester coincés pendant des heures avant qu'ils ne soient ramenés à bord.
La révélation la plus marquante de ce rapport, cependant, est le nombre impressionnant de poissons qui se voient infliger une telle mort par les hommes. En prenant les tonnages rapportés des différentes espèces de poissons pêchés et en divisant cette somme par le poids moyen estimé de chaque espèce, l'auteure du rapport, Alison Mood, a rassemblé ce qui pourrait être la première estimation systématique de la capture globale annuelle de poissons sauvages. Ce chiffre, a-t-elle calculé, serait de l'ordre d'un trillion, mais pourrait atteindre les 2,7 trillions.
Introductory Offer: Save 30% on PS Digital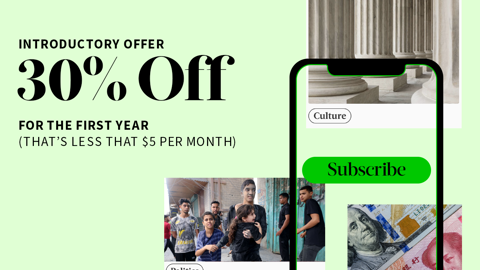 Introductory Offer: Save 30% on PS Digital
Subscribe now to gain greater access to Project Syndicate – including every commentary and our entire On Point suite of subscriber-exclusive content – starting at less than $5 per month.
Afin de mettre ces chiffres en perspective, l'Organisation des Nations Unies pour l'Alimentation et l'Agriculture a estimé que 60 milliards d'animaux sont tués chaque année pour la consommation humaine – l'équivalent approximativement de neuf animaux pour chaque être humain sur la planète. Si nous prenons l'estimation la plus basse de Mood d'un trillion, le chiffre pour les poissons est de 150. Cela n'inclut pas les milliards de poissons pêchés illégalement ni les poissons pêchés accidentellement et rejetés, ni ceux accrochés à des hameçons comme appâts vivants.
Nombre de ces poissons sont indirectement consommés – réduits en poudre et donnés en alimentation aux volailles ou aux poissons dans les fermes d'élevage industriel. Une ferme d'élevage de saumon classique utilise 3 à 4 kilogrammes de poissons sauvages pour chaque kilogramme de saumon produit.
Admettons que toute cette pêche soit soutenable, bien que, évidemment, elle ne le soit pas. Il serait alors rassurant de croire qu'un massacre d'une telle ampleur n'aurait pas d'importance puisque les poissons ne ressentent pas la douleur. Mais le système nerveux des poissons est suffisamment similaire à celui des oiseaux ou à celui des mammifères pour indiquer qu'ils ressentent effectivement cette douleur. Lorsque le poisson fait l'expérience de quelque chose qui entrainerait une douleur physique chez d'autres animaux, il se comporte d'une manière qui suggère la douleur, une attitude qui peut durer plusieurs heures. (La soi-disant mémoire courte des poissons est un mythe.)  Les poissons apprennent à éviter les expériences désagréables, comme les chocs électriques. Et les analgésiques réduisent les symptômes de la douleur qu'ils ressentiraient sans cela.
Victoria Braithwaite, professeure de pêcherie et de biologie à la Pennsylvania State University, a passé probablement plus de temps à enquêter sur cette question que n'importe quel autre scientifique. Son dernier ouvrage Les poissons ressent-ils la douleur ? (Do Fish Feel Pain?) démontre que les poissons non seulement ressentent la douleur, mais sont aussi bien plus intelligents qu'on ne le pense. L'année dernière, un panel de scientifiques de l'Union Européenne a conclu qu'une prépondérance de données permet d'affirmer que les poissons ressentent effectivement la douleur.
Pourquoi les poissons sont-ils les victimes oubliées de nos assiettes ? Est-ce parce qu'ils ont le sang froid et sont couverts d'écailles ? Est-ce parce qu'ils ne peuvent exprimer leur douleur ? Quelle que soit l'explication, les évidences s'accumulent désormais sur le fait que la pêche commerciale  inflige une douleur et une souffrance inimaginables. Nous devons apprendre à capturer et à abattre les poissons sauvages humainement – ou, si cela s'avérait impossible, trouver des alternatives moins cruelles et plus soutenables de les consommer.