Kdyby ryby mohly křičet
PRINCETON – V dětství mě otec brával na procházky, které často vedly podél řeky nebo mořského břehu. Míjeli jsme rybáře, kteří někdy právě vytahovali vlasce se vzpouzejícími se rybami na háčku. Jednou jsem byl svědkem, jak jistý muž vytáhl z kbelíku malou rybku a zaživa ji napíchl na háček, aby ji použil jako návnadu.
Když nás cesta jindy zavedla k poklidnému potoku, viděl jsem, jak u něj sedí jakýsi muž, sleduje vlasec a zdánlivě žije v míru s okolním světem, zatímco vedle něj se již ulovené ryby bezmocně mrskají a lapají po dechu. Otec mi tehdy řekl, že nedokáže pochopit, jak si někdo může užívat odpoledne strávené taháním ryb z vody a ponecháváním je napospas pomalé smrti.
Tyto vzpomínky z dětství mě znovu zaplavily, když jsem četl text s názvem Na moři se dějí horší věci: blaho ryb ulovených v divoké přírodě (Worse things happen at sea: the welfare of wild-caught fish), což je průlomová zpráva zveřejněná minulý měsíc na serveru fishcount.org.uk. Ve většině světa se akceptuje, že je-li třeba zabíjet zvířata na jídlo, měla by se zabíjet bez utrpení. Regulace upravující porážky všeobecně vyžadují, aby byla zvířata před smrtí bleskurychle omráčena, případně aby smrt nastala okamžitě nebo v případě rituálních porážek co nejrychleji, jak to umožňuje náboženská doktrína.
Pro ryby to neplatí. Pro ryby ulovené a usmrcené na moři a ve většině případů i na rybích farmách neexistují žádné požadavky na humánní smrt. Ryby chycené do sítí se vyklápějí na palubu rybářských lodí a nechávají se udusit. Nabodávání živé návnady na háčky je běžnou komerční praxí: například při rybolovu na dlouhý vlasec se používají stovky nebo i tisíce háčků na jediném vlasci, který může být 50-100 kilometrů dlouhý. Když se ryba chytí na návnadu, pravděpodobně zůstane mnoho hodin napíchnutá na háčku, než rybáři vlasec navinou.
Komerční rybolov bývá také často závislý na tzv. tenatových sítích – stěnách jemné síťoviny, v nichž ryby uvíznou, často za žábra. V takové síti se mohou udusit, protože mají chycená žábra, takže nemohou dýchat. Zůstávají pak mnoho hodin uvězněné, než rybáři sítě vytáhnou.
Nejznepokojivějším odhalením ve zprávě je však ohromující počet ryb, jimž lidé tyto formy smrti způsobují. Autorka zprávy Alison Moodová využila uváděnou tonáž různých druhů ulovených ryb a vydělila ji odhadovanou průměrnou hmotností daného druhu, čímž dospěla k možná vůbec prvnímu systematickému odhadu početnosti ročního globálního úlovku volně žijících ryb. Podle jejího výpočtu jde o číslo v řádu jednoho bilionu kusů, ačkoliv by to mohlo být i plných 2,7 bilionu.
Introductory Offer: Save 30% on PS Digital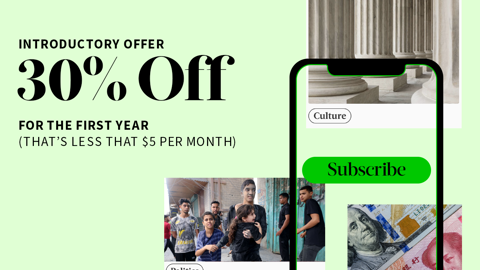 Introductory Offer: Save 30% on PS Digital
Subscribe now to gain greater access to Project Syndicate – including every commentary and our entire On Point suite of subscriber-exclusive content – starting at less than $5 per month.
Abychom to zasadili do perspektivy: Organizace OSN pro výživu a zemědělství odhaduje, že za účelem lidské spotřeby je každoročně na světě zabito 60 miliard kusů zvířat – to zhruba odpovídá devíti zvířatům na každého člověka na zeměkouli. Vezmeme-li za bernou minci nižší odhad Alison Moodové, pak u ryb činí srovnatelný údaj 150 kusů. Navíc zde nejsou zahrnuty miliardy nezákonně ulovených ryb nebo nechtěných ryb, které rybáři náhodně uloví a vyhodí, a také toto číslo nezahrnuje ryby napichované na háčky jako návnada.
Mnohé z těchto ryb jsou konzumovány nepřímo – lidé je rozemelou a krmí jimi kuřata nebo ryby chované na farmách. Typická lososí farma spotřebuje na každý kilogram odchovaného lososa 3-4 kilogramy divoce žijících ryb.
Předpokládejme, že veškerý tento rybolov je trvale udržitelný, přestože tomu tak samozřejmě není. Bylo by pak uklidňující věřit, že zabíjení v tak obrovském měřítku nás nemusí trápit, protože ryby necítí bolest. Nervová soustava ryb se ovšem natolik podobá nervové soustavě ptáků a savců, že to svědčí o opaku. Když ryby prožívají něco, co by jiným živočichům způsobovalo fyzickou bolest, chovají se způsobem nasvědčujícím pociťování bolesti a tato změna chování u nich může trvat několik hodin. (Je mýtus, že ryby mají krátkou paměť.) Ryby se učí vyhýbat se nepříjemným zážitkům, jako jsou elektrické šoky. A tlumicí léky u nich omezují symptomy bolesti, které by u nich jinak byly patrné.
Victoria Braithwaiteová, profesorka rybářství a biologie z Pensylvánské státní univerzity, pravděpodobně strávila zkoumáním této otázky více času než kterýkoliv jiný vědec. Její nedávná kniha Cítí ryby bolest? (Do Fish Feel Pain?) ukazuje, že ryby nejen dokážou cítit bolest, ale že jsou i mnohem chytřejší, než se většina lidí domnívá. Vědecká komise při Evropské unii loni dospěla na základě převahy důkazů k závěru, že ryby skutečně bolest cítí.
Proč jsou ryby zapomenutými oběťmi na našem talíři? Je to proto, že jsou studenokrevné a pokryté šupinami? Je to proto, že nemohou svou bolest vyjádřit hlasem? Ať už je vysvětlení jakékoliv, dnes se hromadí důkazy, že komerční rybolov způsobuje nepředstavitelné množství bolesti a utrpení. Musíme se naučit, jak lovit a zabíjet ryby humánně – a pokud to není možné, pak alespoň nacházet méně kruté a trvaleji udržitelné alternativy k jejich pojídání.