De Himalaya-hotspot van het mondiale klimaatsysteem
ABU DHABI – In onze collectieve verbeelding is de Himalaya – het dak van de wereld – een archetype: glinsterend wit, ver weg, zelfs buitenaards. Het beklimmen ervan is het bewijs van de durf, moed en gedrevenheid van de mensheid – een geest die onlangs is vastgelegd in 14 Peaks: Nothing Is Impossible, een Netflix-documentaire over de poging van een bergbeklimmer om in zeven maanden tijd de hoogste toppen ter wereld te beklimmen. En toch leek de top van Mount Machapuchare in centraal Nepal deze winter, ondanks de 6.993 meter boven zeeniveau, op een zwarte rotspiramide, ontdaan van ijs en sneeuw. Gletsjers bij de Mount Everest zijn veranderd in grote meren.
Behalve als toeristische attractie of als plaats voor klimavonturen, speelt de Himalaya een cruciale rol in het reguleren van het klimaat van de planeet. Het is ook de bron van zoet water voor miljarden mensen en voor de rijke (maar steeds meer aangetaste) ecosystemen in de regio. Als gevolg daarvan hebben de stijgende temperaturen en het smelten van de gletsjers verstrekkende gevolgen die nu al ernstige risico's inhouden voor de mensheid.
Het Tibetaanse Plateau ligt in het centrum van het Aziatisch Hooggebergte, een gebied dat bekend staat als de Derde Pool omdat het de op twee na grootste opslagplaats van bevroren water op aarde is, na Antarctica en de Noordpool. De regio telt ongeveer vijftienduizend gletsjers die bijna honderdduizend vierkante kilometer Aziatisch Hooggebergte bedekken en 3.000-4.700 kubieke kilometer ijs bevatten. De gletsjers voorzien de stroomgebieden van de Amu Darja, Brahmaputra, Ganges, Indus, Irrawaddy, Mekong, Salween, Tarim, Yangtze en de Gele Rivier van water.
De Hindoekoesj Himalaya strekt zich uit over 3.500 kilometer en omspant India, Nepal, China, Bhutan, Pakistan, Afghanistan, Bangladesh en Myanmar, die allemaal hebben getracht de bergen, inclusief hun water, lucht en ecosystemen, aan hun soevereine controle te onderwerpen. Nu de klimaatcrisis de moessons grilliger maakt, bronnen laat opdrogen, het waterpeil verlaagt en de voedselvoorziening bedreigt, duidt het gebrek aan samenwerking en coördinatie tussen deze landen op problemen – en vormt het een wereldwijde beleidsfout die het gebrek aan geloofwaardig internationaal leiderschap duidelijk aantoont.
In 2020 lanceerde een groep hoogleraren, onderzoekers, studenten en alumni van de New York University Abu Dhabi (NYUAD) en andere universiteiten het Himalayan Water Project om te wijzen op de urgentie van de crisis en het gebrek aan interdisciplinaire benaderingen die nodig zijn om landen te helpen zich op het ergste voor te bereiden. Maar samenwerking aanmoedigen is niet makkelijk in een regio waar intense rivaliteit, territoriale geschillen en wantrouwen schering en inslag zijn, en waar de groeiende economische en politieke macht van China de vijandigheid heeft aangewakkerd.
Oproepen tot de wederkeer van een bipolaire wereldorde, waarin democratieën zijn losgekoppeld van autocratieën, ondermijnen de samenwerking die de onderlinge afhankelijkheid vereist nog verder. Voor zover deze mentaliteit overheerst, zal het voor beleidsmakers onmogelijk zijn de veelzijdige klimaatgerelateerde gevaren die voortvloeien uit de crisis in de Himalaya te begrijpen en aan te pakken.
Subscribe to PS Digital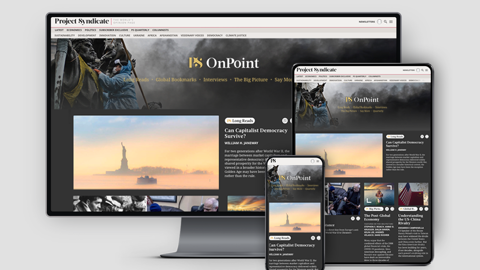 Subscribe to PS Digital
Access every new PS commentary, our entire On Point suite of subscriber-exclusive content – including Longer Reads, Insider Interviews, Big Picture/Big Question, and Say More – and the full PS archive.
Het International Center for Integrated Mountain Development in Kathmandu, waarvan acht Himalayalanden deel uitmaken, is momenteel de enige regionale organisatie die probeert de complexiteit van de crisis aan te pakken. Maar het initiatief is sterk gericht op de uitwisseling van gegevens, alsof alleen wetenschappelijke kennis 'neutraal' genoeg is om tussen de lidstaten heen en weer te gaan. Zelfs dit soort uitwisseling kan echter worden gedwarsboomd door regionale geschillen. Het is bovendien fantasieloos om het beleid te beperken tot het wetenschappelijke domein, vooral in een tijdperk waarin zoveel regeringen en internationale organisaties zich sterk maken voor inclusie, gelijkheid en andere vormen van kennisproductie.
Met uitzondering van het Indus Waters Treaty tussen India en Pakistan zijn er geen echte regionale inspanningen om samen te werken bij het beheer van de waterwegen. In feite blijven staten investeren in een infrastructuur die de natuurlijke stroom van rivieren, die leven geeft aan ecosystemen en mensen, belemmert en omleidt. Ingenieurs formuleren het beleid in de overtuiging dat de mens het milieu kan domineren en beheersen, een zienswijze die op de korte termijn kwantificeerbare voordelen lijkt op te leveren, maar op de middellange en lange termijn destructief is.
In januari reisden twee studentengroepen van de NYUAD naar Kathmandu om te leren over de geopolitieke en ecologische gevolgen van deze smeltende bergen. De studenten namen deel aan een conferentie waar deskundigen uit diverse vakgebieden een breed scala aan onderwerpen bespraken, van seismische activiteit en waterverdragen tot overheidsbeleid en het eigendom van culturele artefacten. De belangrijkste conclusie was dat het veelzijdige karakter van de uitdaging in de regio geen belemmering mag vormen voor maatregelen, maar juist een stimulans moet zijn voor de ontwikkeling van een holistische aanpak.
Telkens wanneer de smog wegtrok en de bergtoppen zich openbaarden, voelden we een hernieuwd gevoel van ontzag. De Himalaya is zowel majestueus als kwetsbaar, erodeert en groeit als de tektonische plaat waarop het Indiase subcontinent ligt zich onder het zachtere Aziatische continent duwt. De bergen staan in wisselwerking met de hemel erboven en de rivieren eronder, en elke verandering in dit delicate evenwicht kan het leven en de bestaansmiddelen van miljarden mensen beïnvloeden.
Toch smelten de gletsjers snel – duidelijker kan het niet zijn. Leden van ons onderzoeksteam die half januari naar een hoogte van 5.800 meter onder de Mount Everest gingen, zagen kale rotsen in plaats van sneeuw, en smeltpoelen waar vroeger bewegende ijstorens waren.
De klimaatverandering gaat steeds sneller, en we hebben beleid nodig dat de landen van het Himalayagebied helpt zich aan te passen. De huidige herschikking van de wereldorde gaat voorbij aan een van de grootste bedreigingen voor de stabiliteit. De zogenaamde grootmachten moeten beseffen wat er op het spel staat en doortastend optreden, of anders ophouden zich voor te doen als leiders in wereldwijde klimaatkwesties.
Vertaling: Menno Grootveld
Sophia Kalantzakos, hoogleraar milieustudies en overheidsbeleid aan de New York University Abu Dhabi, is instigator en hoofd van het project Geopolitics and Ecology of Himalayan Water en auteur van China and the Geopolitics of Rare Earths (Oxford University Press, 2017) en The EU, US, and China Tackling Climate Change: Policies and Alliances for the Anthropocene(Routledge, 2017). Kunda Dixit, gastdocent aan de New York University Abu Dhabi, is uitgever van de Nepali Times in Kathmandu en auteur van Dateline Earth: Journalism as if the Planet Mattered (Inter Press Service, 1997).