Himalajski Punkt Zapalny Globalnego Systemu Klimatycznego
ABU DHABI - W naszej zbiorowej wyobraźni Himalaje - dach świata - są archetypem: lśniące bielą, odległe, trochę jakby z innego świata. Wspinaczka na nie jest dowodem ludzkiej śmiałości, odwagi i dążenia - ducha uchwyconego niedawno w 14 Peaks: Nothing Is Impossible, dokumencie Netflixa, który jest kroniką próby zdobycia przez jednego alpinistę najwyższych szczytów świata w ciągu siedmiu miesięcy. A jednak, pomimo wzniesienia 6 993 metrów (prawie 23 000 stóp) nad poziomem morza, szczyt Mount Machapuchare w centrum Nepalu przypominał tej zimy czarną skalną piramidę, pozbawioną lodu i śniegu. Lodowce w pobliżu Mount Everest zamieniły się w wielkie jeziora.
Himalaje są czymś więcej niż tylko atrakcją turystyczną czy miejscem do przeżycia wielkiej przygody - odgrywają kluczową rolę w regulacji klimatu naszej planety. Są również źródłem słodkiej wody dla miliardów ludzi i bogatych (choć coraz bardziej zdegradowanych) ekosystemów tego regionu. W rezultacie rosnące temperatury i topnienie lodowców mają daleko idące konsekwencje, które już teraz stanowią poważne zagrożenie dla ludzkości.
Płaskowyż Tybetański znajduje się w centrum Azji Wysokogórskiej, obszaru znanego jako Trzeci Biegun, ponieważ jest to trzeci największy na Ziemi magazyn zamarzniętej wody, po Antarktydzie i Arktyce. W regionie znajduje się około 15 000 lodowców, które pokrywają prawie 100 000 kilometrów kwadratowych Azji Wysokogórskiej, zawierając 3000-4 700 kilometrów sześciennych lodu. Lodowce zasilają dorzecza Amu Darya, Brahmaputry, Gangesu, Indusu, Irrawaddy, Mekongu, Salween, Tarimu, Jangcy oraz Żółtej Rzeki.
Himalaje Hindukuszu rozciągają się na długości 3500 kilometrów i obejmują Indie, Nepal, Chiny, Bhutan, Pakistan, Afganistan, Bangladesz i Myanmar. Wszystkie te państwa starają się podporządkować góry - w tym ich wodę, powietrze i ekosystemy - swojej suwerennej kontroli. Ponieważ kryzys klimatyczny sprawia, że monsuny stają się bardziej nieregularne, wysychają źródła, obniża się poziom wód gruntowych i zagraża dostawom żywności, brak współpracy i koordynacji między tymi państwami zwiastuje kłopoty i stanowi porażkę polityki globalnej, która wyraźnie pokazuje brak wiarygodnego przywództwa międzynarodowego.
W 2020 roku grupa profesorów, badaczy, studentów i absolwentów z New York University Abu Dhabi (NYUAD) oraz z innych uniwersytetów zainicjowała Himalayan Water Project, aby podkreślić pilność kryzysu i niedostatek interdyscyplinarnego podejścia, które jest potrzebne, aby pomóc krajom przygotować się na najgorsze. Jednak zachęcanie do współpracy nie jest łatwe w regionie, w którym panuje intensywna rywalizacja, spory terytorialne i podejrzenia, a rosnąca siła ekonomiczna i polityczna Chin podsyca wrogość.
Wezwania do wskrzeszenia dwubiegunowego porządku świata, w którym demokracje są oddzielone od autokracji, dodatkowo podważają współpracę, której wymaga współzależność. W stopniu, w jakim ten sposób myślenia dominuje, niemożliwe będzie dla decydentów zrozumienie i zajęcie się wieloaspektowymi zagrożeniami związanymi z klimatem, wynikającymi z kryzysu w Himalajach.
Subscribe to PS Digital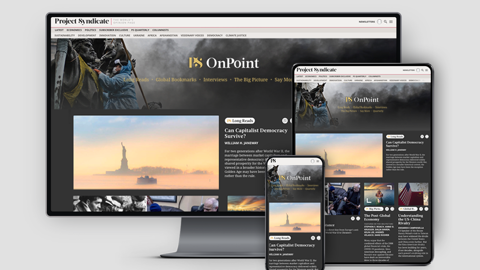 Subscribe to PS Digital
Access every new PS commentary, our entire On Point suite of subscriber-exclusive content – including Longer Reads, Insider Interviews, Big Picture/Big Question, and Say More – and the full PS archive.
Międzynarodowe Centrum Zintegrowanego Rozwoju Gór w Katmandu, do którego należy osiem krajów himalajskich, jest obecnie jedyną regionalną organizacją próbującą zmierzyć się ze złożonością kryzysu. Inicjatywa ta skupia się jednak głównie na wymianie danych, tak jakby tylko wiedza naukowa była na tyle "neutralna," by mogła przepływać między państwami członkowskimi. Jednak nawet ten rodzaj wymiany może zostać udaremniony przez regionalne spory. Co więcej, ograniczanie polityki do sfery naukowej jest pozbawione wyobraźni, zwłaszcza w czasach, gdy tak wiele rządów i organizacji międzynarodowych chwali się swoim zaangażowaniem w integrację, sprawiedliwość i różne formy tworzenia wiedzy.
Z wyjątkiem traktatu o wodach Indusu zawartego między Indiami a Pakistanem, nie ma żadnych autentycznych regionalnych wysiłków na rzecz współpracy w zakresie zarządzania zasobami nadbrzeżnymi. W rzeczywistości państwa nadal inwestują w infrastrukturę dróg wodnych, która blokuje i przekierowuje naturalny przepływ rzek, dający życie ekosystemom i ludziom. Inżynierowie kształtują politykę w przekonaniu, że człowiek może zdominować i kontrolować środowisko, co wydaje się przynosić wymierne korzyści w krótkim okresie, ale jest destrukcyjne w średnim i dłuższym okresie.
W styczniu tego roku nasze dwie klasy licencjackie NYUAD pojechały do Katmandu, aby dowiedzieć się o geopolitycznych i ekologicznych implikacjach tych topniejących gór. Studenci uczestniczyli w konferencji, na której eksperci z różnych dziedzin poruszyli szeroki zakres zagadnień, od aktywności sejsmicznej i umów wodnych po politykę publiczną i dysponowanie artefaktami kulturowymi. Kluczowym wnioskiem było to, że wieloaspektowa natura wyzwania w regionie nie powinna utrudniać działania, ale zamiast tego pobudzać rozwój holistycznego podejścia.
Kiedy tylko smog się rozwiał i szczyty znów były widoczne, ponownie się nimi zachwycaliśmy. Himalaje są zarówno majestatyczne, jak i delikatne; erodują i rosną, gdy płyta tektoniczna, na której siedzi subkontynent indyjski, wciska się pod bardziej miękki kontynent azjatycki. Góry współdziałają z niebem powyżej i rzekami poniżej, a wszelkie zmiany tej delikatnej równowagi mogą wpłynąć na życie i utrzymanie miliardów ludzi.
A jednak lodowce szybko topnieją - to nie mogłoby być bardziej oczywiste. Członkowie naszego zespołu badawczego, którzy w połowie stycznia weszli na wysokość 5800 metrów pod Mount Everest, zobaczyli gołe skały zamiast śniegu i roztopione baseny w miejscach, gdzie wcześniej znajdowały się ruchome wieże lodowe.
Zmiany klimatyczne postępują coraz szybciej i potrzebujemy polityki, która pomoże krajom z działu wodnego Himalajów dostosować się do nich. Obecne przetasowania w światowym porządku ignorują jedno z najbardziej krytycznych zagrożeń dla stabilności. Tak zwane wielkie mocarstwa muszą zrozumieć, o co chodzi i podjąć zdecydowane działania, albo przestać udawać, że są liderami w kwestii klimatu na świecie.
Z angielskiego przetłumaczyła Marz McNamer