Himálajský středobod globálního klimatického systému
ABÚ ZABÍ – V naší kolektivní fantazii představuje střecha světa zvaná Himálaj jakýsi archetyp: zářivě bílý, vzdálený, ba i nadpozemský. Jeho zdolávání pak představuje důkaz lidské smělosti, odvahy a energie – tohoto ducha nedávno zachytil dokument Netflixu s názvem 14 vrcholů: Nic není nemožné, který zaznamenává pokus jednoho horolezce zdolat nejvyšší štíty světa za sedm měsíců. Přestože se však hora s názvem Mačapučare ve středním Nepálu tyčí do výšky 6993 metrů nad mořem, letos v zimě připomínala spíš černou pyramidu, neboť byla zcela zbavená ledu a sněhu. Ledovce v okolí Mount Everestu se pak proměnily v rozlehlá jezera.
Himálaj však není jen turistickou atrakcí nebo dějištěm špičkových dobrodružství, ale hraje také klíčovou roli při regulaci klimatu na naší planetě. Zároveň je zdrojem sladké vody pro miliardy lidí a pro bohaté (byť stále poničenější) ekosystémy v regionu. V důsledku toho mají rostoucí teploty a tání ledovců dalekosáhlé důsledky, které už dnes představují vážné ohrožení pro celé lidstvo.
Tibetská náhorní plošina se rozprostírá uprostřed takzvané Vysokohorské Asie (HMA), v oblasti známé jako Třetí pól, protože jde o třetí největší zásobárnu zmrzlé vody na zeměkouli po Antarktidě a Arktidě. V oblasti se nachází přibližně 15 000 ledovců, které pokrývají téměř 100 000 čtverečních kilometrů Vysokohorské Asie a obsahují 3000-4700krychlových kilometrů ledu. Tyto ledovce zásobují povodí řek Amudarja, Brahmaputra, Ganga, Indus, Iravádí, Mekong, Salwin, Tarim, Jang-c'-ťiang a Žluté řeky.
Pásmo Hindúkuše a Himálaje měří asi 3500 kilometrů a zahrnuje území Indie, Nepálu, Číny, Bhútánu, Pákistánu, Afghánistánu, Bangladéše a Barmy, přičemž všechny zmíněné státy se snaží začlenit tyto hory včetně jejich vody, vzduchu a ekosystémů pod vlastní suverénní kontrolu. V situaci, kdy klimatická krize zvyšuje nevyzpytatelnost monzunů, vysušuje prameny, snižuje hladinu podzemní vody a ohrožuje zásobování potravinami, je nedostatek spolupráce a koordinace mezi těmito státy předzvěstí problémů – a představuje selhání globální politiky, které jasně ukazuje na absenci důvěryhodného mezinárodního vedení.
V roce 2020 zahájila skupina profesorů, výzkumníků, studentů a absolventů Newyorské univerzity v Abú Zabí (NYUAD) a dalších univerzit Projekt himálajské vody s cílem poukázat na naléhavost této krize a na nedostatek mezioborových přístupů potřebných k tomu, aby se jednotlivým zemím pomohlo připravit se na nejhorší. V regionu, kde bují silná rivalita, územní spory a podezíravost a kde rostoucí hospodářský a politický vliv Číny vyvolává nevraživost, však podněcování spolupráce není zcela snadné.
Výzvy ke vzkříšení bipolárního světového řádu, v němž budou demokracie oddělené od autokracií, dále podkopávají spolupráci, kterou vzájemná provázanost vyžaduje. Pokud tento přístup převládne, bude vyloučeno, aby politici pochopili a dokázali vyřešit mnohovrstevnatá klimatická rizika vyplývající z krize v Himálaji.
Subscribe to PS Digital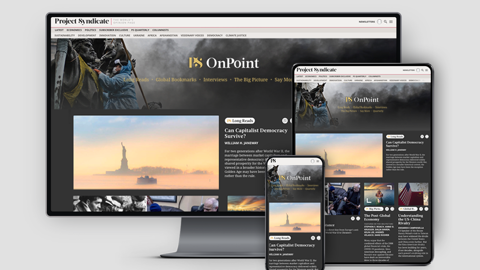 Subscribe to PS Digital
Access every new PS commentary, our entire On Point suite of subscriber-exclusive content – including Longer Reads, Insider Interviews, Big Picture/Big Question, and Say More – and the full PS archive.
Mezinárodní centrum pro integrovaný rozvoj hor se sídlem v Káthmándú, jehož členy je osm himálajských zemí, je v současnosti jedinou regionální organizací snažící se řešit tuto krizi ve vší komplexnosti. Iniciativa se však zaměřuje převážně na výměnu dat, jako by pouze vědecké poznatky byly dostatečně "neutrální" na to, aby mohly proudit mezi členskými státy. A dokonce i tento typ výměny mohou zmařit regionální spory. Navíc není příliš nápadité omezovat politiku centra na vědeckou sféru, zejména v době, kdy se tolik vlád a mezinárodních organizací holedbá svým závazkem k inkluzi, rovnosti a různým formám produkce znalostí.
S výjimkou Dohody o vodách Indu mezi Indií a Pákistánem neexistuje žádné skutečné regionální úsilí o spolupráci při správě pobřežních zdrojů. Jednotlivé státy naopak dál investují do vodní infrastruktury, která brání přirozenému toku řek a přesměrovává ho, ačkoliv tyto řeky dávají život ekosystémům i lidem. Projektanti utvářejí politiku v přesvědčení, že lidé mohou ovládnout a ovládat životní prostředí – možná se zdá, že taková vyhlídka může krátkodobě přinášet měřitelné výhody, ale ve střednědobém a dlouhodobém měřítku je destruktivní.
Letos v lednu odcestovaly dvě třídy našich studentů z NYUAD do Káthmándú, aby poznaly geopolitické a ekologické důsledky tohoto horského tání. Studenti se zúčastnili konference, kde experti z řady různých oborů řešili širokou paletu témat, od seismické činnosti a dohod o vodě až po veřejnou politiku a vypořádání kulturních artefaktů. Klíčovým poznatkem byla skutečnost, že složitost a mnohovrstevnatost výzev, s nimiž se region potýká, by neměla bránit akci, ale naopak by měla podněcovat rozvoj celostního přístupu.
Když se rozplynul smog a v dálce se objevily vrcholy hor, pocítili jsme jakousi novou vlnu úžasu. Himálaj je majestátní i křehký, zvětrává a znovu roste, jak se tektonická deska Indického poloostrova vtlačuje pod měkčí asijský kontinent. Hory komunikují s oblohou nad sebou i s řekami dole a jakékoliv změny této křehké rovnováhy by mohly mít dopad na životy a živobytí miliard lidí.
Přesto ledovce rychle tají – což je naprosto zjevné. Členové našeho výzkumného týmu, kteří v polovině ledna vystoupali pod Mount Everest do nadmořské výšky 5800 metrů, viděli místo sněhu jen holou skálu a roztopené tůně v místech, kde se kdysi nacházely pohybující se ledové štíty.
Klimatické změny se zrychlují a my potřebujeme politiku, která pomůže státům himálajského povodí s adaptací. Současné změny v globálním řádu ignorují jedno z nejzávažnějších ohrožení stability. Takzvané velmoci musí pochopit, co vše je v sázce, a začít rozhodně jednat, jinak ať přestanou předstírat, že jsou v otázkách globálního klimatu lídry.
Z angličtiny přeložil Jiří Kobělka