A preparação para catástrofes não pode esperar
GENEBRA/WASHINGTON, DC – O mundo tem estado a planear para o futuro partindo da convicção errada de que este se assemelhará ao passado. Mas enquanto a COVID-19 coincide com ciclones na Ásia Meridional e no Pacífico e com enormes enxames de gafanhotos na África Oriental, a necessidade de nos prepararmos para um mundo de choques inesperados tornou-se mais evidente que nunca. Espera-se que epidemias, cheias, tempestades, secas e incêndios se tornem cada vez mais frequentes e graves, afectando centenas de milhões de pessoas todos os anos.
A pandemia da COVID-19 é um alerta global. E enquanto líderes de organizações internacionais, compreendemos a ameaça grave e a potencial oportunidade para a mudança que representa.
Em especial, a COVID-19 e as recentes catástrofes climáticas demonstraram que temos de intensificar o investimento na preparação agora, em vez de aguardarmos pelos efeitos da próxima crise. A escolha é óbvia: atrasar e pagar, ou planear e prosperar.
Sabemos que o investimento na preparação para catástrofes vale a pena, tanto em termos de vidas humanas salvas como de resultados económicos. Investigações da Comissão Global para a Adaptação, por exemplo, demonstram que os rácios custo/benefício dos investimentos para adaptação climática variam entre 2:1 e 10:1.
É verdade que a preparação para choques importantes envolve despesas substanciais. A construção da resistência a impactos climáticos poderá custar entre 140 e 300 mil milhões de dólares todos os anos até 2030, e o cumprimento dos padrões mínimos da Organização Mundial de Saúde relativos à preparação para pandemias necessitará de 3,4 mil milhões de dólares por ano.
Mas estes montantes são pequenos quando comparados com os custos da inexistência da preparação. Os desastres naturais já custam centenas de milhares de milhões de dólares por ano; com um aumento de 2 ˚C na temperatura, segundo uma estimativa, os prejuízos resultantes das alterações climáticas poderão atingir os 69 biliões de dólares até 2100.
Holiday Sale: Save $50 on all new PS subscriptions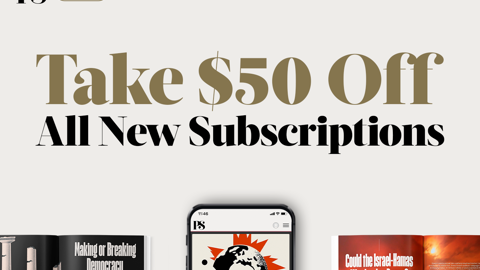 Holiday Sale: Save $50 on all new PS subscriptions
Subscribe now to gain greater access to Project Syndicate – including every commentary and our entire On Point suite of subscriber-exclusive content – starting at just $34.99.
Os custos humanos também são elevados. Uma análise da Federação Internacional das Sociedades da Cruz Vermelha e do Crescente Vermelho (IFRC) realizada o ano passado concluiu que a inacção poderia aumentar o número de pessoas que necessitam de ajuda humanitária internacional devido a cheias, tempestades, secas e incêndios todos os anos – actualmente, 108 milhões – em 50% até 2030. O total poderia quase duplicar, para os 200 milhões de pessoas, até 2050.
Por outro lado, o próximo ano constitui uma oportunidade crítica para o investimento em resiliência, porque os governos vão gastar biliões de dólares na recuperação das economias depois da pandemia. O perigo é que os recursos financeiros, e com eles a apetência política pela mudança, diminuam futuramente. Por isso, é agora o momento certo para o mundo rico ajudar os países mais pobres a reinicializarem as suas economias e a fortalecerem a sua resistência a ameaças futuras, incluindo às alterações climáticas.
Uma das coisas mais importantes que os governos podem fazer hoje é investir na melhoria da recolha e da análise de dados sobre os riscos de catástrofe enfrentados pelos seus países. Um simples aviso prévio de 24 horas para a chegada de uma tempestade ou o conhecimento antecipado de uma vaga de calor iminente podem diminuir as perdas resultantes em 30%, e um investimento de 800 milhões de dólares em sistemas de alerta precoce nos países em desenvolvimento pouparia entre 3 e 16 mil milhões de dólares todos os anos.
Por exemplo, embora o ciclone Amphan tenha recentemente semeado a destruição na Índia e no Bangladesh e causado a morte a dúzias de pessoas, os sistemas de alerta precoce salvaram inúmeras vidas. O aumento da exactidão das previsões, juntamente com décadas de planeamento e preparação, permitiram aos dois países evacuar mais de três milhões de pessoas e manter o número total de mortes muito abaixo do verificado no passado.
Os governos e as organizações internacionais estão a trabalhar no sentido de tornar a tecnologia de alerta precoce mais acessível e eficaz, através de uma nova parceria para a acção precoce e baseada no conhecimento de riscos. Esta iniciativa pretende reforçar a segurança de mil milhões de pessoas relativamente a catástrofes até 2025, em parte através do aumento do denominado financiamento baseado em previsões, que usa projecções meteorológicas para dar às comunidades mais vulneráveis os recursos de que necessitam para se prepararem. Os esquemas de financiamento inovadores como estes, que são apoiados pelos governos alemão e britânico, entre outros, podem salvar vidas e reduzir os danos associados a tempestades e vagas de calor.
Mas nenhuma destas soluções será eficaz se o financiamento e as informações sobre as ameaças não chegarem ao nível local. As comunidades e as organizações locais são frequentemente os primeiros a responder a qualquer crise, e é essencial que sejam capacitados para a acção.
Antes da chegada do ciclone Amphan, por exemplo, a IFRC enviou fundos à delegação do Crescente Vermelho no Bangladesh, que ajudaram 20.000 pessoas vulneráveis a receber alimentos secos e água potável, equipamento de primeiros-socorros e de segurança e transporte até os abrigos contra ciclones. Ao mesmo tempo, a delegação ajudou a implementar medidas de protecção para a COVID-19, como a desinfecção de abrigos, a disponibilização de espaço adicional para acomodar o distanciamento social, e a distribuição de equipamento de protecção pessoal.
As comunidades locais também estão frequentemente na melhor posição para identificar soluções eficazes. Depois do tufão Ondoy ter atingido as Filipinas em 2009, por exemplo, as pessoas que viviam em aglomerados populacionais informais colaboraram com os funcionários municipais para desenhar alojamentos resistentes que conseguissem resistir a futuras cheias.
Quando os países emergirem da pandemia de COVID-19 durante o próximo ano, os líderes mundiais enfrentarão um momento decisivo. Se reforçarem os investimentos em preparação para catástrofes, poderão modelar os seus legados e colocar a humanidade numa rota mais segura para a próxima década e para o futuro.