Mondialisering is groener
SAN FRANCISCO – Het debat over hoe de klimaatdoelstellingen – met name de transitie naar netto-nul-emissies van broeikasgassen – moeten worden bereikt, heeft de speculatie aangewakkerd dat de wereld zal demondialiseren. Sommigen beweren dat een duurzame economie per definitie minder mondiaal moet zijn, omdat handelsstromen broeikasgassen genereren uit productie en vervoer.
Maar uit onderzoek van het McKinsey Global Institute blijkt het tegendeel. De materialen, de innovatie en het kapitaal die nodig zijn om netto-nul-emissies te bereiken, zijn niet gelijk verspreid en moeten daarom door de hele wereld worden gedeeld. Zonder grensoverschrijdende stromen van goederen, diensten, financiering en immateriële activa zal het zeer moeilijk, zo niet onmogelijk zijn om de opwarming van de aarde te beperken. De Wereldhandelsorganisatie komt tot een soortgelijke conclusie in haar meest recente jaarverslag, waarin wordt uiteengezet hoe handel een essentiële rol kan spelen om landen te helpen hun emissies te verminderen en klimaatbestendigheid op te bouwen.
Om te beginnen is geen enkele economie zelfvoorzienend. Uit ons onderzoek blijkt dat elke grote wereldregio ruim vijfentwintig procent (in termen van toegevoegde waarde) van ten minste één belangrijk type hulpbron of industrieproduct invoert. Op nationaal niveau, en voor de inputs die nodig zijn om de netto-nul-transitie te bereiken, kan dat percentage nog veel hoger liggen. Bovendien zijn producten die slechts op enkele plaatsen worden geproduceerd of gewonnen, in elke regio en sector te vinden. Zo wordt momenteel ruim vijfenzeventig procent van het wereldwijde aanbod van lithium, een belangrijk bestanddeel van accu's voor elektrische auto's, betrokken uit Australië en Chili.
Het koolstofvrij maken van de sectoren die de meeste broeikasgasemissies produceren, waaronder energie, vervoer en zware industrie, vereist investeringen in emissiearme technologieën en ondersteunende infrastructuur. De bouw en exploitatie van deze infrastructuur zal op haar beurt afhankelijk zijn van drie essentiële inputs: nieuwe minerale hulpbronnen, nieuwe brandstoffen en complexe fabricage op schaal. Het internationale netwerk van onderling verbonden aanbodketens is cruciaal voor de productie van al deze grondstoffen.
Denk aan mineralen zoals koper, lithium en zeldzame aardmetalen. Gezien hun belang voor de productie van elektrische auto's, hernieuwbare energie en een bredere elektrificatie, zijn ze allemaal cruciaal voor het bereiken van netto-nul-emissies. Maar om dat doel te bereiken, moet de aanvoer snel worden opgevoerd – in sommige gevallen met een factor acht (hoewel het gebruik van gerecycleerde materialen of innovatie om de behoefte aan bepaalde mineralen te verminderen of volledig te vervangen, de precieze omvang van de nieuwe aanvoer kan veranderen).
In het geval van een volledig nieuw aanbod zullen veel van deze mineralen wereldwijd moeten worden aangevoerd, omdat winning en raffinage geografisch verspreid zijn. Ongeveer zeventig procent van het kobalt van de wereld wordt gewonnen in de Democratische Republiek Congo, en bijna een derde van het nikkel van de wereld wordt gewonnen in Indonesië, waar zich de grootste bewezen reserves op Aarde bevinden. China produceert veel van de meest cruciale mineralen, waaronder lithium, kobalt en grafiet, maar is ook afhankelijk van andere landen voor belangrijke stappen of technologieën. Japan en Zuid-Korea zijn bijvoorbeeld gespecialiseerd in het coaten van sferisch gezuiverd grafiet.
Subscribe to PS Digital Now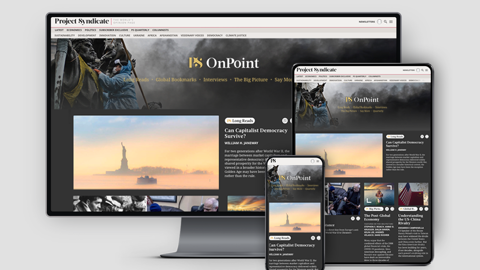 Subscribe to PS Digital Now
Access every new PS commentary, our entire On Point suite of subscriber-exclusive content – including Longer Reads, Insider Interviews, Big Picture/Big Question, and Say More – and the full PS archive.
Wat betreft de nieuwe brandstoffen die nodig zijn voor de netto-nul-transitie, bieden waterstof en zijn derivaten veel potentiële toepassingen, met name voor het goederenvervoer over lange afstanden en de staalproductie. Ook hier betekent de geografische wanverhouding tussen vraag en aanbod dat de wereldhandel waarschijnlijk van vitaal belang zal zijn. Het Internationaal Energieagentschap schat dat tegen 2030 jaarlijks ongeveer twaalf miljoen ton waterstof met lage uitstoot kan worden uitgevoerd, indien de projecten die momenteel in ontwikkeling zijn volgens plan worden voltooid.
Ten slotte is de invoering van industrieproducten zoals zonnepanelen en elektrische auto's ook afhankelijk van wereldwijde aanbodketens. Een bredere deelname van landen aan de handelsstromen kan innovatie stimuleren, de efficiëntie verhogen en de kosten van deze technologieën helpen drukken.
De noodzaak van mondialisering strekt zich uit tot buiten de goederenstromen alleen. Voor een duurzame toekomst zijn enorme investeringen nodig, en de ontwikkelingslanden zullen waarschijnlijk meer moeten uitgeven aan de netto-nul-transitie als percentage van het bbp dan de ontwikkelde landen. Omdat de begrotingsruimte voor investeringen in klimaatoplossingen beperkt is, zullen veel van deze economieën meer toegang tot grensoverschrijdende financiële stromen nodig hebben.
Innovatie is even belangrijk bij de ontwikkeling en toepassing van nieuwe klimaattechnologieën, en ook die is afhankelijk van grensoverschrijdende stromen, zij het van immateriële goederen, zoals intellectuele eigendom en data, en van geschoolde werknemers; beide kunnen uitvindingen bevorderen, de kosten drukken en de toegang vergroten. Deze kennis- en knowhowstromen hebben de handel in industriegoederen vervangen als drijvende kracht achter de mondiale integratie.
Al deze soorten stromen zijn onderling verbonden. Als economieën strategieën toepassen om aanbodketens te lokaliseren of te diversifiëren – hetzij om handelsgerelateerde emissies te verminderen, hetzij om veerkracht op te bouwen – zal er een grotere behoefte zijn aan kapitaal en immateriële activa. De bouw van een binnenlandse fabriek voor de productie van batterijen voor elektrische auto's kan bijvoorbeeld miljarden dollars kosten.
Zelfs in een sterk verbonden wereld zullen voor een betrouwbare, veilige en betaalbare netto-nul-transitie de grensoverschrijdende stromen aanzienlijk moeten worden opgeschaald. Er moeten nieuwe productiebronnen worden ontwikkeld, nieuwe relaties met leveranciers worden opgebouwd en nieuwe vormen van mondiale integratie worden nagestreefd. De toenemende geopolitieke spanningen zullen deze taak nog complexer en uitdagender maken. Maar het alternatief – de mondialisering opgeven – zal de gevolgen van de klimaatverandering alleen maar erger maken.
Vertaling: Menno Grootveld