Bojkotuj Rosyjską Energetykę Teraz
KIJÓW - Zablokowanie rezerw walutowych rosyjskiego banku centralnego było genialnym posunięciem. Pomocne było odłączenie niektórych rosyjskich banków od systemu komunikatów finansowych SWIFT. Również ściganie zagranicznych majątków kolegów Putina jest właściwym krokiem. Ale żadna z tych sankcji nie powstrzymała rosyjskiej inwazji na Ukrainę i niestety jej nie powstrzyma z jednego powodu.
Powód jest prosty: Rosja nadal eksportuje ropę i gaz. W istocie wojna spowodowała wzrost cen tych produktów, na czym skorzystał najważniejszy sektor rosyjskiej gospodarki. Tak więc tydzień po rozpoczęciu wojny zachodnia konsumpcja energii nadal finansuje inwazję Rosji na Ukrainie, a rosyjskie elity mają się lepiej niż kiedykolwiek. Nie da się tego przeoczyć: jedynym sposobem na powstrzymanie agresji prezydenta Rosji Władimira Putina jest nałożenie kompleksowego bojkotu na wszystkie rosyjskie produkty energetyczne.
Energia stanowi większość rosyjskiego eksportu, głównie w dwóch postaciach: gazu do Europy Zachodniej, przesyłanego rurociągami i opłacanego na podstawie kontraktów długoterminowych, oraz ropy naftowej na rynki światowe, sprzedawanej głównie na rynkach spotowych.
Według danych Międzynarodowej Agencji Energii:
"Dochody z podatków i taryf eksportowych związanych z ropą i gazem stanowiły 45% budżetu federalnego Rosji w styczniu 2022 roku. Biorąc pod uwagę obecne ceny rynkowe, wartość eksportu rosyjskiego gazu przesyłanego rurociągami do samej UE wynosi 400 mln USD dziennie. Łączne przychody z eksportu ropy naftowej i produktów rafinowanych wynoszą obecnie około 700 mln USD dziennie."
Według MAE do tej pory wystąpiły niewielkie zakłócenia w eksporcie rosyjskiej ropy, ale nie miały wpływu na eksport gazu. Przy wzroście cen ropy Brent z około 90 USD za baryłkę do około 110 USD za baryłkę od rozpoczęcia inwazji (i do 80 USD pod koniec 2021 roku), Rosja ma mnóstwo gotówki. Jeśli na ropie Urals występuje przecena, to jest ona mniejsza niż wzrost cen ropy - dlatego rosyjscy eksporterzy ropy nadal wychodzą finansowo na plusie.
Subscribe to PS Digital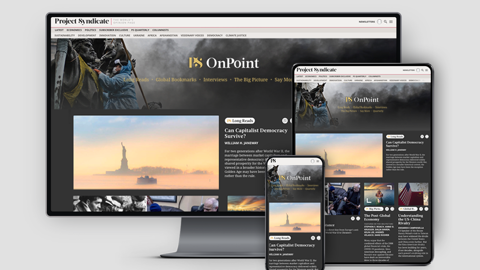 Subscribe to PS Digital
Access every new PS commentary, our entire On Point suite of subscriber-exclusive content – including Longer Reads, Insider Interviews, Big Picture/Big Question, and Say More – and the full PS archive.
W ciągu ostatniego miesiąca dzienna wartość rosyjskiego eksportu ropy wzrosła o około 100 mln USD dziennie (wartość obliczona na podstawie szacunków MAE dotyczących dziennego eksportu rosyjskiego pomnożona przez nasze szacunki wzrostu efektywnej ceny ropy Urals). W styczniu 2022 r. nadwyżka na rachunku obrotów bieżących Rosji wyniosła ok. 19 mld USD, czyli ok. 50% więcej niż typowo w styczniu (w większości lat miesięczna nadwyżka wynosi 9-12 mld USD).
W kręgach decydentów politycznych w Stanach Zjednoczonych panuje pogląd, że obecna polityka sankcji finansowych zmniejsza rosyjski potencjał naftowy w sposób, który służy interesom strategicznym USA. Tymczasem USA i ich sojusznicy, przekazując więcej pieniędzy do kieszeni producentów ropy, wywołują efekt odwrotny do zamierzonego. Nie ma alternatywy dla sankcji, które natychmiast zmniejszają ilość eksportu rosyjskiej ropy i gazu.
Kompleksowy bojkot rosyjskiej energii można rozpocząć od nałożenia przez USA pełnych sankcji, w tym sankcji wtórnych, na cały eksport rosyjskiej ropy i gazu. Światowa cena ropy wzrośnie, ale jeśli sankcje będą w pełni egzekwowane, żadna część tych zysków nie trafi do rosyjskich producentów. W tym scenariuszu MAE szacuje, że produkcja ropy na świecie bardzo szybko wzrośnie - Rosja eksportuje pięć milionów baryłek dziennie; dodatkowa podaż światowa może zwiększyć wydobycie o co najmniej trzy miliony baryłek dziennie. Tam, gdzie jest to wskazane, można i należy wprowadzić środki oszczędzania energii.
Oczywiście, Unia Europejska musiałaby pójść w jej ślady. Ale, mówiąc wprost, jest to tylko kwestia czasu. UE może albo przestać kupować rosyjski gaz teraz, aby powstrzymać inwazję, albo może poczekać miesiąc, aż zginą tysiące ludzi, a przerażające zdjęcia ofiar cywilnych zaleją każdy kanał telewizyjny. W pewnym momencie Europa nie będzie już mogła przełknąć faktu, że płaci za okrucieństwa Putina na Ukrainie.
IEA ma rozsądny plan, jak odzwyczaić Europę od rosyjskiego gazu, a zespół z Bruegel opublikował ważne propozycje i zajął się kwestią tego, jak przetrwać kilka następnych miesięcy bez rosyjskiego gazu. Każdy europejski decydent musi stawić czoła temu problemowi.
Z pewnością Europejczycy będą musieli podjąć trudne decyzje nie tylko o tym, jak sfinansować natychmiastowe odejście od rosyjskiego gazu. Wyobraźmy sobie jednak, jakie decyzje trzeba teraz podjąć na Ukrainie, aby utrzymać ludzi przy życiu i zapobiec największej katastrofie humanitarnej, jakiej Europa doświadcza od czasów II wojny światowej.
Skutki nie ograniczą się też do Europy. Na przykład bardzo szybko załamie się ukraińskie rolnictwo: Nikt nie może orać ani wysiewać nasion, będąc jednocześnie atakowanym przez wojska rosyjskie. Spowoduje to wzrost światowych cen żywności, ponieważ Ukraina jest piątym co do wielkości eksporterem pszenicy na świecie, co będzie miało znaczący wpływ na budżety i ubóstwo w krajach o niskich dochodach.
Niektórzy Europejczycy będą potrzebowali pomocy, aby zapłacić rachunki za ogrzewanie, mogą też ponosić inne koszty ekonomiczne z powodu tego, co robi Putin. Ale porównaj to z milionami Ukraińców, którzy już teraz walczą o żywność, bezpieczną wodę pitną i podstawowe leki - i o to, by nie zostać zastrzelonym lub wysadzonym w powietrze. Setki tysięcy ukraińskich dzieci już doznały traumy na całe życie, a ich cierpienie będzie się tylko pogłębiać, jeśli Putin nie zostanie natychmiast powstrzymany.
Ogrom wsparcia dla Ukrainy i Ukraińców jest niesamowity. Ponad milion uchodźców zostało przyjętych przez osoby prywatne i rządy w całej UE, podczas gdy Stany Zjednoczone, Wielka Brytania i inne kraje udzielają wielu form pomocy. Jesteśmy za to wszystko wdzięczni.
Nadszedł jednak czas, aby stawić czoła twardej rzeczywistości, że Putin i jego koledzy stracili rozum. Świat może albo już dziś całkowicie zbojkotować rosyjską energię, aby natychmiast powstrzymać inwazję, albo nadal patrzeć, jak rosyjskie wojska popełniają jedną zbrodnię za drugą - każdego dnia zbliżając się do terytorium państw UE.
Nikt na świecie nie powinien kupować rosyjskiej energii. Piętno powinno być gorsze niż w przypadku krwawych diamentów. Świat uzbraja i wspiera brutalnego, nie dającego się kontrolować potwora. To musi się skończyć.
Do napisania tego komentarza przyczynił się Simon Johnson.
Z angielskiego przetłumaczyła Marz McNamer