Boykottiert russische Energieträger jetzt
KIEW – Die Devisenreserven der russischen Notenbank zu sperren war ein brillanter Schritt. Einige russische Banken vom SWIFT-Finanzkommunikationssystem abzuschneiden war hilfreich. Und Maßnahmen zum Zugriff auf das Auslandsvermögen von Putins Spießgesellen sind richtig. Doch keine dieser Sanktionen hat den russischen Einmarsch in der Ukraine gestoppt, und keine wird es tun.
Das hat einen einfachen Grund: Russland exportiert weiterhin Öl und Gas. Der Krieg hat den Preis dieser Produkte sogar noch in die Höhe getrieben, und der wichtigste Sektor der russischen Wirtschaft profitiert davon. Eine Woche nach Beginn der Invasion in der Ukraine finanziert der westliche Energieverbrauch diese also immer noch, und die russische Elite verdient mehr denn je. Es führt kein Weg daran vorbei: Der einzige Weg, die Aggression des russischen Präsidenten Wladimir Putin zu stoppen, besteht im umfassenden Boykott aller russischen Energieprodukte.
Die große Masse der russischen Exporte entfällt auf Energieträger, und zwar primär in zwei Formen: als per Pipeline transportiertes Erdgas für Westeuropa, das im Rahmen langfristiger Verträge bezahlt wird, und als Öl für die Weltmärkte, das überwiegend auf den Spotmärkten verkauft wird.
Laut Zahlen der Internationalen Energie-Agentur (IEA) "entfielen im Januar 2022 45 % des russischen Bundeshaushalts auf Einnahmen aus öl- und gasbezogenen Steuern und Exportzöllen. Angesichts der aktuellen Marktpreise beläuft sich allein der Exportwert des über Pipelines in die EU transportierten russischen Gases auf 400 Millionen Dollar täglich. Die Gesamt-Exporterlöse für Rohöl und Ölprodukte belaufen sich derzeit auf rund 700 Millionen Dollar täglich."
Bisher gab es laut IEA einige kleinere Störungen bei den russischen Ölexporten, aber keine Auswirkungen auf die Gasexporte. Angesichts eines Anstiegs der Ölpreise der Sorte Brent von etwa 90 Dollar pro Barrel auf rund 110 Dollar pro Barrel seit Beginn der Invasion (und von 80 Dollar Ende 2021) fließt jede Menge Geld nach Russland. Falls es einen Preisabschlag auf Rohöl der Sorte Urals gibt, so ist dieser geringer als der Anstieg der Ölpreise; die russischen Ölexporteure stehen also finanziell trotzdem besser da.
Im Laufe des vergangenen Monats ist der Wert der russischen Ölexporte um rund 100 Millionen Dollar täglich gestiegen (berechnet auf Grundlage der IEA-Schätzung der täglichen russischen Exporte, multipliziert mit unserer Schätzung des Anstiegs im effektiven Preis von Rohöl der Sorte Urals). Der russische Leistungsbilanzüberschuss betrug im Januar 2022 19 Milliarden Dollar; das sind etwa 50 % mehr als für Januar typisch (in den meisten Jahren beträgt der monatliche Überschuss 9-12 Milliarden Dollar).
Subscribe to PS Digital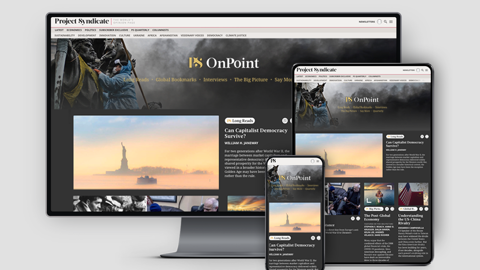 Subscribe to PS Digital
Access every new PS commentary, our entire On Point suite of subscriber-exclusive content – including Longer Reads, Insider Interviews, Big Picture/Big Question, and Say More – and the full PS archive.
Es gibt in Politikerkreisen in den USA eine Sicht, dass die aktuelle Politik der Finanzsanktionen die russischen Ölkapazitäten auf eine Weise schädigt, die den strategischen Interessen der USA dient. Doch indem sie den Ölproduzenten zusätzlich die Taschen füllen, erzielen die USA und ihre Verbündeten tatsächlich die gegenteilige Wirkung. Es gibt keine Alternative zu Sanktionen, die das Volumen der russischen Öl- und Gasexporte sofort verringern.
Ein umfassender Boykott russischer Energieträger kann damit beginnen, dass die USA das ganze Spektrum der Sanktionen, einschließlich von Sekundärsanktionen, gegen alle russischen Öl- und Gasexporte verhängen. Der weltweite Ölpreis wird steigen, doch wenn die Sanktionen komplett durchgesetzt werden, wird nichts von diesen Mehrerlösen bei den russischen Produzenten ankommen. In diesem Szenario wird die weltweite Ölproduktion laut IEA-Schätzungen sehr schnell steigen – Russland exportiert fünf Millionen Barrel täglich; die zusätzlichen weltweiten Lieferungen könnten mindestens drei Millionen Barrel täglich betragen. Wo angemessen, können und sollten Energiesparmaßnahmen eingeführt werden.
Natürlich müsste die Europäische Union nachziehen. Doch ist das offen gesagt nur eine Frage der Zeit. Die EU kann entweder jetzt aufhören, russisches Gas zu kaufen, um die Invasion zu stoppen, oder sie kann einen Monat warten, bis tausende weitere Menschen gestorben sind – und die schrecklichen Bilder ziviler Opfer durch alle Medien gehen. Irgendwann bald wird Europa die Tatsache, dass es Putins Gräueltaten in der Ukraine finanziert, nicht mehr ertragen können.
Die IEA hat einen vernünftigen Plan, wie sich Europa vom russischen Gas unabhängig machen kann, und ein Team bei Bruegel hat wichtige Vorschläge veröffentlicht und erläutert, wie sich die nächsten Monate ohne russisches Gas bewältigen lassen. Alle politischen Entscheidungsträger in Europa müssen das Thema frontal in Angriff nehmen.
Sicherlich werden die Europäer dabei schwierige Entscheidungen treffen müssen, nicht zuletzt darüber, wie sich der sofortige Schritt weg von russischem Gas finanzieren lässt. Doch man stelle sich die Entscheidungen vor, die derzeit in der Ukraine getroffen werden müssen, um die Menschen am Leben zu halten und die größte humanitäre Katastrophe zu verhindern, die Europa seit dem Zweiten Weltkrieg erlebt hat.
Auch werden die Auswirkungen nicht auf Europa begrenzt sein. So wird beispielsweise sehr bald der ukrainische Landwirtschaftssektor zusammenbrechen: Niemand kann während eines Angriffs russischer Streitkräfte pflügen oder säen. Dies wird die weltweiten Lebensmittelpreise in die Höhe treiben, denn die Ukraine ist der fünftgrößte Weizenexporteur der Welt. Die Folge werden erhebliche Auswirkungen auf die Haushalte und die Armut in den einkommensschwachen Ländern sein.
Einige Europäer werden Hilfe brauchen, um ihre Heizkostenrechnungen zu bezahlen, und womöglich kommen aufgrund von Putins Maßnahmen noch weitere wirtschaftliche Kosten auf sie zu. Doch man vergleiche dies mit dem Schicksal von Millionen von Ukrainern, die schon jetzt Mühe haben, an Lebensmittel, sicheres Trinkwasser und unverzichtbare Medikamente zu gelangen – und nicht erschossen oder in die Luft gesprengt zu werden. Hunderttausende ukrainischer Kinder sind bereits fürs Leben traumatisiert, und ihr Leid wird sich nur verschlimmern, wenn Putin nicht sofort gestoppt wird.
Die überwältigende Hilfsbereitschaft gegenüber der Ukraine und den Ukrainern ist fantastisch. Mehr als eine Million Flüchtlinge wurden bereits von Privatpersonen und Regierungen überall in der EU aufgenommen, und die USA, Großbritannien und andere Länder leisten vielfältige Unterstützung. Wir sind für das alles dankbar.
Doch es ist Zeit, sich der harten Realität zu stellen, dass Putin und Konsorten durchgedreht sind. Die Welt kann russische Energieträger entweder heute komplett boykottieren, um die Invasion umgehend zu stoppen, oder sie kann weiter zusehen, wie die russischen Streitkräfte eine Gräueltat nach der anderen begehen und sich dabei dem Gebiet der EU-Länder jeden Tag ein weiteres Stück nähern.
Niemand auf der Welt sollte russische Energieträger kaufen. Das Stigma sollte schlimmer sein als bei Blutdiamanten. Die Welt bewaffnet und ermuntert damit ein gewalttätiges, unkontrollierbares Monster. Sie muss damit aufhören.
Aus dem Englischen von Jan Doolan
Simon Johnson hat bei der Abfassung dieses Kommentars mitgewirkt.